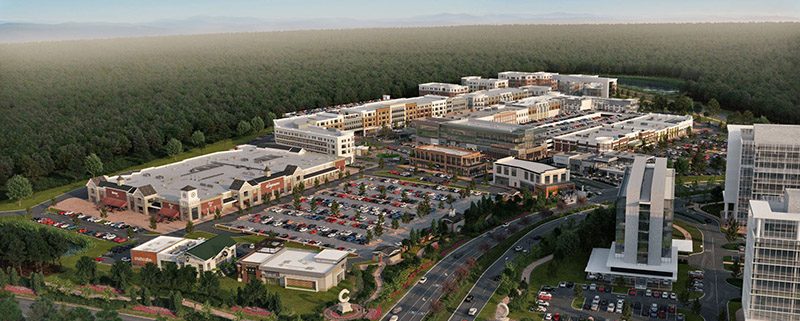 Cary, NC – When the Cary Town Council approved the rezoning for the Fenton mixed use district in the Eastern Gateway, councilmembers called it a historic moment. This week, business leaders from around Cary gathered at the Chamber of Commerce to learn the details of this massive project.
What's Coming to Fenton
The Cary Chamber of Commerce hosted Abbitt Goodwin and other representatives from Columbia Development to talk about the details of the Fenton project and answer questions at a Wednesday, February 7, 2018 meeting. Goodwin, Columbia's Raleigh-based developer, echoed the Town Council's sentiments that this is a game changer in Cary.
"We're already looking at $1 billion in construction costs," Goodwin said. "This is probably the biggest project in the region in a decade."
The idea behind Fenton is to have a mix of office, retail and residential with some restaurants and hotels as well. Goodwin said the idea was to build up the Eastern Gateway, which "felt mature."
"Cary needed a living room," Goodwin said.
In terms of total size, Fenton will be 90 acres but 2.5 million square feet will be built. 1 million square feet of that will be office, with 400,000 square feet of retail and more than 800 residential units.
"Loft-type offices above retail will come in first, with larger corporations coming in later," Goodwin said, adding there will be five high-rise office buildings in Fenton.
Goodwin described coming hotels as "a step above" Hampton Inn but just below the Umstead.
In terms of retailers, Goodwin said they are in talks with large names such as Filson, Levi's, Patagonia and Toms. Also, Goodwin talked about online retailers such as Warby Parker, Bonobos and Cuyana getting into brick-and-mortar stores, with an interest in coming to Fenton as well.
"These businesses have excellent data on where their customers are," Goodwin said. "When they move into these physical stores, they see a bump in sales, both online and in the stores."
The one confirmed name for retail in Fenton is grocery chain Wegmans. This will serve as Fenton's major anchor and while other mixed used districts and retail centers in the area may have multiple large anchors, Goodwin said Wegmans will offer a counterbalance.
"Seven thousand customers a day go to Wegmans," Goodwin said. "For other large anchors and department stores, a person may only visit four times a year. Here, a person might go to Wegmans three times a week."
To get retailers to move into Fenton, Goodwin said tenants may be leaving malls such as Crabtree to come here.
"One reason is the operating costs in a mall," Goodwin said, while also saying the open air shopping at a center such as Fenton feels better for retailers and enclosed malls feel "institutional."
With regards to restaurants, Goodwin said Fenton's will be chef-driven concepts.
"No chain restaurants. No Cheesecake Factory," Goodwin said. "We turned them down."
Among the names Fenton is talking with is Atlanta chef Ford Fry. Also, chefs Steve Palmer and Scott Crawford are working with Fenton to create a "food hall" dining concept with multiple vendors coming in to sell their foods and wares in one place.
Building Cary's "Urban Oasis"
As part of Goodwin's presentation to the Cary Chamber of Commerce, there was a map detailing the pace of the mixed use district's construction. Phase 1 will finish around mid-2020 while the final Phase 5 could be between 2023 and 2024.
Running through Fenton will be two thoroughfares; one of these will be the small curved road already sticking off of Cary Town Boulevard. This will stretch up and connect to East Chatham Street. There will be another road running the other direction, crossing from Maynard Road.
With these roads, Goodwin said the plan is to keep traffic light with multiple parking decks all over Fenton and minimal parallel parking. In front of Wegmans, there will be a parking deck with subterranean lower levels. As part of that goal to minimize off the roads, Goodwin said they are currently looking into plans for pedestrians to connect via adjacent greenways and how bus rapid transit will serve the area. Cary Councilmember Don Frantz, who was also at the meeting, said the town was also considering pedestrian bridges to connect Fenton and Cary Towne Center.
In terms of economic impact, the projection is more than 19,000 jobs created in Cary and an economic impact of $1.2 billion, as well as an extra $7.7 million in annual tax revenue for the town.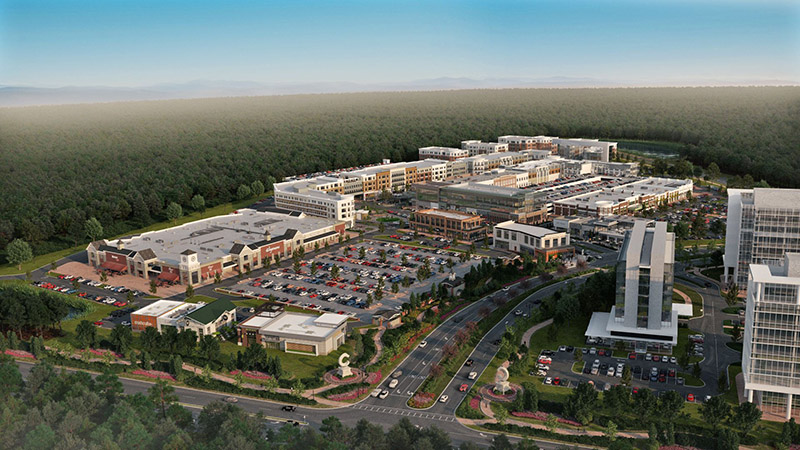 ---
Story by Michael Papich. Photos by Michael Papich, the Town of Cary and Columbia Development.
https://carycitizenarchive.com/wp-content/uploads/2017/09/ColumbiaDevelopment.jpg
450
800
Michael Papich
https://carycitizenarchive.com/wp-content/uploads/2020/03/cc-archive-logo-450-v3.png
Michael Papich
2018-02-08 13:00:48
2019-01-24 09:45:57
Details on Fenton Development