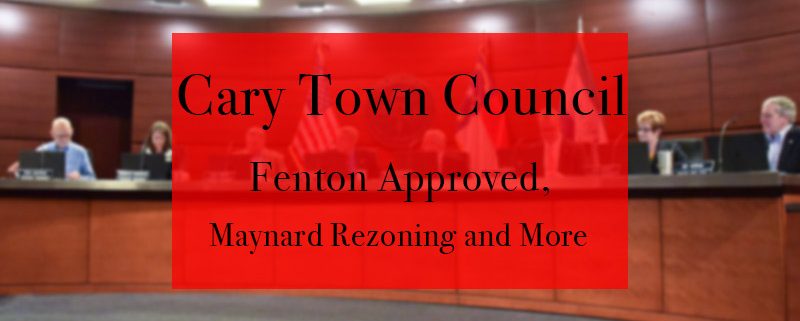 Cary, NC – The Cary Town Council approved rezoning for the largest development in town history at their latest meeting, as well as votes on infrastructure and two rezoning Public Hearings.
Note: Town Manager Sean Stegall was not present at this meeting, with Deputy Town Manager Russ Overton sitting in for him.
Fenton Development
The final vote of the Thursday, January 25, 2018 Town Council meeting also seemed to be the most anticipated. Cary Mayor Harold Weinbrecht had spoken about it his earlier State of the Town address and dozens of representatives from Columbia Development were in council chambers for the vote.
Fenton would be a 92-acre development inside of the Eastern Gateway, with Town Council voting to rezone the land to mixed use, with retail, residential and office space included. The uses would include:
700,000 to 1.2 million square feet of office space
400,000 to 575,000 square feet of commercial space
600 to 920 residential units
110,000 square feet to 120,000 square feet of hotel, or 200 to 450 rooms
By comparison, at the maximum uses, this would be five times as much office space as MetLife and twice was much retail as all of Waverly Place. Also, included in the plan are several parking decks, community gathering spaces and five buildings with mandatory vertical integration to take multiple uses. You can find the full map of the preliminary development plan online.
Also included in the plan is a requirement for the pace of development to be controlled at each phase, with more retail space coming in than non-retail.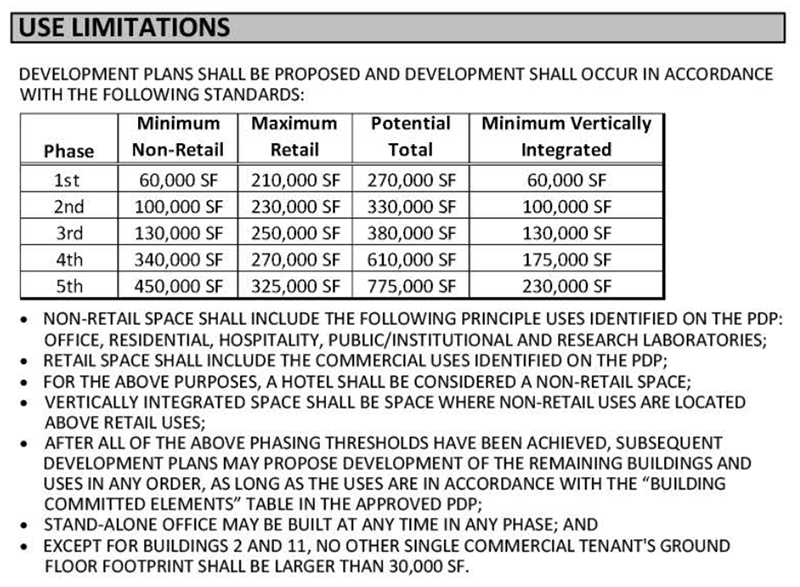 The rezoning was also supported by the Planning and Zoning Board unanimously.
No one spoke on the rezoning during Public Speaks Out (in fact, no one came to Public Speaks Out at all), but Town Council gave their thoughts leading up to the final vote. All indicated they were not only supportive of the project but were proud and excited. Originally, the plan had been for a grocery store and possibly the IKEA or an even earlier proposal for single-family homes but councilmembers such as Jennifer Robinson said they were glad they stuck with their vision.
"It took a lot of no's to get us to this yes," Robinson said.
Weinbrecht described the vote as a "huge milestone" in Cary's history and several other councilmembers echoed this sentiment, saying Fenton would turn Cary into a major destination. Town Council voted for the plan unanimously.
SW Maynard Road Rezoning
There were no speakers at either Public Hearing on the agenda but one saw significant comment from the councilmembers themselves. This was a rezoning for 3.24 acres along SW Maynard Road, Gordon Street and Rose Street. Most of this land is already zoned for General Commercial and is the same zoning as the adjacent shopping center.
The proposal is to rezone this piece of land to General Commercial Conditional Use and would also include two small addresses zoned as Residential in order to give it a more manageable shape. After discussions with neighbors, these conditions were put in to prohibit certain uses: bars/nightclubs, hotels and any use that would involve outdoor kennels. Also, there would be setbacks to the roads between 5o to 70 feet depending on which side of the property it's on.
North of this property is Rose Street Park and the coming Glenaire expansion.
In 2016, this same spot had been rejected for a rezoning and Town Council did not seem any more receptive to this idea. In fact, Councilmember Don Frantz said the 2016 proposal may have been better. Councilmember At-Large Ed Yerha did not think the proposal was "that bad" since there are now conditions in place – whereas if a nightclub or hotel wanted to build there now, they could – but he and other councilmembers agreed this did not fit their vision of the area.
The developer was credited for listening to the nearby citizens and making conditions but it did not seem to be enough to warm Town Council to the proposal. The plan then went to the Planning and Zoning Board for their recommendation.
Other Public Hearings
The only other Public Hearing was a rezoning to part of the Village at the Park Planned Development District (PDD). The portion in question is zoned for more than 158,000 square feet of office and retail, with only 45 multi-family homes. This rezoning would change to a maximum of 19,000 square feet of office and retail and a maximum of 300 multi-family homes.
There would also be conditions to limit non-residential height to 35 feet and 60 feet for residential buildings. There would also be road improvements put in.
A representative for the applicant said the original zoning was an "odd request" to start with and the amount of land for office and retail was not realistic for this area. He also pointed to the proximity to RTP as a reason why putting homes here would fit well. This particular PDD has been amended several times since it was approved in the early 2000s.
There were no speakers at this Public Hearing and it went to the Planning and Zoning Board for their recommendation.
Infrastructure Votes
The other two Discussion Items on the agenda were both votes for infrastructure funding in Cary. One was for the yearly street improvements. Cary is unique among municipalities because this is a nonpartisan process where only town staff can select roads for improvement while Town Council only determines how much funding for roads is in the budget.
Town Council voted to award a bid of $5.185 million for street and road improvements, passing it unanimously. You can find a map of the streets scheduled for improvement online, with construction starting Spring 2018.
The other vote was for Cary to apply for infrastructure funding from Wake County. This would be for lighting and sound upgrades at Koka Booth Amphitheatre – which is using the same equipment it had when the venue opened in 2001 – and LED lighting at WakeMed Soccer Park.
This funding would come out of the county's hospitality taxes. Cary would match any funding 65-35. The town asked for $2.1 million in funding, so if all of that is provided, Cary would pay $1.365 million of that. Town Council approved the application unanimously.
---
Story by Michael Papich. Photos courtesy of Google Maps, the Town of Cary and Hal Goodtree.
https://carycitizenarchive.com/wp-content/uploads/2018/01/TownCouncil-Jan26-Featured.jpg
483
800
Michael Papich
https://carycitizenarchive.com/wp-content/uploads/2020/03/cc-archive-logo-450-v3.png
Michael Papich
2018-01-26 11:24:17
2018-02-09 13:44:11
Cary Town Council: Fenton Approved, Maynard Rezoning and More