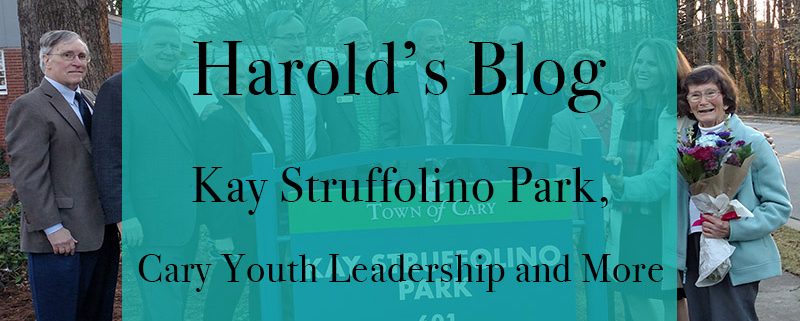 Cary, NC – In the latest blog post from Cary Mayor Harold Weinbrecht, he talks about the Kay Struffolino Park dedication, talks with the applicants for the Kildaire Farm gas station, the Cary Chamber Youth Leadership Program and more.
This week was a slower week than normal with mostly ceremonial duties.
Monday – Start to Week
Monday's one-on-one meeting with the town manager was cancelled since we really didn't have much to share.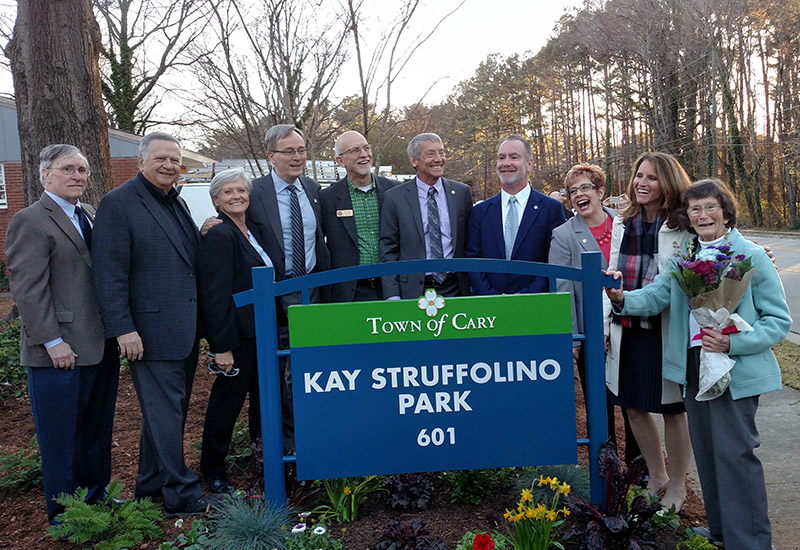 Tuesday – Kay Struffolino Park
Tuesday I had the honor and privilege to be one of the speakers at the dedication of the Kay Struffolino Park in downtown. There were about a 100 people in attendance including former Mayor Booth, former Mayor Pro-Tem Adcock who is now a North Carolina legislator, former council member Portman who is now a Wake County commissioner, and the entire Cary town council. An excerpt from my remarks included:
"…This beautiful park has been renamed to honor a beautiful person Ms. Kay Struffolino, a Cary citizen who has shed a positive light on our Town for the past 40 years. Through her passion and drive, she has impacted a variety of Cary's programs, festivals, and signature events.

Kay demonstrates hospitality to others by volunteering at many events as a greeter, ticket taker, hostess and information resource for the Marvelous Music Series, Sertoma Series, Applause!, senior events, and Guest Services at Koka Booth Amphitheatre events.

She actively seeks out citizen input and has represented them as a Board member of the PRCR Advisory Board, the Cultural Arts Committee, the Friends of Page Walker, the Koka Booth Advisory Committee and the Cary Festivals Committee.

Kay has received numerous accolades over the years including being named the 2001 Herb Young Parks, Recreation and Cultural Resources Volunteer of the Year, the 2006 Town of Cary Cultural Arts Volunteer of the Year, the, 2008 Rayburn "Rip" Jackson North Carolina Citizen of the Year and the 2010 Hometown Spirit Award Winner for the Town of Cary.

Kay, you are the ultimate example of someone who selflessly gives back to their community every single day. I always hear people say, "we need more Kay's in this town." I couldn't agree more!

Kay, for all you do, for who you are, Cary is grateful for your endless contributions to this community. …"
Also speaking were council members Frantz and Yerha. After the speeches we gathered around the covered sign, counted down from five, and unveiled it. This was followed by lots of pictures and we all were treated to complimentary ice cream from Goodberry's. What a great event for a great person.
Wednesday – Cary Matters
Wednesday I joined council member Don Frantz in a taping of Cary Matters. In this episode we talked about the council-staff retreat held in early February. In the taping we stated that during the retreat "we talked about everything from Imagine Cary Growing Pains to stormwater. All the topics and discussion during the two days were tied back to an overall theme – what makes us different than other communities, how that is important, and how we prepare and adapt for challenges that lie ahead. The first day was mostly reflection and high level discussions. The second day was more about specific current issues." I messed up a couple of times so we had to do two takes. Still we were finished within half an hour.
Thursday – Cary Youth Leadership
Thursday morning I spoke to over 40 high school students from various schools in Cary as part of the Cary Chamber Youth Leadership Program. I talked about a council-manager form of government and how it was set up like a corporation. That is, the council is like a board and sets policy while the management and staff handle the operations of the town. I explained that most of our decisions were on land use. I talked about how it was important that all decisions be respected and how that this council does that. I stated what I have said many times: "it is only through mutual understanding and respect that we can reach our potential as a community." I talked about my role as mayor and then answered about a dozen questions.
Thursday evening I attended the 20 year celebration of the Cary Skin Center. This outpatient center handles all kinds of outpatient skin operations such as Mohs surgeries. Over the last two decades they have treated over 40,000 patients. I talked with all the doctors including the founder Dr. Clark. We are so blessed to have them in our community providing such a valuable and lifesaving service.
Friday – Kildaire Farm Gas Station
Friday I talked with the applicant and applicant's representative for the gas station proposal on Kildaire Farm at Penny Road. The proposal has been in the works for over a year and the applicant noted there have been major concessions. One of the biggest is a condition to install a storm water control device to handle a 100 year storm event. This should really help with the flooding. I talked with him about the opposition to his proposal. He believes most of this started since the Planning and Zoning Board's recommendation for approval. Before that there had been several meetings with very little attendance. I asked if he would be willing to hold another meeting if residents were interested and he said yes. It will be interesting to see what happens with this as it moves forward.
Town Manager's Report
The town manager's report for this week included:
Kay Struffolino Park

On Tuesday evening, approximately 150 fans of Kay Struffolino gathered in the space that now has been named in her honor. Through Kay's passion and dedication, she has impacted a variety of Cary's programs, festivals, and signature events. Cary is a better place because of Kay. Congratulations to one of Cary's greatest citizens and volunteers!

2018 Retreat Report Summary

In the last few weeks, we have summarized and documented our experience together at the 2018 Council/Staff retreat. We hope the summary captures the important takeaways and will serve as a reminder of our shared experiences.

Pink Acres Area Receives Town Utilities

Water and sewer lines have been extended to Pink Acres Street area, the last Town- initiated annexation area that petitioned for our utilities. With the successful completion of this project, these citizens can now enjoy the full range of benefits of having safe and reliable water and sewer services. We received a kudos received from a resident: "I want to thank everyone involved. This has gone very well and the Moffet crew couldn't have been more accommodating, considerate, and nice. All concerns were addressed and questions answered. Always available to the residents. They always cleaned up for the evenings and weekends and their work ethic showed each day.  Working outside is challenging; my father provided for us as a road construction foreman. Thanks again to all. A job well done!"

Articles For Your Reading List

We received an email this week from Dr. Nalbandian sharing a recent article that he has co-authored, alongside ICMA president Robert O'Neill. He shared the article because he thought it would be particularly relevant to Cary staff and Council as it captures the spirit of what he presented at the retreat as well as syncs nicely with the adaptive/approach and culture we are developing.

Another article was published that highlights Cary's innovative approach to using new technologies. Thanks to Council Member Robinson, Jamie Revels and Dan Ault for contributing to the article and sharing our successes!

Cary Chamber Youth Leadership

On Thursday, a group of 43 high school juniors (from Athens Drive, Cary, Crossroads Flex, Green Hope, Middle Creek and Panther Creek) participated in the Chamber's Youth Leadership course, which includes an opportunity for students to get an in-depth look at Cary government. The Mayor was on-hand to deliver welcoming remarks and then the group learned about different government functions, such as planning, traffic management, parks and recreation, and emergency response.

U.S. Men's Soccer Team Comes to Cary

Mayor Pro Tem Bush welcomed U.S. Soccer Men's National Team coach David Sarachan to Cary. As they overlooked Sahlen's Stadium, they discussed the 10,000 fans that will pack the stadium on March 27 cheering on the Men's Team as they take on Paraguay. Sarachan held a press conference during his visit to Cary and talked about how much he enjoys being in the area. He first came to WakeMed Soccer Park in 2002 with the National Team and again for the three years the LA Galaxy played in Cary against the RailHawks.

Connected Vehicles Project

The Connected Vehicles Project, known as the SPaT Challenge, has completed an important stage. All vendor equipment has been installed in the field and is ready for testing. Over the past few months, Town staff has worked with NCDOT and their consultant, Aegis, Inc., to bring in six equipment manufacturers that are working along NC-55 and High House Road corridors to install radio and cellular equipment in an effort to share important signal timing and safety information with drivers to improve safety and efficiency at signalized intersections.

Over the coming weeks, the equipment will be tested to determine effectiveness and readiness for deployment. Town staff will be following the testing closely.

Read Across America Day

As part of National Read Across America Day, Mayor Pro Tem Bush was joined by Cary staff as a guest reader at Reedy Creek Elementary Friday morning. In addition to reading books, the fifth graders were quizzed on the types of services provided by local government.

Recognitions

More than 40 employees from across departments gathered for a follow-up discussion to last week's screenings of "Resilience." Using the Advocates for Health in Action's "results framework" the group looked at current policies, practices, and programs building resiliency in our community and identified gaps. It was a great start to thinking about how Cary can build resilience in ourselves and the citizens we serve. Many thanks to Rachel Baranski and Sam Trogdon for their work organizing these events and for shining a light on this important topic.
Emails from Citizens
Emails from citizens this week included:
Concerns about the gas station proposal at Kildaire and Penny.
A concern about junk vehicles.
A concern about panhandlers.
A concern about unleashed dogs at Bond Park.
A question about Sunday alcohol laws.
A concern about the approved gas station in Amberly.
Next week's activities include staff meetings, citizen meetings, giving remarks at an event, and an economic development meeting.
Get In Touch
Well, that is all for this week. My next post will be on Sunday, March 11th.  Although I have Facebook and Twitter accounts those are not the best means of communications with me. Please send all Town of Cary questions or comments to Harold.Weinbrecht@townofcary.org and email personal comments to augustanat@mindspring.com.
---
From the blog of Cary Mayor Harold Weinbrecht. Photos by Michael Papich.
https://carycitizenarchive.com/wp-content/uploads/2018/03/HaroldBlog-Mar5-Featured.jpg
550
800
Harold Weinbrecht
https://carycitizenarchive.com/wp-content/uploads/2020/03/cc-archive-logo-450-v3.png
Harold Weinbrecht
2018-03-05 10:41:41
2018-03-05 09:56:22
Harold's Blog: Kay Struffolino Park, Cary Youth Leadership and More