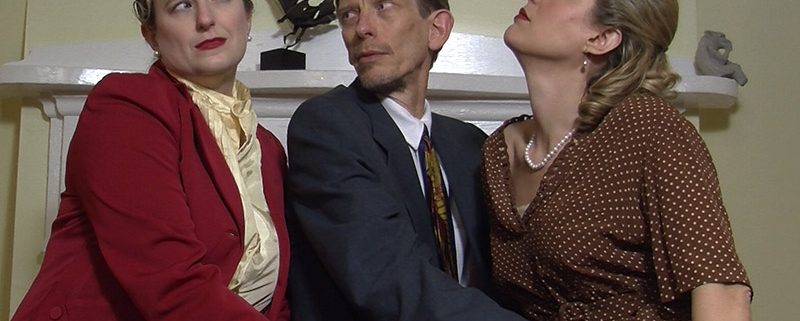 Cary, NC – Many great plays can make audiences feel drawn into the action. In a new production of "No Exit" in Cary, everyone will be in the front row and close to the actors as they wrestle with big ideas of responsibility and self-identity.
Defining Yourself by Others' Opinions
"No Exit" by Jean-Paul Sartre is a small play with only three core characters, plus one ancillary valet who checks the three into a  room where they will spend the rest of their lives. Kurt Benrud is directing the play, which will be performed in the Page-Walker History and Arts Center from Friday, March 16 to Sunday, March 25, 2018, together with the Cary Playwrights' Forum and Pequod Productions.
While some productions take "No Exit" as a cynical dry comedy, Benrud said this version will be more straightforward to allow the characters serious inquiry into the play's message.
"It's to consider persona responsibility for yourself and for the future," Benrud said. "And it's to realize that your definition of yourself should trump other's definition of you."
This second message is highlighted because the room, which is the play's only setting, has no mirrors.
"You can't see yourself in there. You have to depend on other people," Benrud said.
Audiences will be further drawn into the action because there are no breaks, scene changes or intermissions. As Benrud put it, once the actors are on stage, they are there for the duration.
The Page-Walker is also a very fitting location for a "No Exit" production because it is one of the few buildings in this area with French Second Empire architectural style.
"One of the first lines you hear in 'No Exit' is how the room is styled and furnished in Second Empire style," Benrud said.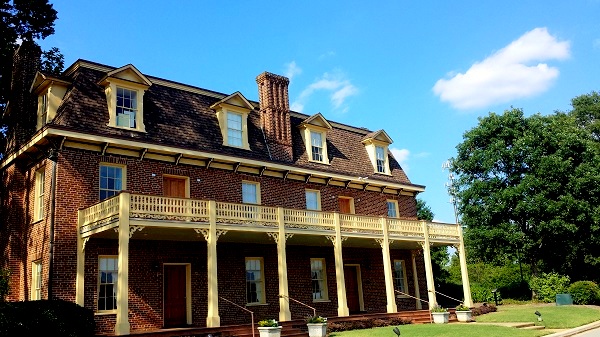 Artists Exploring their Passions
"No Exit" will be performed on Friday, Saturday and Sunday for two weeks, but there will also be a special Industry Night on Monday, March 19, 2018. Benrud said this will be a night for actors and teachers who may not be able to come out on the weekend to see the play. The show is pay-what-you-will and free to all teachers.
Finding ways to support local artists is the goal of Pequod Productions, who are presenting this performance. Benrud said he started Pequod Productions 25 years ago while trying to put together a cast and crew to perform "Rosencrantz and Guildenstern Are Dead."
"I assembled a group and it felt like a massive project, like chasing the Great White Whale," he said, which led to him naming his association after the boat from Moby Dick. "Anybody who participates, who feels like a project is wortwhile, I say, 'Let's go on board the Pequod."
"No Exit" started this way, with the Cary Playwrights' Forum's Thom Haynes having the idea and the enthusiasm to put on this play. Benrud said many of the Pequod Productions shows comes from him finding artists in the community.
"Sometimes, I approach actors I feel are underused and ask if they want to put on plays and see what they are excited about," he said.
The group also has a yearly celebration of Shakespeare's birthday by reading his sonnets – all 154 of them.
Event Details
No Exit, presented by Pequod Productions
Friday, March 16 to Sunday, March 25, 2018
Fri, Sat: 7:30 PM || Sun: 3 PM
Industry Night: Monday, March 19, 2018 at 7:30 PM
Page-Walker Arts & History Center, 119 Ambassador Loop
---
Story by Michael Papich. Photos courtesy of Kurt Benrud and Jessica Patrick.
https://carycitizenarchive.com/wp-content/uploads/2018/03/NoExit1.jpg
550
800
Michael Papich
https://carycitizenarchive.com/wp-content/uploads/2020/03/cc-archive-logo-450-v3.png
Michael Papich
2018-03-09 11:19:53
2018-03-12 11:47:53
No Exit Puts Audiences In the Middle of the Drama