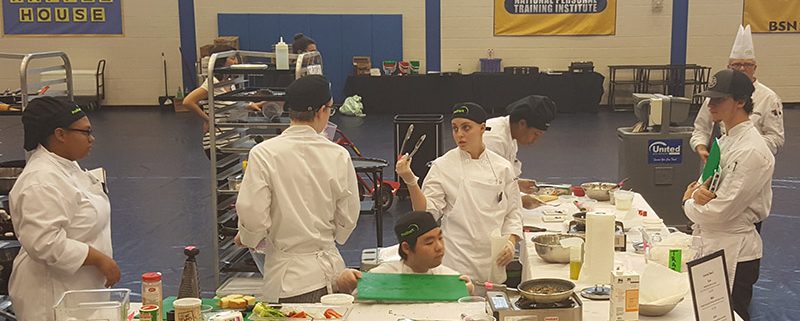 Cary, NC – Students in ProStart programs across North Carolina learn about preparing food and working in the culinary industry. But five Cary students recently took that to the next level, winning third place in a statewide culinary competition and earning scholarships for themselves.
Culinary Competition
Five Cary High School students competed in the 2018 North Carolina ProStart Invitational (NCPI), presented by Golden Corral, on Monday and Tuesday, February 26 and 27, 2018. The NCPI – organized by the North Carolina Restaurant and Lodging Association's philanthropic arm, the North Carolina Hospitality Education Foundation – has culinary and restaurant management competitions and Cary High competed against 18 teams from schools across North Carolina and came out in third, which comes with scholarships for culinary schools across the country. Henderson County Career Academy and Smithfield Selma High School came in first and second respectively.
The five students – juniors Ariana Moyer, Micah Thomas and Khoi Ha, sophomore Samuel Russo and senior Oliver Jones – practiced hard up until the competition to fit the constraints. All three dishes had to be prepared in one hour, the chefs had to compete inside of a 10-by-10 foot square, no ingredients could be pre-prepared, they had no electricity, they had to bring their own water measured out in advance and they had to bring their own tools, all the way down to mixing bowls.
"We also had to write out a list of all the knife cuts we would be using," Jones said.
The five students said balancing time was the biggest challenge since they were making three courses all in a tight space.
"We had to cook everything but not let any food go cold by the time we served it," Ha said.
The team also brought roughly three times more tools than other schools but said this cut down on time since they did not need to clean tools and bowls to reuse them.
To move efficiently in the small space, the students had to listen and verbalize to one another to check on each step and to stay safe at the same time. Moyer served as team manager and stood outside of the 10-by-10 square, keeping the other four on schedule.
"The challenge for me was making sure I could keep everyone together. We couldn't argue, we had to move onto the next steps," Moyer said.
Experimenting with Food
All of the Cary High students who competed in the NCPI are driven by a passion for food and food service. For some, it comes from learning to cook from parents and grandparents, for other it's been a lifelong interest and dream. Russo, the youngest member of the team, committed himself to making it on to compete with his fellow students.
"I got rejected initially but I kept working and practiced and applied to come on the team," Russo said.
For their three course meal, the team created dishes with a lot of pickled ingredients to link them all together.
Appetizer: Shrimp & Quinoa Salad with apple, pickled lime fennel, white wine vinaigrette
Main: Panko Encrusted Chicken with Bacon Gravy with pickled red onion, smoked gouda semolina, broccolini
Dessert/Sweet: Deconstructed Peanut Butter and Jelly with dark chocolate sauce, pickled blackberries, strawberries and peanut brittle
This included learning about new culinary techniques.
"I would never think you could pickle blackberries but we found sweet versions of pickling and then used blackberries in our dessert," Thomas said.
To work efficiently, Jones and Thomas worked on the dessert while Russo and Ha worked on the main dish, with all four working on the appetizer with Moyer managing the action.
The team came into the competition trained and organized, with mentors Thomas Card and Nicole Lourie from The Counting House in Durham and their Cary High School teacher Ashley Whitesides. This training helped the team correct an error in one dish at the last minute and earned them their third place win.
With that win comes a scholarship to one of seven different culinary schools nationwide.
"It's a big accomplishment," Thomas said. "Now I can see myself going to culinary school."
Between competition and school, work and athletics, preparing for the NCPI was a time-consuming and difficult process but the students said knowing a scholarship was in store for all of them encouraged them to keep showing up.
"If someone was missing, we all take a blow," Jones said.
Four of the students on the team are returning to Cary High School next year and are planning on competing again. For next time, Moyer said some areas where they can improve are on memorizing their dishes, planning our their list of prices, recipes and the like for judges and adding in more practice.
But with this third place finish, Thomas said next year will be different.
"We'll go in with more confidence and experience," Thomas said.
Students at Cary High School also won the statewide NCPI's restaurant management competition last year.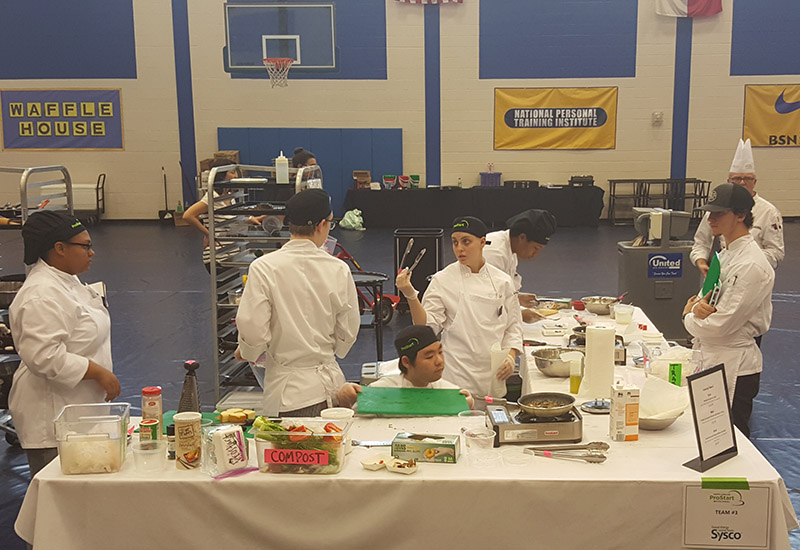 ---
Story by Michael Papich. Photos courtesy of Ashley Whitesides.
https://carycitizenarchive.com/wp-content/uploads/2018/03/CaryHigh-Culinary1.jpg
550
800
Michael Papich
https://carycitizenarchive.com/wp-content/uploads/2020/03/cc-archive-logo-450-v3.png
Michael Papich
2018-03-13 11:04:35
2018-03-14 16:47:33
Cary High Students Earn Scholarships in Culinary Competition