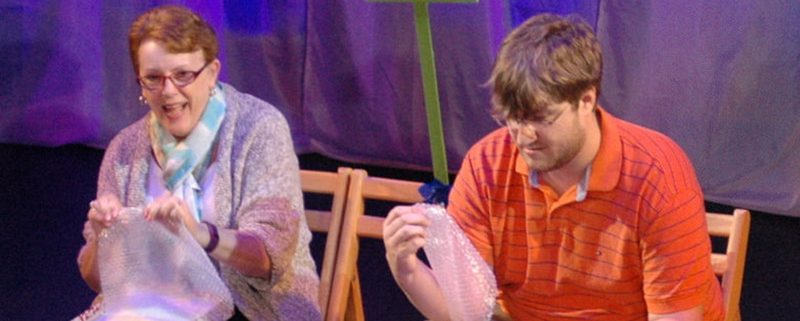 Cary, NC – Now it its third year, PlaySlam lets audiences see 10 original plays and vote on their favorites to see more. And if you don't like one of the plays, don't worry: they're only three minutes long.
New, Faster, Bigger Production
The third annual PlaySlam, this year called "Grandchild of PlaySlam" takes place at the Cary Theater on Saturday, April 14, 2018. This year, there are only 10 local directors and playwrights in order to make the pace faster and show audiences as many plays as possible.
"We hope people who haven't come yet give it a chance," said Thom Haynes, show producer and member of the Cary Playwrights Forum. "They'll find it different than a usual theater experience and they can see what North Carolina writers can come up with."
Then, after the 10 plays are performed, audiences vote for which of the playwrights they want to see a second play from in the latter half of the show, encouraging the playwrights to put their best foot forward.
PlaySlam in the past has utilized simple sets and actors don't meet their writers/directors until the day of the performance. This year, Haynes said they have increased the production value and are giving the playwrights more time to meet with their actors beforehand to prepare.
"With our writers and directors talking with their actors, it will lead to improved quality of the plays," Haynes said.
What Can You Do With Three Minutes?
While PlaySlam's plays are limited to three minutes, Haynes said writers are encouraged to write full stories with a beginning, middle and end.
"The key is to keep it simple. If it's too complex, you're done with the three minutes before you even get started," he said.
Seeing what local playwrights can do with those limitations, Haynes said, is part of the excitement and fun of watching the show.
"It's neat to see what you can do in three minutes and how characters can go through growth or change," he said. "It doesn't have to be a sketch. You can create real art."
In the audience vote for favorite plays, Haynes said comedy always does well – "people love to laugh," as he put it – but he said dramas can fit in with the show too.
"It acts as a change of pace in between the comedies," he said.
But the most successful comedies, Haynes said, typically employ a twist ending in that final minute.
"It's a quirky finish that leaves the audience with a surprise reaction," he said.
Event Details
Saturday, April 14, 2018
The Cary Theater, 122 E Chatham St.
---
Story by Michael Papich. Photos courtesy of the Cary Playwrights Forum.
Content sponsored in part by the Cary Chamber of Commerce annual membership drive.
https://carycitizenarchive.com/wp-content/uploads/2017/03/PlaySlam2.jpg
550
800
Michael Papich
https://carycitizenarchive.com/wp-content/uploads/2020/03/cc-archive-logo-450-v3.png
Michael Papich
2018-04-06 09:28:42
2019-12-08 15:30:19
PlaySlam is Back with Bigger Budget, Quick Tempo