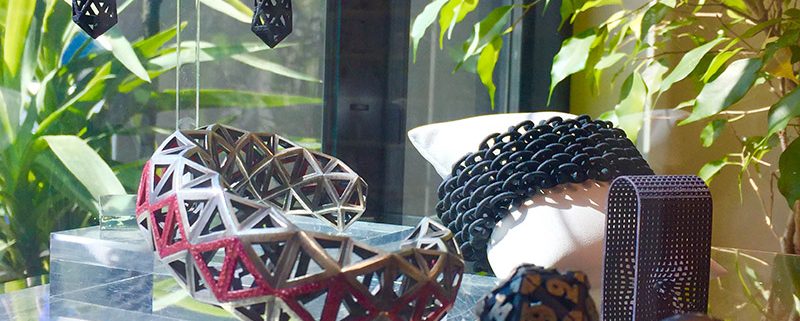 Cary, NC – While people who make jewelry may have a big imagination, sometimes creating pieces modeled on those ideas can be incredibly difficult, if not impossible, to do by hand. But two jewelers in Morrisville have created a new business using 3D printing to make their ambitious designs a reality.
Metallicity on Globe Road in Morrisville opened in January 2018 and is the creation of Lilla Taylor and Tony Nemyer who have both been making jewelry for more than 25 years each. The two can create designs for jewelry with design software and then print them with large-scale 3D printers in New York.
"We can push designs much further now and it's great for prototyping," Nemyer said. "We can lay out complex geometries and stone layouts. It would be very difficult or impossible to do that before."
Taylor said geometric designs are seen in much of their work, particularly icosahedron-inspired shapes. If carved by hand, she said these would be very time-consuming. In some cases, the printers can even create these jewelries in just one interconnected piece, such as their helix bracelet.
"It would be hundreds of pieces if fabricated by hand," Taylor said. Similarly, the printer is able to make interlocking pieces and latches that both Taylor and Nemyer said are difficult to create by traditional methods.
With this process, Taylor said it not only saves time but it reduces waste created by them in the prototype and design phases.
"Carving a model out of wax is very delicate work and it's hard to show to clients because it could break. Now, if you have the rendering, you can email it to them so they can visualize what it will look like," Taylor said. "And before, if the client didn't like it, you would have to recarve the wax or start over. Here, we just redesign it on the computer."
Because design and experimentation are easier now, the two jewelers focus on creating more interactive process with clients. Metallicity is not a traditional walk-in store as they put it and instead they set appointments where clients come in, talk through designs and can get their jewelry more personal, which is where Taylor said the industry is going.
How It All Works
In order to create their designs, Metallicity uses a few different methods and materials. Some of their jewelry is printed using powered nylon or powered steel. The printer then constructs the design layer by layer, solidifying certain spots using lasers.
In the case of some of the nylon-printed designs, they can be ready to sell right after printing, with the inventory at Metallicity ranging from desktop pieces to high-end jewelry with precious metals and gems. For powered steel designs, some of those can later be infused with bronze.
The printers can also print their designs in wax which can be casted in sterling or other metals, with some options to burn the wax out as the metal is put in.
"We like to take emerging technology into the jewelry sector and let our imagination run wild," Nemyer said. "It's phenomenal what you can do with this."
Also, with 3D printing, once a particular piece of jewelry is designed and created, it can be easily referenced later on.
"If we have the file for, say, an engagement ring we created, we can make a matching ring for an anniversary or replace it if it goes missing," Taylor said.
Taylor also said all metal used is recycled.
In addition to creating jewelry entirely with 3D printing, Metallicity also has some pieces that are a mix of 3D printing and handcrafting and some that are made entirely by hand. They also do repairs, appraisals and buy and sell gemstones.
Metallicity is located at 10410 Globe Rd., Suite 106, in Morrisville.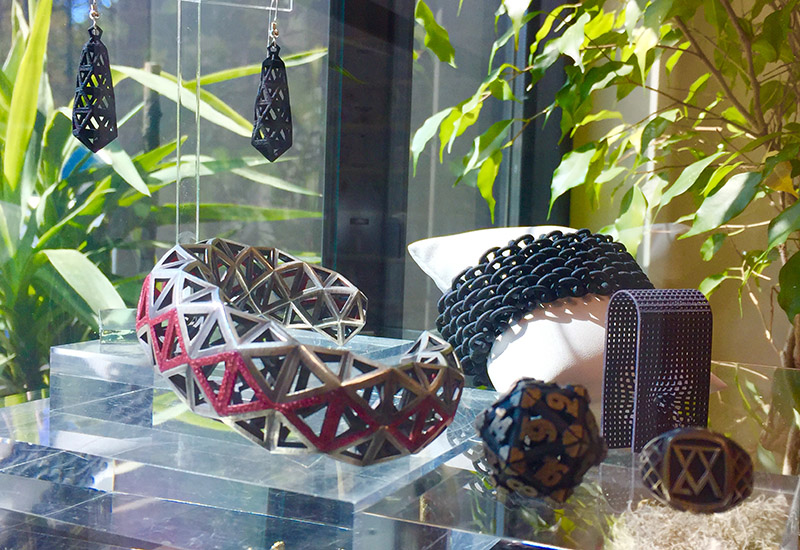 ---
Story by Michael Papich. Photos by Michael Papich and Metallicity.
https://carycitizenarchive.com/wp-content/uploads/2018/04/Metallicity4.jpg
550
800
Michael Papich
https://carycitizenarchive.com/wp-content/uploads/2020/03/cc-archive-logo-450-v3.png
Michael Papich
2018-04-13 09:30:08
2018-04-13 09:30:08
Morrisville Jewelers Make Unique Designs with 3D Printing