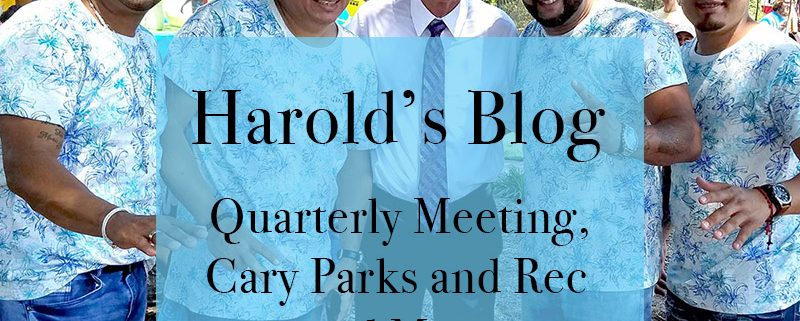 Cary, NC – This week's main focus was on the quarterly meeting.
Monday – Planning for the Week
Monday I met with the town manager for our weekly one-on-one. We discussed the quarterly meeting, some budget items, and business proposals that may or may not come to fruition. Our meeting lasted about half an hour.
Wednesday – Cary Parks and Recreation
Wednesday I was part of an exhibition at the Cary Tennis Park. I joined tennis services coordinator Sean Ferreira and two senior players in a 24 point exhibition. Due to my numerous errors my team lost 15-9 but we had a lot of fun. The event was co-sponsored by Western Wake Tennis. I provided a few remarks and thanked everyone for being involved in senior tennis and talked about upcoming improvements to the tennis park.
Later Wednesday I attended a reception for the CAPRA (Commission for Accreditation of Park and Recreation Agencies) accreditation team. CAPRA accredits park and recreation agencies for excellence in operation and service. Cary has received this accreditation for several consecutive years and I am confident we will receive it again. While there I talked with the accreditation team members and provided remarks to about three dozen staff, board and commission members, and volunteers. We are so fortunate to have such a fantastic park system in Cary. We are the reigning Gold Medal winner which means we have the best park system in the country.
My final meeting Wednesday was an organizational meeting for dance lessons so that I, Mayor Pro-Tem Bush, Morrisville Mayor Cawley, and NC Representative Adcock, can perform at this year's Diwali celebration in October. Each of us will have a 50 second solo followed by a 50 second group dance. It sounds fun, exciting, and scary all at the same time. I will be doing a Bollywood dance in costume. My first real practice is in less than two weeks.
Thursday – Quarterly Meeting
Thursday Council, management, and Department Directors met a half day for the fiscal year 2018 3rdQuarter meeting (fiscal year 2018 began on July 1, 2017). The meeting included a biannual survey results, financial update, a development update, and a downtown update. Here are some interesting points that came out during the discussion:
The town manager noted that staff is encouraged by council's willingness to take risks (mostly political).
Finances are in good shape.
Recycling is an issue. Nine months ago we were paid $10/ton for our recycling. Now we pay $21/ton for our recycling.
This year's capital budget includes 43% for street projects.
The Morrisville Parkway interchange at I540 will take two years and should be finished in 2020.
The Carpenter Fire Station Road and CSX Rail grade separation project will be bid in June.
The Green Level West project is finished four months ahead of schedule.
The bridge on Cary Parkway between Evans and North Harrison will be closed from June until August so that repairs can be made. This is the last improvement before turning it over to NCDOT for maintenance.
The Cary Parkway and High House project should take one year. (I hope)
Cary inspectors perform 315 inspections a day with 24 people. That is the most inspections per inspector of any municipality in the state.
The Sams Jones house site plan is currently being finalized. Hopefully the restaurant will open early 2019.
Chatham Walk condos are under their final round of reviews.
Our meeting concluded after about five and a half hours. At our work session in June we will talk about branding and budget details.
Saturday – Ritmo Latino Festival
Saturday I joined council member George and Police Chief Godwin in making remarks at the Ritmo Latino festival. In my remarks I noted that Cary has one of the largest Latino populations in Wake County and that Diamante has partnered with us for over two decades to celebrate that culture. The music and dance was fantastic and people seemed to be having a great time despite the 90 plus heat. After remarks I talked with several people and had my picture made with one of the bands that played. I also was able to capture Council member George dancing.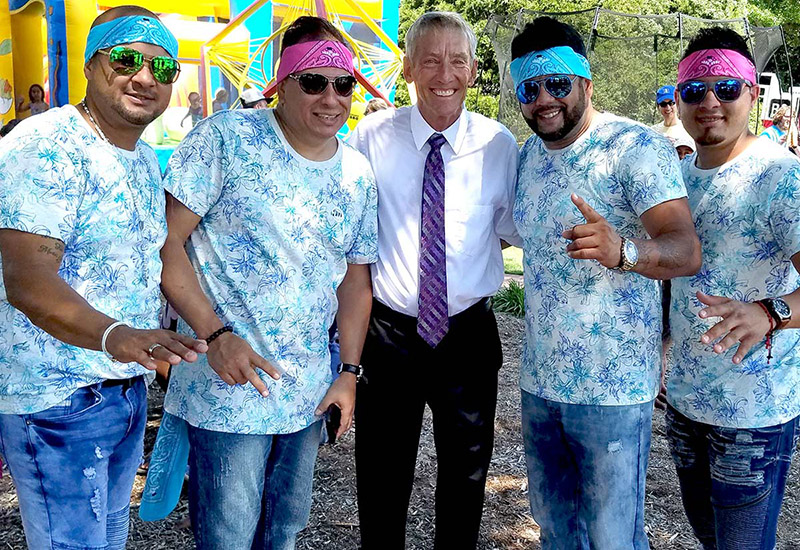 Town Manager's Report
The town manager's report for this week includes:
Q3 Meeting In The Books

The staff and I are so appreciative to the Mayor and Town Council members for what was an incredible afternoon discussing our culture, our accomplishments, and our shared, authentic approach to our future. It was heartening to hear so many of you say how valuable our quarterly meetings have become, and I'm glad the "Perfectionism versus the Pursuit of Excellence" conversation resonated with you. It was also important to be able to talk candidly about just how tired we are. As I said, one of my key responsibilities is to take care of everyone by setting, monitoring, and adjusting our pace of change, a pace I will moderate in Q4. We look forward to getting back together on June 7 to continue the conversation about the budget.

Assisting Morrisville PD Today

At the time of this writing and per the request of Morrisville Police Chief Patrice Andrews, we have deployed our Emergency Response Team today to help Morrisville try to capture a suspected offender who escaped from custody. The FBI and Wake County Sheriff's Office are also involved. While regional cooperation and mutual aid are commonplace for our public safety staff, such activities do not typically include our highly-skilled ERT, which was ranked the best in NC last year.

Cary Joins in Smart Cities Week

Meredith Gruber and Terry Yates both spoke on Tuesday at Smart Cities Week Silicon Valley. Meredith played the mentor city role in the City Readiness Hub with Centennial, Colorado. The panel discussion focused on challenges cities face on their smart cities journey and how to best overcome them. Terry shared Cary's challenges, progress, and future predictions on the 2018 Readiness Challenge Grant Winners panel.

Wake Transit Plan Keeps Moving

The FY19 Wake Transit Work Plan continues to move toward approval by the governing boards of CAMPO and GoTriangle. The plan includes several new projects for Cary: a new route serving Weston Parkway and Park West Village shopping center, land acquisition and design for the downtown Multimodal Center, improved passenger information materials and signage, and two new positions for plan administration and implementation. Rather than add two new positions to the Town's headcount, we recommend re-purposing existing FTE's that are currently vacant due to attrition in another area of the Town. The positions, which will be fully funded thru Wake Transit, will integrate with the Town in a way that is not siloed.

The Major Investment Study project manager presented a "BRT Evaluation Framework" to TPAC members on Wednesday. This framework will be used to assess BRT corridors and conceptual alignments against a set of evaluation metrics. The metrics measure things like speed, reliability, connectivity, equity, ridership, transit supportive land use and constructability. This assessment will not be the final say in corridor and alignment selection but will be used by impacted jurisdictions to make value judgments that will ultimately inform priority decisions.

Don't forget – Cary will host a public meeting on Tuesday, May 15th to get feedback on proposed BRT corridors and station locations, and bus network expansion over the next decade.  Staff will be available to discuss the options and answer questions from 5:30 – 7:30 PM in the Paul Cooper room of the Cary Arts Center.

Koka Booth Improvements

Several significant projects are wrapping up this week at Koka Booth Amphitheatre, just in time for the start of the season. All of the wood on the Crescent deck has been replaced and treated with a special sealant to extend the service life of the wood. There is a distinctive shine now to the Crescent as a sign of that work.

Several ADA issues were addressed which has resulted in a change near the sound mix position between the lawn seating and the gold circle seating. The VIP section of lawn seating has been moved to the right side of the mix to allow for better handicapped access for wheelchair seating on the left side.

Finally the architectural lighting project has been completed, replacing the 17 year old outdated system and ensuring good light levels throughout the facility. Transportation & Facility, Public Works, PRCR and SMG staff all worked together to pull off this major work in time for our first major concert, Vance Joy, this weekend.

Line Locating Set To Begin

The FY18 Critical Water Line Location Project will begin May 21. The work will occur weekdays, 9am-4pm, and will last approximately six weeks. Contractors, on behalf of the Town of Cary, will be working on Walnut St, from Cary Towne Blvd to Buck Jones Rd. The water line location varies, so the lane of travel impacted will also vary. However, proper traffic control will be in place when the contractors are working and no more than one lane of travel will be impacted at a time. Work will begin near Walnut St & Ivy Ln, then go towards the two ends. Work in the intersections of Walnut St & Maynard Rd, and Walnut St & Buck Jones Rd will occur at night. GoCary bus stops will not be blocked or impacted by work.

If you're interested in a little more background on the project, line locating is done on non-metallic, difficult-to-locate water mains that serve large commercial customers and large numbers of residential customers. Work includes vacuum excavation down to the pipe depth, confirming pipe material and location, then back-filling and marking the location with traceable marker balls.

Bike Month Keeps Rolling

On Saturday, May 5th, Mayor Weinbrecht and Mayor Pro Tem Bush joined citizens, staff, and representatives from the East Coast Greenway Alliance on a 5-mile bike ride to the Fest in the West event. The short ride was along the White Oak Creek Greenway trail which has been designated as a section of the East Coast Greenway, a 3,000-mile biking route from Maine to Florida.

The ride is one of the many bike-themed events occurring during May, which was officially proclaimed as Bike Month at the May 3rd Town Council meeting. On hand to receive the Proclamation from Council Member Frantz was Greg Couch, the Safe Routes to School Coordinator for Northwoods Elementary. Northwoods Elementary was one of five Cary schools to participate in the National Bike to School Day on Wednesday May 9th.

Carpenter Fire Station Grade Separation Project Preparation

On Tuesday, staff including project co-managers Bob Shultes and Tom Ellis hosted the utility construction coordination meeting for the Carpenter Fire Station Road Grade Separation Project. This is a bond project that includes realigning Carpenter Fire Station Road between Louis Stephens Drive and NC 55 while providing a new CSX Railroad bridge over Carpenter Fire Station Road. Utility companies including Duke, AT&T, Google, Verizon, PSNC as well as our own Cary fiber and utilities were in attendance and are preparing to address utility conflicts in advance of road construction that is anticipated to begin later this summer.

NW Cary Parkway Bridge Work Underway

Work has begun on the NW Cary Parkway Bridge over Black Creek. As part of the construction sequence, a portion of Black Creek Greenway will be closed. Weather permitting, contractors working on behalf of the Town of Cary will close a portion of Black Creek Greenway near NW Cary Parkway during the week of May 14 through late August. Signs will be posted to let citizens know of the closure. Trail users are encouraged to use alternate routes, including a signed detour along Norwell Boulevard and through North Cary Park. This will allow for work related to the NW Cary Parkway Bridge Rehabilitation Project, which is expected to be complete this fall.

Public Speaks Out Leads to Downtown Chat

This week Ted Boyd met with Joy Bunch and had a great time chatting about downtown; Joy spoke during a Public Speaks Out a couple meetings ago to express concern about the development around the parking deck. She lives in downtown Cary having moved here from Charlotte. Her concern with the development was making certain we are considering the traffic and pedestrian impact of new development, which I shared with her that we will, we just aren't that far along yet. She loves downtown and just wants to keep in the know. I encouraged her to always feel free to speak at public speaks out but to know she can email me directly and will always take time to catch up.

Recognitions

Public Works was contacted by a local teacher for Exceptional Children in Cary about the possibility of having her students tour our solid waste facilities and trucks. Per the teacher, one of the students, Lily, is a "recycling enthusiast, times 100". The four exceptional students came to the Operations Center last week for their special tour.

Each of the young ladies was given a fashionably designed hard hat and safety vest and a exclusive tour of the solid waste fleet of trucks and the Citizen's Convenience Center. Lily and her classmates were so "super" excited about seeing and sitting in our trucks, with the grand finale of seeing our inventory of recycling carts at the Convenience Center! The smiles that we were able to put on these amazing children were contagious. Thanks to Ted Zolkowski, Jesse Troublefield and Sammie Chance for making this special day happen!

And we're pleased to announce that Academy Street was selected as one of the Great Places of 2018 by the American Planning Association of North Carolina.
Emails From Citizens
Emails from citizens this week included:
A complaint about a water main break in December.
A concern about crossing Maynard Road as a pedestrian.
A suggestion for more education about bikes and pedestrians during bike month.
A concern about traffic speeds on Walker Street.
A complaint about the gas station near Hortons Creek Elementary that was approved 15 years ago.
A complaint about someone doing auto repair in the street of a neighborhood.
Next week's activities will include the Honor a Teacher Ceremony, Wake Transit Public meeting including BRT (Bus Rapid Transit), CAMPO (Capital Area Metropolitan Planning Organization) executive board meeting, and the Historic Site meeting on A.M. Howard farm and C.F. Ferrell Store.
Get In Touch
Well, that is all for this week. My next post will be on Friday, May 18th.  Although I have Facebook and Twitter accounts those are not the best means of communications with me. Please send all Town of Cary questions or comments to Harold.Weinbrecht@townofcary.org and email personal comments to augustanat@mindspring.com.
---
From the blog of Cary Mayor Harold Weinbrecht. Photos courtesy of Harold Weinbrecht.
https://carycitizenarchive.com/wp-content/uploads/2018/05/HaroldBlog-May14-Featured.jpg
550
800
Harold Weinbrecht
https://carycitizenarchive.com/wp-content/uploads/2020/03/cc-archive-logo-450-v3.png
Harold Weinbrecht
2018-05-14 13:04:17
2018-05-14 13:04:17
Harold's Blog: Quarterly Meeting, Parks and Recreation and More