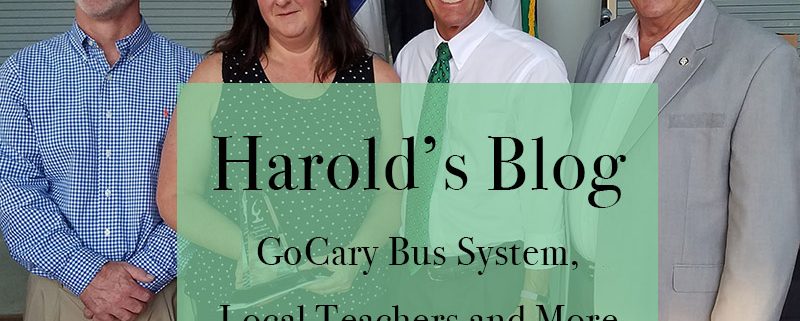 Cary, NC – This was my last week before vacation so it was a little slower than normal.
Monday – Honor A Teacher
Monday I joined council members Frantz and Smith at the Cary Chamber's Honor a Teacher Awards Ceremony. This event is to recognize teachers that go above and beyond the call of duty. I had the privilege of giving a few remarks and thanking the teachers before the awards were presented.
There were over 160 nominees and 32 awards in all including one sponsored by the Town of Cary. The awards included a nice glass plaque and a $1000 check. Cary's award was for civic education and was given to Carolynn Angilello of Turner Creek Elementary.  We congratulated our winner and had our picture made with her. The ceremony lasted about an hour and fifteen minutes.

Tuesday – GoCary and GoTriangle
Tuesday I attended a Wake County Public transit meeting at the Cary Arts Center. GoCary and GoTriangle staff were on hand and displayed prospective plans for four bus rapid transit corridors in Wake County, including one in Cary, and maps of what the bus network might look like by 2021, 2024 and 2027. There were several dozen people in attendance during the 45 minutes I was there.
One interesting discussion between attendees was a BRT (Bus Rapid Transit) route from Chatham Street to Cary Town Boulevard using a portion of Trinity Road not built yet. This would go through the Fenton development, also not built, on the state property across from the mall.
Wednesday – Transportation Meeting
Wednesday I chaired a meeting of CAMPO's (Capital Area Metropolitan Planning Organization) Executive Board. The agenda included two public hearings and regular agenda items. The public hearing on the FY 2019 Recommended Wake Transit Work Plan had a speaker from Wake-Up Wake County encouraging approval and to do more sooner. Most of the regular agenda items were informational.
NC Secretary of Transportation, Jim Trogdon, spoke to the Executive Board about his new initiative Build NC. He explained that out of the three pools of money (state, regional, and local), only the state level had flexibility to accelerate projects through GARVEE (Grant Anticipation Revenue Vehicle). This means that 65% of funding was not leveraged. He would like the ability at all levels to accelerate projects. He explained that the state is growing and changing and that we will grow by over 30% in the next 10 years with most of that growth in the Triangle and Charlotte. He stated that multiple funding tools would be necessary to meet immediate as well as future needs and that accelerated projects would have a strong economic impact and enhances NC's economic competitiveness. He assured us that Build NC would support the highest priority projects in rural and urban locations and concluded by asking all executive board members to talk with the legislators about Build NC.
Friday – Mayors Meeting
Friday I participated in a meeting of the North Carolina metro mayors. Since the legislature has only been in session a couple of days there wasn't a lot to discuss. Some of the topics that will be covered in the short legislative session include the budget which they plan to have ready in early June, a few constitutional amendments, prison security, school safety issues, and water contamination issues. Of course there will be lots of bills introduced that are non-controversial. The legislature is planning on adjourning by July 1st.
Town Manager's Report
The town manager's report for this week includes:
311 Team Learns in Denver

Five members of the 311 work team, representing our three current contact centers and the manager's office attended the 18th annual AGCCP (Association of Government Contact Center Professionals) conference this week in Denver. This was a great opportunity to learn from other municipalities who have implemented 311. Staff visited the City of Denver center, which was especially relevant as they also use the Salesforce platform for their core technology. Additionally, the team was able to participate in conversations with LA, Atlanta, Charlotte, and other municipalities regarding smart cities, live chat, and machine learning.

Street Maintenance Information

A reporter with the News & Observer is planning to write a story about street maintenance in Cary and contacted the Town seeking answers to questions pertaining to the town's street maintenance program. The Town Manager's budget proposal recommends improving streets and sidewalks by raising the annual vehicle license fee from $15 to $30. The vehicle license fee is charged annually as part of the vehicle property tax bill for each registered vehicle within the Town of Cary. The $15 increase is estimated to generate approximately $1.95 million per year with $650,000 of that amount available for general use and the remaining $1.3 million dedicated to transportation capital use, as outlined in North Carolina General Statute 20-97. The FY 2019 recommended budget assumes that the additional $650,000 generated for general use will be directed annually to the Town's sidewalk program, while the remaining $1.3 million will help support the annual street maintenance project. The questions asked by the reporter and answers provided by staff are provided in the link https://carync.my.salesforce.com/sfc/p/#36000000uIdK/a/360000000srm/SNk_m1eD2AQXRYfrtM45D1mvcQBDgXyBVsWaTrKrOmU.

Coordinating with Morrisville

The Town Infrastructure Field Services team participated in a coordination meeting with staff from Morrisville on Wednesday. This was the second of what will be regular meetings to help coordinate infrastructure construction issues between staff. These meetings were the result of a larger initiative to ensure continued efforts to ensure coordination between the Towns. A special thanks to Shandy Padgett (Morrisville Inspections Director) and Kent Jackson (Morrisville Town Engineer) and Chris Wells (Morrisville Fire Marshal) for attending and helping facilitate this cooperative outreach.

Bike Amenities Added to Bond Park

On Saturday May 12th, Town staff and staff from Cary's REI store spent the afternoon at Bond Park to help visitors with the new bike repair station. The new station was installed May 1st near the Boat House and includes 8 different bike repair tools and an air pump to ensure that greenway users keep their bikes moving.  Bond Park serves as a prime location for this amenity, being at the intersection of the White Oak Creek Greenway and the Black Creek Greenway, two of the town's most popular trails.

There was a steady stream of visitors stopping by to check out the repair station, to do some maintenance to their bikes, and to discuss the town's greenway system. We heard a lot of excitement for the bike repair station and overall support for the greenway system and biking in Cary.

The Town of Cary now has three bike repair stations on the greenway system. The other two stations are located at the New Hope Church Trailhead on the American Tobacco Trail (ATT) and at the Old Reedy Creek Trailhead on the Black Creek Greenway.

To learn more about upcoming Bike Month events, participate in rides, and get recommendations for greenways to explore in Cary, visit www.townofcary.org/bikecary.

GRCVB Presents to Town & Chamber

Hotel occupancy rates as well as food and beverage tax receipts continue to rise, according to Denny Edwards and his team at the GRCVB. The group presented its report card to several Town staff along with Cary Chamber officials on Wednesday. During the meeting, the group talked about recent "wins" as well as potential synergies with our upcoming community branding initiative. The CVB and our branding consultants, North Star, will be presenting at this summer's Chamber Planning Conference.

Yates Store Rd. Extension 

This week pedestrian traffic was shifted into the new pedestrian tunnel on the American Tobacco trail to allow for the completion of the Yates Store Road extension. This is a developer built project and they will need to finish the road, utilities, landscaping and connecting paths before turning the project over to Cary to maintain, which is expected to occur this summer (weather dependent). The contractor is doing a good job minimizing disruptions and keeping the American Tobacco trail open to the public.

Chamber Small Business Awards

The Town was well represented at the Cary Chamber 2018 Small Business Excellence Awards. Staff from Finance, Development Services, Town Manager's Office and Police joined Mayor Pro Tem Bush and Council Member Yerha at the awards banquet held at the Embassy Suites.

Wake Transit Takes Input

We had a great turnout at our Wake Transit public meeting on Tuesday. Citizens stopped by the Cary Arts Center to learn more about Bus Rapid Transit, Commuter Rail, and local/regional bus services. This event also gave us a chance to let everyone know about the Western Wake Comprehensive Operational Analysis (COA), which is a component of the larger Wake Transit Bus Plan. The COA will look at existing fixed-route and paratransit services, as well as needs for future service, in the Towns of Cary, Apex and Morrisville. Data collected will be used to evaluate current GoCary services for efficiency improvements, identify opportunities for growth not covered in the current Wake Transit plan, and inform future municipal and regional transit plans.

Hospitality Tax Small Projects

As you recall, in February we submitted our project requests for the next round of hospitality tax funding. The Town submitted for projects at WakeMed Soccer Park and at Koka Booth Amphitheater. Our projects were scored in the second tier, which is a reduced funding amount than was requested. Last week we learned that what is being recommended would be further reduced. A little more than half the funding that we requested is being recommended to Cary and we are working with Wake County staff on options. All of the funding recommendations will be presented to the Wake County Board of Commissioners on May 21 for their approval. We will be reviewing the information to see how this might affect the projects moving forward and will keep Council informed.

Public Input on Historic Properties

The Historic Facilities Interpretation and Rehabilitation Plan is moving forward. After several months of research and property analysis by our consultants, CUBE design + research, we have reached the public input phase. On May 17 our first public meeting was held in Carpenter, with Councilman Ed Yerha in attendance. Small group discussions yielded a variety of ideas for the future use of the three historic properties (C.F. Ferrell Store and warehouses, Good Hope Farm, and Barnabas Jones Farmstead).  Another public session will be held on May 31 at 6 PM at Jack Smith Park. Thanks to the team and all the other staff who participated.

CAMPO Exec Board Recap

The Executive Board met on Wednesday and the highlights from that meeting include:

Secretary of Transportation James Trogdon, NCDOT presented on the proposed NC Build program. The presentation is available here.
FY2018-2027 Transportation Improvement Program Amendment #4 was approved.
Prioritization (SPOT) 5.0 – the point allocation was reviewed
Wake Transit Work Plan for FY2019 held a public hearing
CAMPO presented an update on the Triangle Strategic Tolling Study. Stakeholder input is highlighting the need for income, modal, and geographic equity.

The next Executive Board meeting is scheduled for June 7, 2018.

Quality Built Homes v. Town of Carthage

Last Friday the North Carolina Supreme ('Supreme Court') issued its second decision in Quality Built Homes v. Town of Carthage. That case initially involved a challenge brought by two developers to water and sewer impact fees assessed by Carthage. In 2016 the Supreme Court held that the impact fees were not authorized by the public enterprise statutes and were illegal. (This decision did not directly impact Cary because Cary has Charter authority for water and sewer development fees and did not rely on the enterprise statutes.)  After deciding the fees were illegal, the Court sent the case back to the North Carolina Court of Appeals to determine the applicable statute of limitations, when that limitations period started to run, and whether the doctrine of estoppel applied. That process concluded Friday when the Supreme Court said the three year statute of limitations for liability created by a statute applied, that such period started to run when the payments were made, and that the doctrine of estoppel by acceptance of benefits did not apply. Generally, this is a win for cities as the Court of Appeals, which was overruled, had ruled that a ten year statute applied.

Vacation Reminder

A friendly reminder that I will be out of the office until May 29. If you should need anything that requires immediate attention, please contact others in the Manager's Office.

Recognitions

We are very proud of master firefighter Jordan Rink, who will deploying on Saturday for 14 days as part of a 10-person emergency management response team to the volcanic activity on the big island of Hawaii. Jordan has former experience working for FEMA and Wake County Emergency Management and is part of state and regional all-hazards incident management teams. He has previously deployed to other disasters, including Hurricane Katrina in 2005, Tropical Storm Irene in 2011, and the Party Rock, N.C., wildfires in 2016. Good luck Jordan!

A Cary resident, Mr. Joshua Peal, has attended a number of the monthly Barbershop Rap Sessions that are conducted by the police department and Mr. Tru Pettigrew. Peal, originally from Liberia, had recently asked Chief Godwin and Tru how he could take some of the things that were going on here to the National Police in Liberia.  Chief Godwin and Tru met with him and offered some thoughts and ideas. In addition, Chief Godwin presented Peal with some Cary PD patches and challenged him to get them in the hands of the Inspector General (Chief) of the Liberian National Police.  Peal took a video of Chief Godwin presenting these patches to the IG as a gesture of brotherhood in law enforcement between the Town of Cary and the nation of Liberia. On Tuesday of this week Peal called Chief Godwin from the Liberian IG's office where he had obtained the opportunity to present the patches directly to the IG. We are happy to see the Town of Cary being represented so positively and having a small opportunity to bring good methods of progressive policing to this part of the continent of Africa
Emails From Citizens
Emails from citizens this week included:
Suggestions for exercise equipment in our parks and along our greenways.
A request for motion activated street lights.
A complaint of car repairs in the street.
A complaint of unwanted newspapers left in driveway.
A concern about unusual neighbor activity.
A request to help fight human trafficking.
Several requests to attend events.
Next week will be a vacation week for me so I will not be posting for two weeks.
Get In Touch
Well, that is all for this week. My next post will be on Sunday, June 3rd.  Although I have Facebook and Twitter accounts those are not the best means of communications with me. Please send all Town of Cary questions or comments to Harold.Weinbrecht@townofcary.org and email personal comments to augustanat@mindspring.com.
---
From the blog of Cary Mayor Harold Weinbrecht. Photos courtesy of Harold Weinbrecht.
https://carycitizenarchive.com/wp-content/uploads/2018/05/HaroldBlog-May21-1.jpg
550
800
Harold Weinbrecht
https://carycitizenarchive.com/wp-content/uploads/2020/03/cc-archive-logo-450-v3.png
Harold Weinbrecht
2018-05-21 09:39:27
2018-05-21 09:39:27
Harold's Blog: GoCary Bus System, Local Teachers and More