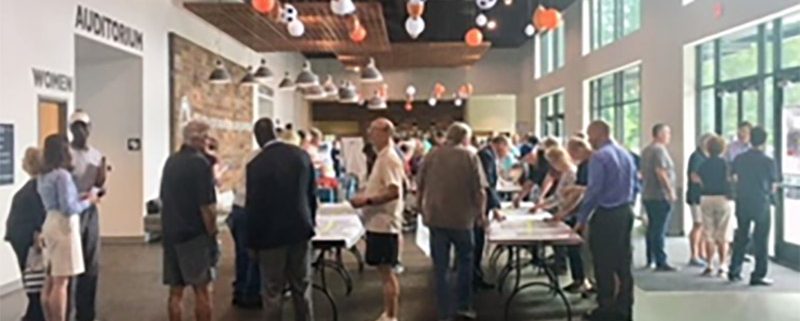 Cary, NC – The week was much slower than last week and is typical as we approach the summer.
Monday – Wake County Mayors
Monday I joined Wake County Commissioner and CAMPO (Capital Area Metropolitan Planning Organization) vice chair and staff in a review of the agenda for Wednesday's monthly meeting.
Monday afternoon I was scheduled to meet with the town manager for our weekly one-on-one but he had a scheduling conflict. So he sent an information summary on topics that included a Fortune 500 company, downtown park consultants, and status on feedback about the budget. We will meet next Monday as scheduled.
Monday night I attended a meeting of the Wake County Mayors Association. All mayors were in attendance except the mayors from Fuquay Varina and Wendell. We were joined by Wake County School Board Superintendent Cathy Moore. She talked about her vision for each student and about the future of Wake County schools. She also gave us insight of her life story. The mayors discussed several items including their budgets which start on July 1st. Only a few municipalities will see tax increases and Cary will continue to have the lowest tax rate in Wake County. Our meeting concluded after about two hours.
Wednesday – Wake Transit Plan and Bus Routes
Wednesday I chaired the monthly meeting of CAMPO's (North Carolina Capital Area Metropolitan Planning Organization) Executive Board. CAMPO is responsible for carrying out an annual work program, updating the MPO's Transportation Improvement Program (a seven-year project programming schedule) and the Metropolitan Transportation Plan (a minimum twenty-year forecast of projects and programs).
The agenda for this month included four consent agenda items, one public hearing, and six discussion items. The board unanimously approved the following:
Adoption of the FY 2019 Wake Transit Work Plan including the FY 2019 Wake Transit Work Plan Agreement. A structure packet authorizing the CAMPO Executive Director to execute any agreements that are part of the work plan in which CAMPO is a party.
Approval of the Bus Rapid Transit Evaluation Framework and System Performance Standards Memo.
Approval of the Wake Transit Bus Plan Service Guidelines and Performance Measures.
Scheduled a public hearing on August 15th for the Triangle Regional Freight Plan.
The committee also agreed not to hold a meeting in July so our next meeting will be in August. The meeting concluded after about an hour and a half.
Friday – State Legislature
Friday I participated in a meeting of the North Carolina Metro Mayors Association. Here are the summary notes from that meeting:
The legislature is in wrap up mode.  The General Assembly is no longer taking up any major legislation and is unlikely to move forward with legislation than may publicly controversial or face a possible veto.  This week has been spent working on local bills and constitutional amendments.

Constitutional Amendments

S 75, Maximum Income Tax Rate of 5.5%

This would cap the tax on personal and corporate incomes. The current cap is at 10% and this would lower it to 5.5%.
Passed through the House Rules Committee this week.

H 1092, Require Photo ID to Vote

Passed the House Rules Committee on Thursday and is scheduled to be heard on the House floor on Monday.

S 677, Protect Right to Hunt and Fish

Adds language in the Constitution to provide that the people of the State have the right to hunt, fish and harvest wildlife.
Passed on the Senate floor on Wednesday and passed House Rules yesterday. It is scheduled to be heard on the House floor on Monday.

S 814, Judicial Vacancy Sunshine Amendment

Would create a nonpartisan judicial merit commission which would take vet candidates for judicial vacancies and submit evaluations to the legislature. The legislature would then recommend at least two nominees for the governor to pick from. If the legislature's not in session at the time of the vacancy, the chief justice of the N.C. Supreme Court would make the appointment.
For discussion only in Senate Judiciary Committee on Thursday.

H 551, Strengthening Victims' Rights (Marsy's Law)

Would give crime victims the right to receive notice of court proceedings, the right to be present at any proceeding and to be heard at some stages of the legal process, and to "reasonably confer" with the prosecutor in the case.
For discussion only in Senate Judiciary Committee on Thursday.

All constitutional amendments must pass the legislature with a three-fifths vote of each chamber. If passed by the legislature, the amendments would appear on the November ballot and must receive a majority approval of voters.

Transportation 

S758, Build NC – signed by the Governor for up to $3b in revenue bonds (no referendum) specifically for highway projects through the STI process at the Regional and Divisional level.

Bus Maintenance/SMAP Cut (Budget item) – cuts to state support for bus maintenance in order to make up for an ongoing shortfall in revenues in the Highway Fund.  A white paper on the SMAP program background and the spreadsheet for FY18 funding distribution are both attached.  It is expected that each city will see a 27% reduction from their FY18 funding level.

Economic Development (Holding Pattern on non-local bills – this not likely to pass before adjournment)

S 563, Commerce to Assign County Distress Factors, Senate Rules.

Ranks counties by levels of distress by measuring property value per capita and ranking of sales distributions per capita. This represents an indication of how the General Assembly may frame things next year on this topic.

Public Safety (Holding pattern on non-local bills – but must remain vigilant)

H 340, Stand-alone bill for special separation allowance for firefighters, Senate Rules (Has not moved since last session)

S 153, Military Retiree State Income Tax Relief

Proposed committee substitute also includes the firefighter special separation allowance language, now in House Rules

Local Control and Revenue Bills (Holding pattern on non-local bills)

H 507, Land Use Bill, in Senate Rules

Subsequent to the Supreme Court ruling on internet sales tax this week – a Legislative Committee may be created to meet between sessions to explore incorporating the ruling into NC tax law in 2019.
The meeting concluded after about 20 minutes.
Town Manager's Report
The town manager's report for this week included:
Downtown Park Planning Underway

On Tuesday, the planning for the Downtown Cary Park Master Plan kicked off with a presentation by the consultants, consisting of The Office of James Burnett and their team. A large interdepartmental group of staff participated. Staff reviewed the proposed schedule, vision and goals of the project, as well as information that the consulting team has collected to date.

General Assembly Update

On Thursday, the General Assembly voted into law the Apex Annexation bill (H930). Cary's legislative agenda included support of Apex's request to annex a portion of Laura Duncan Road adjacent to Laurel Park Elementary.

Soofa Sign Installed Downtown

There's a new addition at our downtown park! This week, a soofa sign was installed. Soofa signs are an outdoor, electronic display, used to share real-time community content and information with citizens. The signs are equipped with solar power and wireless connectivity complementing our other Smart City initiatives. Thanks to Mayor Pro Tem Bush for identifying this great way to connect and share information with our citizens.

Greenway Boardwalk Reopens

Construction is now complete on a new 200' long concrete boardwalk on the Green Hope School Greenway at the Briardale Ave. intersection and this section of the greenway is open again for traffic.

After being damaged by a major storm event in 2016, it became apparent that the timber boardwalk structure was in need of replacement. Temporary repairs were made to keep the boardwalk open while a new structure could be designed and permitted for construction. The boardwalk was damaged by another storm in 2017 forcing its closure just prior to starting construction on the new structure.

The new boardwalk has a concrete structure and is raised to a higher elevation to minimize damage during future major storm events.

Pop-Up in the Park

Pop-up in the Park was a huge success at Marla Dorrel Park this past Friday! Instructors from Cary Arts Center and Herb Young Community Center offered free demonstrations of their programs to random park-goers. Approximately 50 citizens dropped in throughout the afternoon to learn about the various programs.

CAMPO Board Highlights

CAMPO's Executive Board met on June 20 and some items related to the Wake Transit project were on the agenda, including:

Adoption of FY19 Wake Transit Work Plan
Approval of Wake Transit BRT Evaluation framework
Approval of Wake Transit Bus Plan Service Guidelines & Performance Measures
Approval of FY 2018 Wake Transit Work Plan 4th Quarter Amendment
Federal Fiscal Year 2018 Federal Transit Formula Funding Distribution was approved

The July Executive Board meeting has been cancelled; the next meeting will take place on August 15.

Staff Speak at NCSU Sustainable Practices Training

On June 20, Fleet Manager Brandon Pasinski and Sustainability Manager Emily Barrett presented at the "Sustainable Fleet Management Practices & Technologies Training" sharing Cary's experiences with Sustainable Fleet Planning, Vehicle Selection Standards & Life-Cycle Cost Analysis, and Alternative Fuels/New Fleet Technology. This session was recorded for NCSU's Clean Energy Technology Center online training offerings.

NCDOT Public Meeting on US-64 Project

NCDOT held a public meeting on the US-64 project on Thursday at Summit Church in Apex. The NCDOT project team presented four draft concepts, which included two interchange options for both Laura Duncan Rd. and Lake Pine DR. as well as a superstreet and expressway alternatives for the remaining US-64 corridor from US-1 to just west of Laura Duncan Rd. A public survey and input sheet are also available on the project website with comments requested by July 21. Following project design, right-of-way acquisition is expected to begin in 2020 with construction anticipated in 2022.

Connected Vehicle Project Update

On Wednesday, Cary staff met with personnel from the Federal Highway Administration, NCDOT, and the Capital Area MPO to kick-off the Town's Connected Vehicle LAPP Project. This project will add Connected Vehicle technology to nine major intersections in Town. When complete, vehicles will be able to send and receive information with our traffic signal infrastructure, resulting in improved efficiencies and safety.

This project was made possible by a federally funded grant award to the Town through CAMPO's LAPP process.

Recognitions

The CAWTF was among 69 facilities recently honored by the NC Division of Water Resources for surpassing federal and state drinking water standards. This prestigious award, officially the "NC Area-Wide Optimization Award for Excellent Performance," is presented annually to drinking water facilities that demonstrate consistent, outstanding water quality with a focus on turbidity. Turbidity is a measure of the cloudiness or haziness of water caused by particles that can interfere with disinfection and provide a medium for microbial growth. While all drinking water systems must meet strict state and federal standards, award recipients must meet performance goals which are significantly more stringent. The CAWTF has received this honor seven times since 2010.

We also want to congratulations Shuchi Gupta on being selected for the Steering Committee of the Southeast Sustainability Directors Network (SSDN). Her term on the Steering Committee is three years. SSDN is a network of sustainability professionals in the Southeast US collaborating to advance sustainable best practices across the region.
Emails from Citizens
Emails from citizens this week included:
Comments on the Food and Beverage Tax.
A concern for pedestrian safety in downtown.
A concern about the internal issues of the farmer's market.
A comment about privacy on board applications.
A concern about GoCary transportation for seniors.
A complaint about the council decision to approve a gas station at Kildaire and Penny.
A comment that we should have more local control and ask the legislature for home rule (aint that the truth!)
Next week's activities include staff meetings, events, a Bollywood dance lesson, the downtown library groundbreaking, the last regularly scheduled council meeting of the month, and a meeting of the North Carolina metro mayors.
Get In Touch
Well, that is all for this week. My next post will be on Sunday, July 1st.  Although I have Facebook and Twitter accounts those are not the best means of communications with me. Please send all Town of Cary questions or comments to Harold.Weinbrecht@townofcary.org and email personal comments to augustanat@mindspring.com.
---
From the blog of Cary Mayor Harold Weinbrecht. Photos courtesy of Harold Weinbrecht.
https://carycitizenarchive.com/wp-content/uploads/2018/06/HaroldBlog-Jun25-1.jpg
419
800
Harold Weinbrecht
https://carycitizenarchive.com/wp-content/uploads/2020/03/cc-archive-logo-450-v3.png
Harold Weinbrecht
2018-06-25 13:05:17
2018-06-25 13:05:17
Harold's Blog: Transit Plan, General Assembly and More