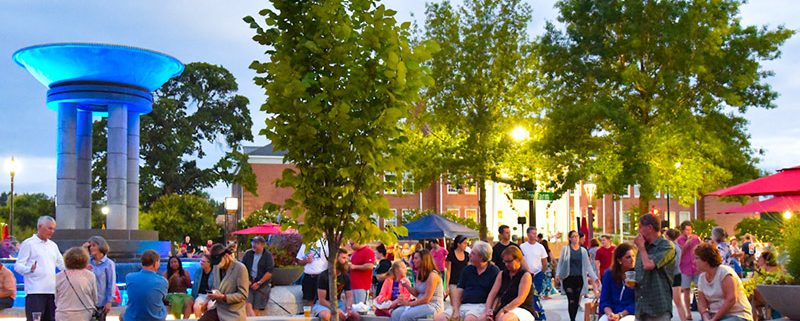 Cary, NC – The new downtown fountain and stage has attracted more foot traffic to the corner of Academy and Dry than it had seen in years, but it only represents a fraction of the total Downtown Cary Park. At a recent Cary Chamber of Commerce meeting, the landscape architect laid out some visions of what Phase II of the park could look like.
Completing the Downtown Park
In a meeting on Wednesday, June 27, 2018, representatives from both the Town of Cary and the landscape architecture firm the Office of James Burnett (OJB) spoke about Phase II of the Downtown Cary Park, which will see the remaining six acres of the seven acre site filled in.
Doug McRainey, director of the Cary Parks, Recreation and Cultural Resources department, showed an early sketch of the park from the 2012 master plan where mostly open space had been planned. McRainey said this was an average idea and wanted the new park to have an international reputation, giving as examples iconic parks such as Chicago's Millennium Park as aspirational goals.
"When you get off the plane at RDU and you want to go to the top ten parks in the Triangle, Cary should be at the top of that list," McRainey said.
Simon Beer, project manager for OJB, spoke about previous parks his firm has created. While Beer did not point to specific structures or designs that Cary will include, his examples illustrated ideas that could be reflected in the future Downtown Cary Park.
McRainey said OJB was selected because of its focus on design, programming, architecture.  He added that their proposal best integrated the new downtown library with the park.
"We think the integration of the library is crucial to the success of the park," Beer said.
Beer showed images from the Klyde Warren Park in Dallas, Texas and the Myriad Botanical Gardens in Oklahoma City, Oklahoma, both of which earned OJB an Urban Land Institute Award. Aside from the aesthetics of the parks, Beer pointed to the economic impact of the Klyde Warren Park, which sits between Dallas' uptown and arts district.
"Surrounding rental rates increased by 82 percent after four years and the sales value of real estate rose by more than 100 percent," Beer said. "Parks can drive economic development."
Important Park Features
Among the various OJB parks projects Beer showed, including Greensboro's LeBauer Park and Houston's Levy Park, Beer continuously highlighted the programming. These could range from concerts to outdoor fitness classes to group yoga and more.
"[Klyde Warren Park] wouldn't be what it is today without programming," Beer said.
This was also reflected in LeBauer Park, which is smaller than their other parks, but Beer said it makes up for it in programming and design features.
Beer also drew comparisons between the site of the Downtown Cary Park and the Myriad Botanical Gardens. Both have different grades, or elevations, and Beer said they were able to use this to their advantage in Oklahoma City to create unique settings and features.
One key similarity between all of the parks was their emphasis on being dog-friendly, which Beer said is not only out of a shared passion for pets but it is also practical to attract visitors.
"Residents with kids will visit once or twice a week but downtown residents with dogs will come almost every single day to a dog-friendly park," Beer said.
If Cary citizens want to learn more and share their ideas for what they do (and do not) want in the new park, Cary's Director of Economic Development Ted Boyd said there will be a community workshop on Wednesday, July 25, 2018, with details about time and location to come.
Boyd also said, as the library and parking deck build on the same block as the park, the corner of Park Street and Walker Street will remain open to let it connect to the rest of Downtown Cary. Boyd also said the town is trying to share information about the construction with surrounding businesses and any potential developers that could come in next to the park and library.
"We want to make sure some good development doesn't get short-sighted because of the library," Boyd said.
At the existing portion of the Downtown Cary Park, there will be a free outdoor concert this Saturday, June 30, 2018 at 7 PM. The Band Brevet will perform in the first of several Cary Live events this summer.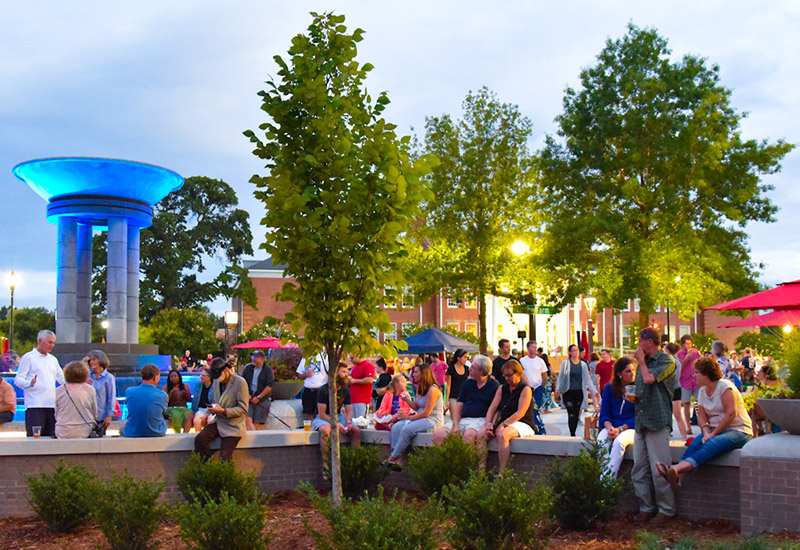 ---
Story by Michael Papich. Photos by Lindsey Chester and Hal Goodtree.
https://carycitizenarchive.com/wp-content/uploads/2018/06/DowntownCaryPark4.jpg
550
800
Michael Papich
https://carycitizenarchive.com/wp-content/uploads/2020/03/cc-archive-logo-450-v3.png
Michael Papich
2018-06-28 13:07:16
2018-06-29 09:35:06
Architects Lay Out Inspirations for Downtown Park Phase II