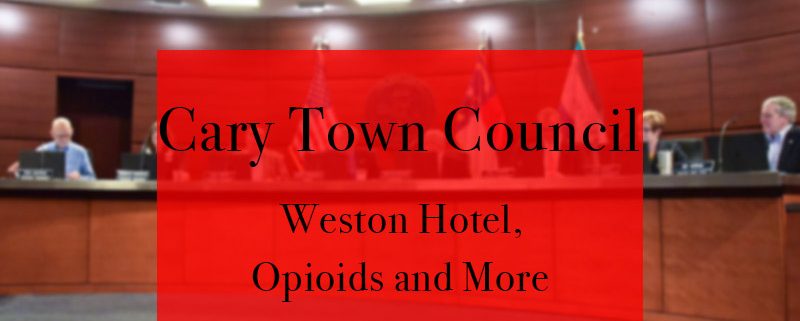 Cary, NC – The latest Cary Town Council meeting had only one item with significant community input which brought out a variety of comments and opinions from residents. Town Council also voted on the budget, opioid monitoring in Cary and more.
West PDD and Hotel Proposal
The most discussed item on the Thursday, June 28, 2018 agenda was a proposal to amend part of the Weston PDD to allow for hotel usage. The site is currently zoned O&I (Office and Industrial) which does not allow for a hotel but does allow for an office, a post office, a veterinary clinic and more.
The roughly five-acre spot is triangle-shaped, sitting between Weston Parkway, Winstead Drive and Old Reedy Creek Road. For this spot, the required streetscape is 50 feet but the applicant is requesting that change to 30 feet on all three sides, while adding a sidewalk on each side. Also, the applicant is requesting the height of the building be increased from the 50 foot limit to 100 feet. Additionally, the minimum parking requirement would be 81 percent of the current standard.
The applicant's lawyer said there are other projects with similar heights and smaller streetscapes in the PDD and therefore the request is "not unprecedented." The applicant said with the offices in the Weston PDD, there is a greater need for hotels in this area.
Nine people came to speak out, with opinion spanning a significant spectrum. For the people who were totally opposed, these were nearby residents who said they were concerned about traffic increasing, particularly how that would impact pedestrians and cyclists along Old Reedy Creek Road. Some speakers also said there are enough hotel projects in the area already and one said the existing forestry in the spot is part of the appeal of Cary to bring in more business. Several residents were also concerned about the 100 foot proposed height, with one resident saying the site sits on a hill so the height would be even more pronounced.
There was also a nearby business owner who said she was generally supportive of a hotel project but had concerns about the smaller streetscape, increased height and the impact on surrounding traffic. Then, there were three residents who said that Cary does not have enough selection for hotels, particularly in this spot, and would want another hotel to give more options.
When Cary Town Council gave their thoughts before sending the proposal to the Planning and Zoning Board, none talked much about the hotel use in this location. The most comments on the matter came from Councilmember Don Frantz who said traffic is not a factor to him because the existing zoning would allow the developers to build things that are more traffic-intensive than a hotel.
But the main concerns came from the requested height increase and streetscape reduction without including any conditions as concessions to justify these other changes.
"To not even offer a pedestrian crosswalk, the smallest thing you could do, confounds me," said Mayor Pro Tem Lori Bush.
Several councilmembers talked about the scenic Weston Parkway drive and how this streetscape reduction would cut down on that. To the applicant's lawyer's point that other reductions have occurred in the area, Frantz said Town Council takes all of these on a case-by-case basis.
"Just because we approved a buffer reduction two miles down the road doesn't mean we'll do it here," Frantz said.
Cary Mayor Harold Weinbrecht also asked for some photographs to demonstrate what the 100 foot hotel would look like from surrounding neighborhoods and businesses. The proposal went to the Planning and Zoning Board for their recommendation.
Other Public Hearings
There were two other Public Hearings on the agenda, neither of which saw comments from Town Council or the public. The first of those Public Hearings were to rezone nearly 21 acres between the coming Carpenter Fire Station Road Park and Crosspointe Church/Northwest YMCA. Crosspointe Church is also the applicant in this case.
The conditions would limit the new development to townhomes with only five dwellings per acre and a community gathering space of a minimum 12,000 square feet. While there were no speakers at the Public Hearing, town staff said at a resident meeting, there were concerns about how the development would impact the development of Carpenter Fire Station Road Park.
The other Public Hearing was a rezoning of 2.77 acres of R-40 land to O&I to let a nearby Presbyterian Church expand its services and hold daycare and preschool. The land in question is across from Highway 1/64 and WakeMed Hospital. There would also be conditions in place not only limiting the use to religious assembly and daycare/preschool, but also, only 8,000 of the 20,000 square feet can be for a preschool.
With no discussion on either item, both rezonings were sent to the Planning and Zoning Board for their recommendations.
Discussion Items
There were two Discussion Items on the agenda, one of which was the budget adoption. There were no changes since it was up for a Public Hearing and Town Council did not discuss it aside from thanking town staff for putting it together. The budget was passed unanimously.
The other Discussion Item was to rezone part of Ashville Avenue and redevelop the medical park there and expand the facilities. The site will now have two four-story buildings, creating more than 240,000 square feet of medical office space. There would also be two parking decks and requests to change Cary's architectural standards to give the site a "modern" look.
The buffer between the medical office park and the highway was shrunk from an average of 50 feet to an average of 47 feet. This is what led to the one "no" vote on the Planning and Zoning Board but all the rest were in favor. Town Council voted unanimously for the rezoning.
Opioid Monitoring
As part of the Bloomberg Mayors Challenge, the Town of Cary is planning to use technology from Biobot Analytics to monitor the concentration and metabolization of opioids in Cary's wastewater to pinpoint where opioids are being used in town, and then targeting public health remedies to those spots.
The Town of Cary received a $100,000 grant to implement this program and, if it shows promise, Cary could win an additional $1 million or even $5 million from Bloomberg Philanthropies. Cary Assistant Town Manager Mike Bajorek spoke at the Town Council meeting to get a vote to accept the grant and talked about the potential benefits of this program as well as the need.
"Twenty percent of high schoolers in North Carolina have used prescription opioids," Bajorek said.
Town Council accepted the grant unanimously and Weinbrecht said he thinks Cary has "a good shot" at earning the additional $1 million.
Scott Hecht Day
Also as part of the Town Council meeting, Weinbrecht read a proclamation for Monday, July 2, 2018 to be "Scott Hecht Day," in honor of Cary's Public Works Director Scott Hecht.
This is in recognition of Hecht organizing the "Tour de Cove" to fundraise for former Cary Transportation and Facilities Director Lori Cove's medical needs. Cove has been in a progressive vegetative state since October 2016 when a car hit her while she was riding her bicycle.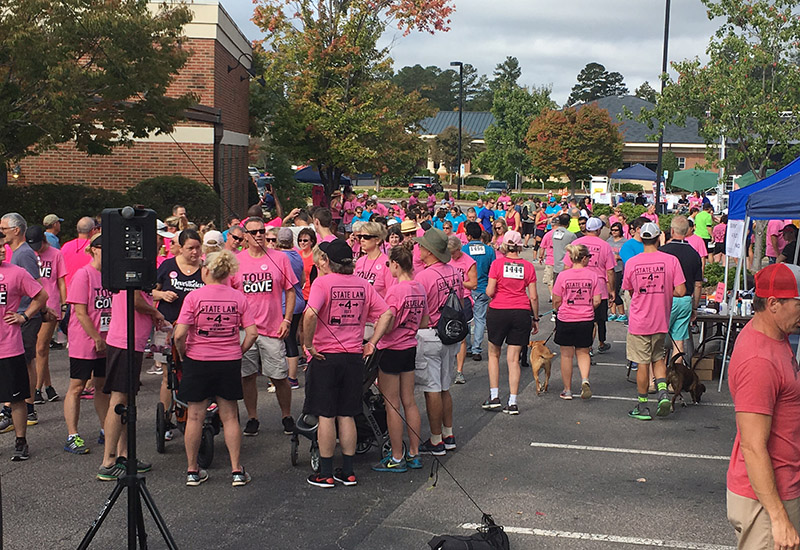 Public Speaks Out
There were two speakers at Public Speaks Out. One was a resident along Old Reedy Creek Road who asked for more Town Council involvement in RDU International Airport's decisions to move its car rental facilities which she said would negatively impact Umstead Park, as well as the plans to sell potential park space off as land for a quarry.
Another speaker said she had asked for a proclamation for "Immigrant Heritage Month" and was denied because Town Council said immigration is a federal issue and they do not do proclamation on those subjects. She expressed disappointment and talked about her and her family's experience as immigrants.
Finally, Cary High School's new football coach Jason Wilkes spoke to talk about the football program and how he is working to build the team members into what he said would be good members of society, with three Cary High School football players accompanying him.
---
Story by Michael Papich. Photos by Google Maps, Lindsey Chester and Hal Goodtree.
https://carycitizenarchive.com/wp-content/uploads/2018/06/CaryTownCouncil-June29-Featured.jpg
483
800
Michael Papich
https://carycitizenarchive.com/wp-content/uploads/2020/03/cc-archive-logo-450-v3.png
Michael Papich
2018-06-29 09:27:24
2018-06-29 10:01:48
Cary Town Council: Weston Hotel, Opioids and More