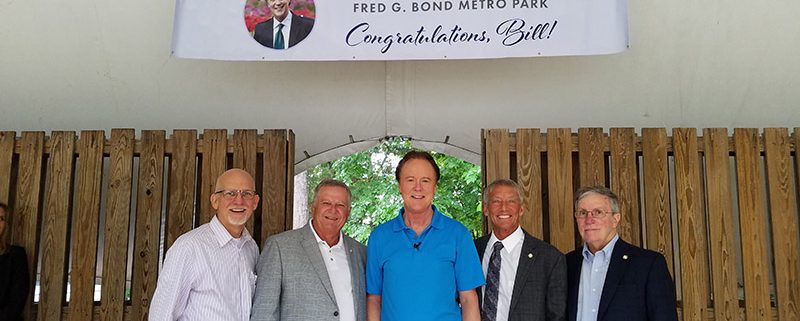 Cary, NC – This week included several important events and a council meeting.
Monday – Planning for the Week
Monday I attempted to contact council members to hear of concerns or questions they may have had about the agenda. I was able to contact all but two and there were no concerns. Later in the day I met with management and directors along with Mayor Pro-Tem Bush and council member Frantz. We went over the agenda items and provided feedback. Our meeting lasted about half an hour.
Following the meeting to review the agenda I joined Bush and Frantz in a meeting with the town manager, town attorney, town clerk, public information officer and other staff members. Some of the topics we discussed included the budget, historic properties, the downtown park phase 2 planning process, the mall site, and downtown businesses. Our meeting lasted an hour.
Tuesday – Bill Leslie Stage Re-naming
Tuesday I joined council members Smith, Yerha, and George in a surprise for long time WRAL anchor and 39 year Cary resident, Bill Leslie. It was a privilege to name the stage at the Sertoma Theater after him. It was a perfect fit since they are both hidden treasures in Cary. Bill has not only been a news fixture for 39 years but has given back to his community through his music, songs, and compositions. I look forward to seeing him play at this wonderful venue in the near future.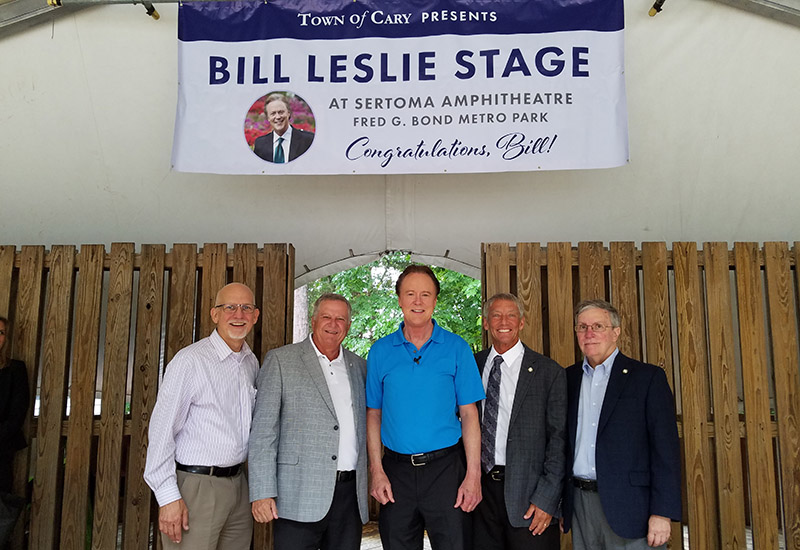 Tuesday night I had my third Bollywood dance practice for the performance this October. My performance will be 50 seconds long and I have learned about 25 seconds of the moves. Once I learn the moves I will have to learn how to do them correctly. 😉
Wednesday – Library Groundbreaking
Wednesday I joined the entire council at the groundbreaking celebration for the new Cary Regional Library and parking deck. Also in attendance were former council member and current NC legislator Gale Adcock and former council member and current Wake County Commissioner Erv Portman. I was the emcee for the ceremony and provided opening remarks. Other speakers were the chair of the Wake County Board of Commissioners Jessica Holmes, the director of Wake County Public Libraries Michael Wasilick, the vice chair of Wake County Library Commission Brenda Buchanan, the Cary Economic Development Director Ted Boyd, and the downtown and district B representative Don Frantz.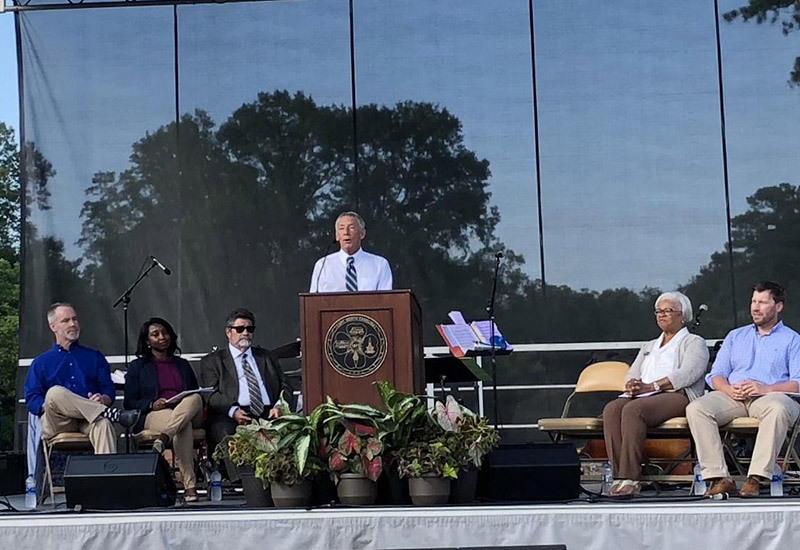 After remarks about a dozen of elected officials and other dignitaries joined in the official groundbreaking and turning of the dirt. We did two takes of this to make sure everyone got a good picture. There were about a couple of hundred people in attendance and everyone seemed to be enjoying the park, fountain, and the ceremony despite the warm temperatures. I am excited to see this integral part of our downtown experience now underway. Next will be the final phase of the downtown park. Can't wait!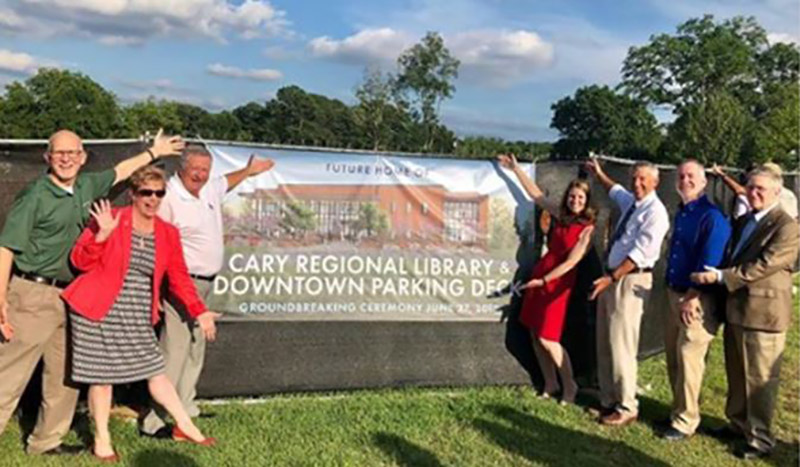 Thursday – Town Council Meeting
Thursday the council held the last regularly scheduled meeting of the month. The agenda included three presentations, eighteen consent items, three public hearings, and two discussion items.
Under presentations I declared July 2nd as Scott Hecht day. This is the first time I have done this. Scott, who is the Public Works director, organized a fundraiser outside his job duties for Lori Cove. Ms. Cove was severely injured while riding her bike in the fall of 2016. His event had thousands in attendance and raised over $120,000 for Lori and her family. This is a significant help since Lori will probably require lifelong assistance. I am honored to know Scott and think he is an amazing person.
The Public Hearing that drew the most speakers was the proposal for a hundred foot tall hotel off of Weston Parkway. Conditions in the proposal included double the height of what is allowed, reducing parking, reducing streetscape and buffers, and not building a sidewalk. Needless to say this did not go over well with council and each council member provided a lot of concerns and criticism of the proposal. I believe there will need to be a lot of changes for this proposal to have a chance of becoming a reality.
Under discussion the council unanimously approved the rebuilding of office buildings behind Western Wake Hospital. In addition, the council approved the $347 million budget for fiscal year 2019 which begins on July 1st. Cary's tax rate will remain at 35 cents which will again be the lowest in Wake County. Some of the notable items include 12 new firefighters to staff a ladder truck for western Cary; $8.7 million for completing the grade separation of CSX Rail at Carpenter Fire Station Road; $3.2 million for land acquisition associated with the Carpenter Fire Station Road widening; $2.7 million for stormwater assistance and drainage improvements; plus $500,000 for continued downtown revitalization and $215,000 to renovate portions of two community centers.
Following the meeting the council went into closed session. The meeting concluded after about three hours.
Friday – Meeting on General Assembly
Friday I participated in the last meeting of the North Carolina Metro Mayors until the legislators reconvene in the fall. Here is a summary of the legislative week:
The Weekly Recap

WHAT HAPPENED: The General Assembly overrode vetoes, prepared constitutional amendment questions for the November ballot and handled other business in what was widely expected to be 2018's final week of legislating.

WHAT IT MEANS: While lawmakers closed out the 2018 short session today, their adjournment resolution calls for a reconvening in late November.

ON TAP: Not much else, seeing as lawmakers closed the books on regular business as of today.

THE SKINNY: The short session that began in May saw hundreds of bills filed and many put into law, including a $23.9 billion budget. Lawmakers left open-ended any business they could take up during the November reconvening, which would follow the General Election. That led critics to charge that the majority party was seeking one more bite at the apple, should they lose their supermajority, which would give Gov. Roy Cooper's vetoes more staying power.

Adjournment, But No Sine Die

The General Assembly finished its 2018 short session today (Friday) after a little more than a month of bill filing and lawmaking. The final week's biggest actions included debate and approvals of November ballot questions asking voters' permission to amend the North Carolina Constitution a few different ways. One proposes to place a voter ID requirement in the Constitution. Another would protect the right to hunt and fish. A third is focused on crime victims' rights in the legal process. A fourth would establish a Bipartisan Board of Ethics and Elections Enforcement and give the legislature power over duties and appointments. A fifth would cap the state income tax rate at 7 percent (despite an earlier push for a 5.5 percent cap). North Carolina voters will approve or disapprove of each constitutional amendment proposal individually.

The legislature this week also demonstrated its veto-proof majority by putting into law a number of bills on which Gov. Roy Cooper had put the kibosh. They included H374 Regulatory Reform Act of 2018, HB 717 Judicial Elections Changes, SB 325 Uniform & Expanded Early Voting Act and SB 711 NC Farm Act of 2018. Other bills considered, but not on track for approval at the time of this writing, included HB 471 Felonious Gaming Machines, which would clarify law on the felonious possession of such devices.

Short sessions come every even-numbered year as an opportunity for lawmakers to adjust the biennial budget they crafted the previous year and to move new legislation. This year's short session has been one of the shortest in many years, but it's not cut and cauterized. The adjournment resolution directs the chambers to reconvene Nov. 27 at noon, three weeks after the General Election. The resolution does not limit what kind of business the General Assembly may address at that time.
Town Manager's Report
The town manager's report for this week included:
Cary & Wake Co. Break Ground on New Library Site

In a joint groundbreaking ceremony, Town of Cary and Wake County celebrated the next phase of the Downtown Cary Regional Library. The new library, which will integrate with plans for the next phase of the downtown park is yet another example of all the energy in and around downtown. Mayor Weinbrecht and Board Chair Jessica Holmes welcomed citizens and other dignitaries to the event. And as Council Member Frantz proudly proclaimed to the crowd in attendance, it was a great day to be Cary!

Downtown Park Eye Opener

On Wednesday morning, Doug McRainey and Ted Boyd introduced the Office of James Burnett, the designers for Phase 2 of the Downtown Cary Park, to citizens at the Cary Chamber's Eye Opener Breakfast. Doug explained the goal to take the plan for the park up 10 notches or more, creating a destination in the region. Simon Beer with OJB went through some of the firms previous park designs and described their philosophy to the citizens in attendance. Ted invited those in attendance to a community workshop on July 25. Many of those in attendance expressed excitement about the style and quality of work OJB has done in the past and how their vision can create a destination center like nothing in the region right here in Downtown Cary.

FY19 Wake Transit Plan Adopted

The proposed FY19 Wake Transit Work Plan was adopted by the governing boards of CAMPO and GoTriangle. The Town of Cary is the project sponsor for the following projects in FY19:

Expansion of Wake Transit Marketing and Public Outreach related to GoCary services;
Expansion of the Downtown Multimodal Transit Facility Feasibility Study and funding for the next phase of this project which includes Land Acquisition and Facility Design;
Expansion of Holiday Service Hours to include New Year's Day. The 4th of July will be added in FY20;
New Transit Plan Administration related to GoCary program coordination and analysis;
New Passenger Information Materials including updated signage, maps, and educational materials;
New Route and Associated Capital Improvements (i.e. sidewalks, bus stops and amenities) serving Weston Parkway, Park West Village, and James Jackson Avenue.

Electrical Code Training

On June 23, Electrical Code Officials Ben Wesley and Wayne Clevenger provided Electrical Code Training to approximately 60 individuals who routinely work in Cary wiring new residential homes. Although these individuals typically work for licensed electricians, most are not licensed themselves and are required no formal training or certification. The intent of the training was to review new electrical code updates that went into effect June 12. Ben and Wayne also took time to educate attendees on the most common electrical violations our Cary Code Officials discover during inspections with the intent to reduce both violations and re-inspections.

Connected Vehicle Platoon Tests

Volvo Trucks and FedEx teamed up Wednesday with the North Carolina Turnpike Authority to demonstrate, for the first time on U.S. soil, advanced technology developed to help big trucks travel safely close together in fuel-efficient "platoons." Town staff joined Mayor Pro Tem Lori Bush on-site to tour the trucks and discuss the program details with industry and NCTA representatives.

The N.C. Turnpike Authority was one of 10 agencies chosen last year by the U.S. Department of Transportation to provide proving grounds for connected and automated vehicle technologies that are quickly changing the nation's cars and trucks.

New Environmental Education Signage

Three new environmental education signs were installed at locations along our greenway system, two on White Oak Creek Greenway and one on Higgins Greenway. These signs put into context the important environmental services brought by our greenways, wetlands, and stream restoration projects. Many thanks to staff designer Thomas Ballman, photographer Richard Carter, the EAB, and the entire staff review team.

Cary/Apex Sets Water Production Milestones

On June 19 and June 20, the Cary/Apex Water Treatment Facility (CAWTF) set new daily production milestones of 32.55-MG and 34.77-MG, respectively. On both days, water transfers were underway to Durham. The CAWTF is currently rated for a capacity of 56-MGD and provides treated drinking water to Cary, Apex, Morrisville, RDU Airport and Wake County's portion of Research Triangle Park. The water transfers to Durham are temporary while construction work is underway at one of their two water treatment facilities.

The previous high production milestone was 30.8-MG, which occurred on October 4, 2017 and also included a transfer to Durham of approximately 3.8-MG.

NCDOT Resurfacing Projects Happening This Summer

This summer, the North Carolina Department of Transportation plans to resurface the following streets in Cary and Morrisville:

Maynard Road from N.C. 54/Chapel Hill Road clockwise to High House Road
Chapel Hill Road between NW Maynard Road and Linda Drive
Chapel Hill Road between Weston Parkway and Perimeter Park Drive
Louis Stephens Drive between Morrisville Carpenter Road and McCrimmon Parkway

Utility work is expected to begin next week with resurfacing to begin July 9 on Maynard between Old Apex and High House roads. NCDOT will conduct repaving work at night between 7 p.m. and 6 a.m. Monday through Friday and weekends through winter with some weekday utility work. No work will be conducted during peak travel times.

Recognitions

The N.C. American Society of Landscape Architects awarded Jack Smith Park a Merit Award for general design on June 21.  Jack Smith was in attendance and accepted the award along with Town of Cary staff and the landscape architects, Surface 678, who designed the park.
 Emails From Citizens
Emails from citizens this week include:
A complaint about homeowner association participation in neighborhood traffic calming.
A concern that someone was paying speakers to speak on their behalf at a council meeting.
Questions about the local ICE facility.
Concerns about a proposal for a hotel in Weston.
A request for bike racks in Waverly Place
A question about the vehicle license fee and associated state statute.
A request for smaller townhomes (council can determine the type of use but cannot dictate what the use would be outside aesthetic guidelines)
A concern about a streetlight that is not being repaired (Duke Energy maintains the streetlights).
Regarding bike rack requirements in Cary staff stated the following:
"Thank you for contacting us in regards to bike parking in Cary. We agree that to support a bike friendly community, bike parking is just one of the many amenities that should be provided. Fortunately our land development ordinance does require bike racks at residential, commercial and industrial uses. Of course, the number of racks is dependent on several variables such as the type of development, the number of residents, number of vehicle spaces, etc.  Additionally, when the Town reviews development plans, we ask developments to consider the location, access, type of rack and site conditions based on the Association of Pedestrian and Bicycle Professionals Bicycle Parking Guidelines.

As far as Waverly, it looks like some may have occurred prior to the adoption of our bike parking ordinance, or potentially didn't trigger additional parking requirements. However, looking at some of the recently developed outparcels, such as Cinebistro, Walgreens, etc. there should be racks installed. I'll be happy to provide more info on where they were placed if you'd like.  …"
My activities next week will be extremely light since it is a holiday week. I will have staff meetings and provide remarks at the Fourth of July celebration.
Get In Touch
Well, that is all for this week. My next post will be on Sunday, July 8th.  Although I have Facebook and Twitter accounts those are not the best means of communications with me. Please send all Town of Cary questions or comments to Harold.Weinbrecht@townofcary.org and email personal comments to augustanat@mindspring.com.
---
From the blog of Cary Mayor Harold Weinbrecht. Photos courtesy of Harold Weinbrecht.
https://carycitizenarchive.com/wp-content/uploads/2018/07/HaroldBlog-July2-2.jpg
550
800
Harold Weinbrecht
https://carycitizenarchive.com/wp-content/uploads/2020/03/cc-archive-logo-450-v3.png
Harold Weinbrecht
2018-07-02 09:33:07
2018-07-02 09:33:07
Harold's Blog: New Library, Town Council and More