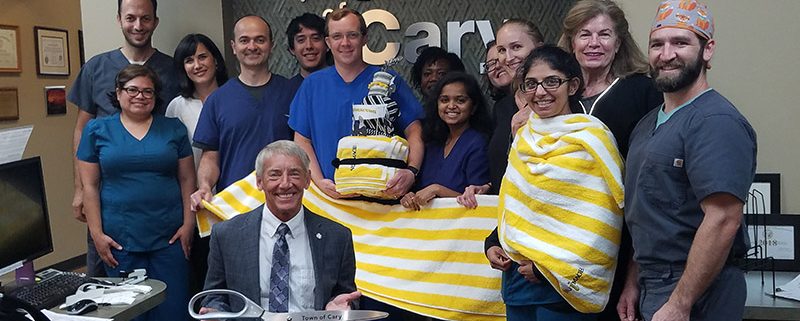 Cary, NC – This week's entry will be short since there wasn't much going on.
Monday – Local Dentist Office
Monday started with my one-on-one with the town manager. We talked about a downtown business, the paid speakers at the public hearing at our last council meeting, the future downtown park, and a business near the mall site. Our conversation was very brief.
Monday afternoon I participated in a business contest at a dentist office. This is a contest with local dental-related practices hosted by Nu Image Surgical and Dental Implants. The contest involves participating staffs taking a creative photos using a Nu Image towel. I joined the staff at the office of TMJ & Sleep Therapy Center for a photo. Hopefully the image the staff with the towel and me holding ribbon cutting scissors will help them win the contest. 

Tuesday – Holly Springs Mayor
Tuesday my wife and I had dinner with Mayor Sears of Holly Springs and his wife. It has been my great pleasure to know Mayor Sears over the years and we have become good friends. We see each other at least twice a month but it was nice to get together with our wives too.
Cary Boards and Commissions
I took time this week finishing my recommendations to the liaisons of the Cary Boards and Commissions. I make sure to read all applications to boards and commissions. Each council member looks for different things in the applications. Some of the things I look for include participation in the Cary School of Government class and information that show genuine interest in what they are applying for. As always, there are far more applicants than positions which makes choosing difficult.
All council members finish their recommendations by July 16th. This will be followed by board liaisons interviews of the applicants with the highest number of recommendations. That process will be completed by July 27th. The final appointment for boards and commissions will be done by August 10th.
I also took time this week to review the annual summaries from the council's direct reports: Town Manager, Town Clerk, and Town Attorney. This is a process that will take us a few weeks.
Town Manager's Report
The town manager's weekly report to council included:
Nalbandian Workshop Shares Concepts of Conflicting Values

Dr. John Nalbandian, Professor Emeritus from the University of Kansas, returned to Cary this week to engage staff in a values-focused presentation, similar to information he presented at the February Council/staff retreat. For example, he introduced the staff to the concepts of model citizens and their desire to give back to a community. The training was designed to immerse employees in key decision-making concepts for public organizations. Small group activities included case studies from other cities to identify how the four public values (representation, individual rights, social equity, and efficiency) could be used to better determine the potential trade-offs of a proposal. Successfully incorporating the values framework into discussions holds the potential to increase productive communication between staff and Council by allowing more work to be accomplished on the bridge between the political and administrative arenas.

Traffic Technology Testing

Staff has been hard at work implementing new technologies to improve traffic flow and data collection. Two of these projects went live for testing recently, with the potential to greatly improve the Town's traffic efficiency and connectedness.

Working with Miovision Technologies, staff is piloting a new technology at four locations along Davis Drive that will analyze hundreds of thousands of data points to better tune our traffic signal coordination timing. The pilot will last three months. If useful, these devices could be easily expanded along Davis Drive to further improve operations.

Single-Use Plastics Documentary and Discussion

On Thursday, the Cary Theater brought the international conversation about single-use plastics to a packed house through the showing of the STRAWS Documentary. This showing was made possible through a collaboration of two Cary-based organizations, Toward Zero Waste and Greenish Neighbor, and The Cary Theater. Mayor Pro Tem Lori Bush spoke on behalf of the Mayor to kick off the movie and was joined by Council member Ed Yerha in attendance. Afterwards, a panel discussion moderated by Emily Barrett collected a diverse set of perspectives from Cary citizens including a downtown business owner, staff from Wake County and NC State University, and a non-profit partner. The audience questions and conversation about personal action, business responding to changing customer demands, and the changing landscape of the recycling industry left the crowd energized and engaged. Many thanks to all involved for partnering with these groups to put on the show and engage further with this important conversation.

Bloomberg Efforts In the News

Widespread interest in our opioids project continues. This week we hosted Terace Garnier from Fox News (national), and I want to congratulate Donald Smith on doing such a good job in his interview. I also want to thank Stephen McNulty and Evan Howell for pitching in to help the reporter with her story.

South Walker Street Closure

Starting next week, the Town will close southbound South Walker Street between East Park Street and Walnut Street from 7 a.m. to 4 p.m. July 16 to July 20 to coordinate with the utility work for the Cary Regional Library and Parking Deck.

From 7 to 9 a.m., drivers traveling along southbound South Walker Street should use East Park Street to South Academy Street as a detour; flaggers will direct vehicles along South Walker Street between 9 a.m. and 4 p.m. Access will always be available for drivers traveling along northbound South Walker Street.

Exceptional Sewer System Performance

Two of the most critical performance measures for sewer system operations are the number and volume of sewer spills. While even the best sewer systems experience some overflows, generally speaking, systems with more than four overflows for every 100 miles of pipe are deemed to have excessive overflows.

In Cary, there were seven reportable sewer overflows in FY 2018. Only 7,774 gallons overflowed out of the approximate 6.2 billion gallons of sewer conveyed to wastewater treatment facilities. With more than 980 miles of sewer lines, there was less than one sewer overflow per 100 miles of sewer line. We are pleased to report that Cary's sewer system successfully collected and treated 99.99% of the Town's wastewater. This exceptional performance of our sewer system represents one of our best years on record. Proper system design, operations management, and rapid response to sewer spills helps make Cary's sewer system one of the best in the state.

Recognitions

On Thursday, Leith Britt presented at the 2018 Esri User Conference in San Diego. His presentation included details around Cary's Smart City efforts and how GIS played a central role in a prototype IoT installation that increases economic growth and the quality of life of its citizens.

Supplemental Information Provided to Council

On February 22, the rezoning case N. Harrison Avenue Hotels Rezoning (16-REZ-15), was presented to Council at a public hearing. During the discussion, Mayor Weinbrecht asked for additional traffic information. That traffic study can be accessed at https://www.townofcary.org/Home/ShowDocument?id=20627.
Emails From Citizens
Emails from citizens this week included:
A complaint about shrubbery overgrowing sidewalks.
A request for contact information for the local ICE representative.
A complaint about AT&T fiber installation contractors.
A request for bike lane maintenance.
A request for government support for a new paralysis rehab center.
Next week will be another light week for mayoral activities (I will enjoy it while I can). Activities include my Bollywood dance practice and the Cary Chamber Planning Conference.
Get In Touch
Well, that is all for this week. My next post will be on Sunday, July 22nd.  Although I have Facebook and Twitter accounts those are not the best means of communications with me. Please send all Town of Cary questions or comments to Harold.Weinbrecht@townofcary.org and email personal comments to augustanat@mindspring.com.
---
From the blog of Cary Mayor Harold Weinbrecht. Photos courtesy of Harold Weinbrecht.
https://carycitizenarchive.com/wp-content/uploads/2018/07/HaroldBlog-July16-1.jpg
550
800
Harold Weinbrecht
https://carycitizenarchive.com/wp-content/uploads/2020/03/cc-archive-logo-450-v3.png
Harold Weinbrecht
2018-07-16 13:02:46
2018-07-16 12:59:31
Harold's Blog: Cary Boards and Commissions, Sewers and More