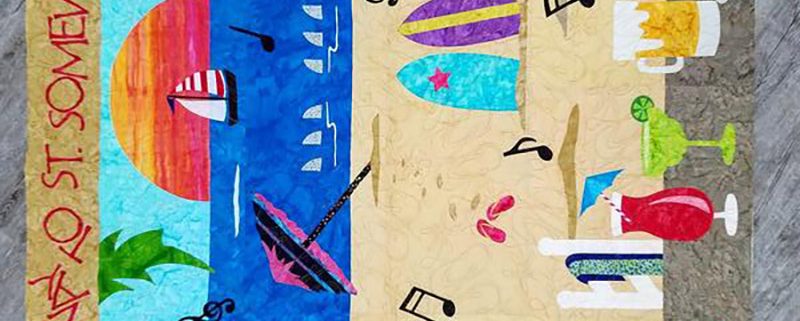 Cary, NC – For the past several years, quilters have collected rows in an annual event but not always ended up with a cohesive project. But this year, one Cary store came up with a way for other stores in the area to collaborate on one group quilt.
Collaborative Quilt Project
If you are a quilter or know someone who makes quilts, you've likely heard of the yearly "Row by Row Experience." Since 2011, quilt shops create their own piece of an overall quilt and give it to customers for free, who then collect and combine these pieces or "rows" into one large quilt.
But Julianne Walther, owner of the Cary Quilting Company on N Harrison Avenue, said this fun yearly project had a drawback.
"In previous years, most shops create their own design and row, then you as a quilter go from shop to shop to collect them," Walther said. "But it was hard in previous years because you had a collection of rows that don't go together so you're not as inspired to finish the project."
While each year of the Row by Row Experience has a set theme, Walther said people's different ideas for rows and designs did not always fit. So instead, this year, Walther came up with the idea for eight quilt shops in Cary and Raleigh – including her own store and Elegant Stitches on Colonnades Way in Cary – to instead come up with one set quilt design and each shop would carry one row for people to collect. And because it is one cohesive quilt at the end,Walther said it gives quilters an added reason to participate.
Walther's friend and Cary resident Sandy Fitzpatrick created the overall design, following this year's Row by Row Experience theme of "music." The quilt's design is inspired by the music of Jimmy Buffett, whom Walther selected.
"We wanted an artist or design that was more universally appreciated by our demographic. We thought about the Beatles, the Rolling Stones, Michael Jackson and finally ended on Jimmy Buffett," Walther said. "We also use batik fabric in our row which is made in the South Pacific. It helps fit that island theme."
Seeing New Faces
When Walther came up with this new take on the Row by Row Experience, she said people thought it would not work because quilt shops are not only seen as competitive but people are loyal to their own shop.
"We have the phrase 'My LQS,' or 'My Local Quilt Shop,'" she said. "But this project almost forces people to look at other shops in the area. I know I've already gotten to meet many new people."
Walther said this year's Row by Row Experience has "opened a whole new world of cooperation" and said she enjoys working together with other quilt shops. Also, with the different area shops all carrying one piece of a larger quilt, Walther said they had fun revealing each row individually so people had to guess what it would be, like seeing one piece of a larger puzzle.
"We didn't unveil the full design until June so when people saw the individual designs out before then, they were asking about what it would be or how it related to music since they would only see a beach or a sunset or a cheeseburger," she said.
All rows carried by the eight participating stores are free to customers to collect and they will also be selling laser-cut kits and flat fabric kits as well.
Cary Quilting Company is located at 935 N Harrison Ave. and Elegant Stitches is located at 316 Colonnades Way both in Cary. The full list of stores is on the Cary Quilting Company website.
---
Story by Michael Papich. Photos courtesy of Cary Quilting Company. Arts coverage sponsored in part by Elegant Stitches in Cary.
https://carycitizenarchive.com/wp-content/uploads/2018/07/Quilt-Vertical.jpg
640
800
Michael Papich
https://carycitizenarchive.com/wp-content/uploads/2020/03/cc-archive-logo-450-v3.png
Michael Papich
2018-07-17 09:39:29
2018-07-17 13:04:59
Cary Stores Partner for Collaborative Quilt Project