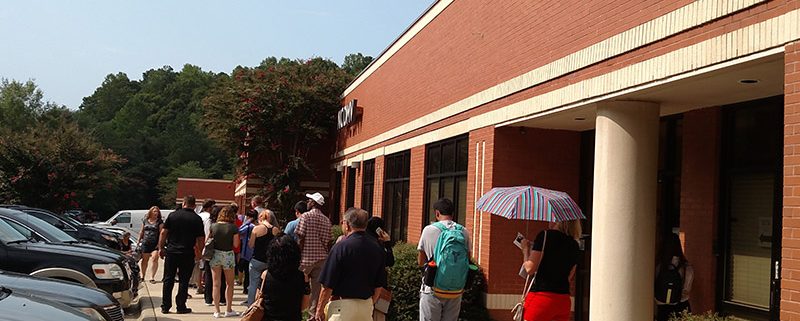 Cary, NC – Few people expect a short wait at the Division of Motor Vehicles (DMV) but these past weeks, local drivers have gotten more than they expected as new requirements coupled with the start of the school year leads to lines out the door at the Cary DMV.
Long Lines
Cary's only DMV office, and the nearest DMV office for many Morrisville drivers, has had the same long wait times as many Triangle offices.
Specifically, these lines are for the driver's license offices, which DMV Commissioner Torre Jessup acknowledged in a press conference earlier this month. The causes, he said, are two-fold, as many people are coming in person to renew their license and get the new Real ID.
"A lot of people are getting the message about Real ID. Web traffic on our page for Real ID increased significantly just this past month. We went from 180,000 hits on that page to 250,000 hits. We know the public is paying attention," Jessup said. "If they want a duplicate license, they can go online but if they want to get a Real ID they have to come into the office and that's the difference that we're seeing here."
Real ID is a change to existing rules for state driver's licenses, first passed by Congress in 2005. Among other things, a Real ID will be required to board commercial flights, enter federal buildings (such as courthouses) and go onto military bases. The final deadline is October 1, 2020 so Jessup said people are trying to get their Real ID before that deadline.
This new push to get Real ID is compounded with what Jessup called their normal Summer rush.
"We're getting close to back-to-school and a lot of young people want to get their license before they go back to school, whether it's to accommodate school schedules or it's because they want to drive to school," Jessup said.
The result is lines that have stretched out the door in DMV offices both in Cary, around the state and even around the country as the Real ID requirement is not limited to North Carolina. And once drivers are inside, wait times can be as long as three and a half hours. While temperatures are high outside, Jessup said the DMV offices have to follow the law and not fill the buildings beyond capacity, even saying the fire marshal has come to make sure offices do not have too many people inside.
Starting this week, the DMV has asked employees to volunteer for four-hour shifts to meet demand. Drivers can make appointments to renew their license rather than wait in line, but some Cary residents have said the earliest appointments are as far back as 2019.
How to Get Real ID
One of the changes with Real ID is that drivers must show four specific forms to prove residency and citizenship to get this special license. Those forms include:
Something to prove identity, date of birth and lawful status (Birth certificate, passport, permanent resident card, etc.)
Something to prove Social Security number (Social Security card, tax form, pay stub, etc.)
TWO documents to prove current address (Utility bill, voter precinct card, mail from government office, etc.)
Not only is scanning and processing these documents adding to wait times but people not knowing the requirements for the Real ID and not having the proper forms also causes delays. Jessup said some DMV employees have taken to walking the lines and making sure everyone has what they need to get the Real ID.
"I don't want anyone waiting in line who doesn't have all of their credentials," Jessup said. "That's a waste of their time and it holds up people behind them."
Jessup also suggested people visit DMV offices outside of the urban centers where lines may be shorter.
So if current lines feel long, just imagine what it will be like at the airport on October 2020 when people realize they do not have their Real ID. Cary's DMV office is located at 1387 SE Maynard Rd.
---
Story by Michael Papich. Photos by Michael Papich and NC DMV.
https://carycitizenarchive.com/wp-content/uploads/2018/08/NC-DMV.jpg
550
800
Michael Papich
https://carycitizenarchive.com/wp-content/uploads/2020/03/cc-archive-logo-450-v3.png
Michael Papich
2018-08-14 10:50:04
2018-08-14 10:50:04
New ID Requirements, School Year Leads to Long Lines at Local DMV