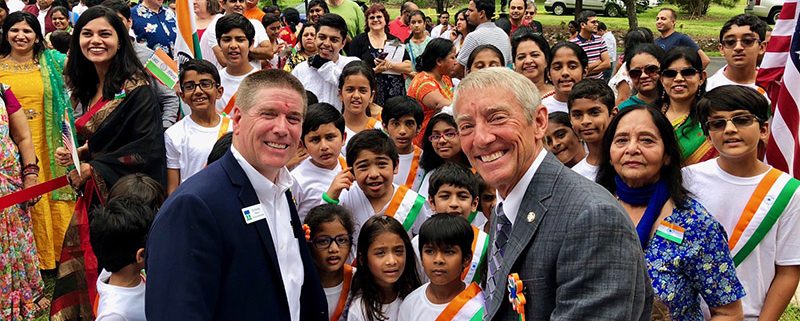 Cary, NC – This week's activities mostly consisted of the quarterly meeting and events.
Monday – Planning for the Week
Monday I met with the town manager for about half an hour for our weekly one-on-one talk. Topics included the downtown library, downtown development, the North Harrison development, the upcoming quarterly meeting and other topics.
Tuesday my meeting with developers who are proposing a hotel on Weston was cancelled. My dance rehearsal was also cancelled.
Wednesday – Transportation Funding
Wednesday I chaired the monthly meeting of CAMPO (Capital Area Metropolitan Planning Organization's) executive board. The committee approved the Triangle regional freight plan and the fiscal year 2019 Wake Transit Work Plan Amendment for $2,260,000 in additional funding for the Raleigh Union Bus Station Facility. Updates on the Wake Transit Plan, Federal Rescission of Transportation funding, and SPOT 5 were also provided. SPOT 5 is the prioritization of large transportation projects over the next ten years. CAMPO's executive board concluded its meeting after about an hour and a half.
Thursday – Opioid Monitoring and Infrastructure Updates
Thursday the council and staff met to get quarterly updates. We were hosted by Wake Med Cary in one of their conference rooms.  We very much appreciate Wake Med Cary for being our host. The main topics were updates on finances, development, the Mayors Challenge on opioids, Cary's Sesquicentennial plans, and technology.
In our financial update it was pointed out that we remain in a very strong financial position. Three staff requests were made and approved unanimously. Those requests included $390,000 lighting replacement at Koka Booth Amphitheater, a $150,000 design of a pedestrian tunnel under Weston Parkway, and a $150,000 green infrastructure and stormwater IOT device.
The major capital development project updates included the following:
The Morrisville Parkway/NC540 interchange is 30% completed and is on schedule. The completion date is set for late 2019.
The Cary Parkway/High House intersection is 60% completed and is on schedule. The completion date is set for spring 2019.
The Cary Regional Library and parking deck is 10% complete, on schedule, and is within budget. The completion date is set for spring 2019.
The Mayors Challenge on the Opioid epidemic is going well. The pilot program is repeatable and measurable. We believe we are a strong contender for the $5 million grant for implementation. Our pilot program measures about 5,000 to 16,000 people at a time. The sample size is 2 ½ gallons over a 24 hour period. We have measured overdose reports versus heroin consumption datasets and found interesting results.
The Sesquicentennial plans are making progress. Our 150th anniversary will be on April 3, 2021. Staff is using that date as an opportunity: #4321 (idea from Ed Yerha). There will be a task force formed in September to work on this issue. The first meeting will be in November.
The technology discussion was very informative. Staff talked about the technology inefficiencies that it has been improving on during the last year. At one point, there were over 150 systems being used in the town's government. Now that has been changed to be mostly SAS, Salesforce, and Cisco. This will not only make Cary more efficient but will allow it to use technology to be more innovative and break down silos. One of the new innovations is our 311 system which is still in the pilot stage. This will allow citizens easy access to all sorts of information.
The quarterly meeting concluded after about six hours. Thanks to all the staff for the hard work preparing for this meeting. Thanks to council members, including myself, for using vacation to attend.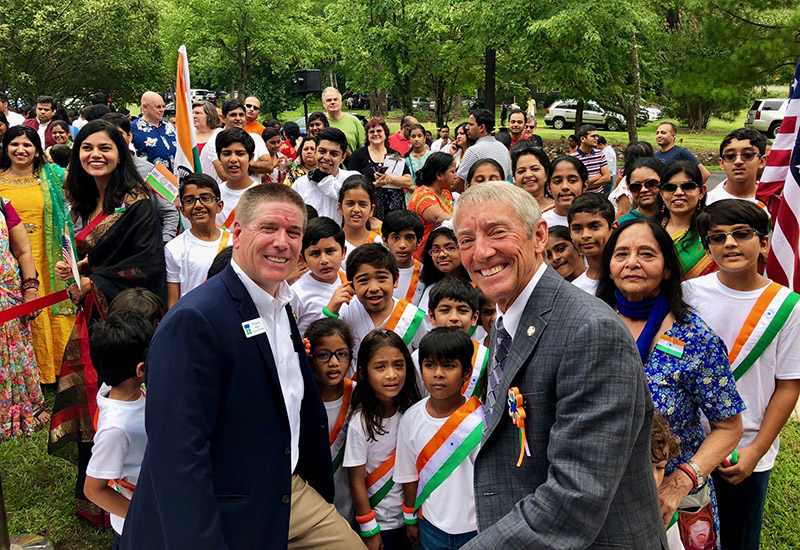 Saturday – India Independence Day
Saturday I joined the Governor and his wife, several legislators, Mayor Cawley of Morrisville, Mayor Pro-Tem Bush of Cary, and hundreds of others at the India Independence Day celebration at the HSNC (Hindu Society of North Carolina) temple in Morrisville. Although India Independence Day was August 15th this celebration takes place on the first Saturday after. It has been celebrated at this location for about twenty years. They start with a parade of about a block with chants and drums praising the country of India and the United States. This is followed by a flag raising ceremony with national anthems of the United States followed by India.
Honored guests are usually asked to raise the flag. The Governor's wife did the U.S. flag; I along with Mayor Cawley and NC Senator Chaudhuri raised the NC flag; and HSNC founder Dr. Sharma raised the Indian flag. After the flag raising ceremony everyone went into the fellowship hall for the program which included hours of performances celebrating Independence. I have been blessed to be able to attend this event the last eleven years.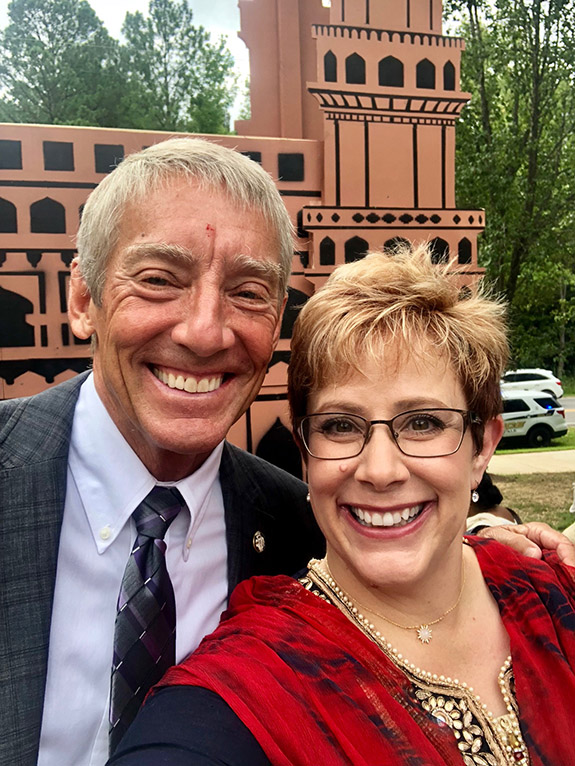 Town Manager's Report
The town manager's report for this week included:
Another Quarterly In The Books

I'm extremely thankful and appreciative of the Council's time yesterday at the Fourth Quarter meeting. You're feedback was valuable and we look forward to making improvements for the next Quarterly in November. Thanks also to WakeMed Cary for hosting our group and updating us on all the great work they do improving the lives of our citizens.

Previewing Lazy Daze Celebrations

As we get ready for Lazy Daze next week, we wanted to give everyone a heads up that Town Hall will be closing at 2 p.m. on Friday in order to allow over 300 vendors, as well as Town staff, time to set-up for the celebration.

Also, Sunshine Artist magazine ranked Lazy Daze Arts & Crafts Festival was ranked #47 out of 100 on the 100 best classic & contemporary craft shows in the US!

High Traffic Volume Expected for NC Courage Game Saturday

On Saturday evening, the NC Courage welcomed the Orlando Pride to Sahlen's Stadium at WakeMed Soccer Park. This match is expected to be very well attended, as nearly 6,000 tickets have already been sold, with more to be purchased leading up to the game. Attendees should expect traffic delays in and around the Park on E Chatham St. To help keep folks safe and allow traffic to move as efficiently as possible, our staff will be working will be monitoring the traffic condition closely.

Holly Springs Planners Observe Our Express Review and IDT Programs

Four members from The Town of Holly Springs permitting & planning office visited us this week to observe our popular Express Review and IDT (electronic plan review) programs. Express Review allows design professionals to submit their plans and have them reviewed during an Express Review session, helping our business community meet their deadlines and begin their projects. A big thank you to the Express Review Team for sharing your knowledge and expertise!

Colleagues Discuss Grace and Forgiveness, Take Selfies at Latest Rap Session

Staff assembled on Wednesday for another compelling "Rap Session" conversation. The topic, "Grace and Forgiveness" cultivated a lot of different thoughts and perspectives. As an added bonus, the group was able to take a selfie for Town Hall Selfie Day!

Cary Presents Autonomous Vehicle Deployment Efforts to NC State Roundtable

On Thursday, Terry Yates represented Cary at a Connected and Autonomous Vehicle (CAV) Round Table hosted by Congressman David Price at the Hunt Library on NC State's Centennial Campus. Other attendees included NC Transportation Secretary James Trogdon, NC Turnpike Authority Executive Director Beau Memory, Governor's Highway Safety Program Director Mark Ezell and several others. Participants briefed Congressman Price on their organization's work and made recommendations for federal and/or state policies related to CAV development and deployment.

Additional Feedback Opportunities for Wake Transit

We are wrapping up an analysis of our existing Wake County routes, as well as potential service options in Cary, Apex and Morrisville. On Wednesday, August 29 at the Cary Arts Center from 5:30-7:30 p.m., in addition to several opportunities at Lazy Daze, you will have the opportunity to provide input on the proposed service change scenario. This includes the Weston Parkway route and an extension of Route 6 to connect with GoRaleigh along both Buck Jones and Trinity.  GoCary has been discussed as a potential operator of service in Apex and Morrisville, as well as a possible Holly Springs Express route in the future.  The meeting will also incorporate prior feedback related to BRT service.

Staff Meets with WRCAC on Housing

On Tuesday, staff met with members of the Housing & Workforce Committee of the Western Regional Community Advocacy Committee (WRCAC). Members of the group represented Wake County Human Services and Wake County Planning, Dorcas Ministries, Taylor Family YMCA, and Cary First Christian Church. In June, staff participated in a community conversation with Wake County Manager David Ellis hosted by WRCAC. This meeting was an opportunity to continue the earlier conversation, understand the goals of the Housing & Workforce Committee, and learn how we can work together.

Maynard Tank Rehabilitation to Begin Late Fall

In a few months, we will begin rehabilitating the Maynard Tank. Beyond its importance for providing storage capacity, operational flexibility and redundancy in our utility system, it is the landmark that annually displays the "Class of XXXX." To ensure we show our hometown pride and continue the tradition of celebrating the senior class, a "Class of 2019" banner will be hung from the shrouded tank throughout the project. Project Manager, Alex Lopez met with Assistant Principal, Amberlee Scott, and Lead Secretary, Kim Wood, to discuss the project and importantly, our commitment to maintain the tradition. Communications with our citizens will continue throughout the project.

Wake County Destination Strategy Unveiled at GRCVB Annual Meeting

The Wake County Destination Strategy was unveiled at the Greater Raleigh Convention and Visitors Bureau's annual meeting on August 16. Key recommendations include.

A two-phased renovation and expansion of the Raleigh Convention Center;

A 100-150K-square-foot, multi-use indoor sports complex to host youth and amateur events and tournaments;

A multi-use MLS stadium that can host 75+ events annually

Development of the Blue Ridge Corridor into a sports, entertainment, arts, scientific, medical and agricultural campus (including renovations and upgrades to PNC Arena if a lease extension with the Hurricanes is agreed upon);

Strategies to identify and increase signature events and festivals as well as bringing blockbuster traveling or permanent exhibits to area arts and cultural institutions;

Adding iconic design elements/features and unique visitor experiences to planned future development projects within Wake County (e.g. Dix Park) to draw visitors in addition to providing quality of life/place benefits to residents.

Recognitions

Thanks to the many staff who coordinated and participated in City Hall Selfie Day, as well as a huge thank you to Dr. Goodnight for joining in on the fun!

Supplemental Information Provided to Council

Mayor Pro Tem Bush – requested information related to Cary's transit initiatives, including an update on Wake Transit's local service plans, bus stops, and the multi-modal facility. If you're interested in receiving the same information, please reach out to Danna Widmar.
Council Member George – requested a copy of an opinion from Chuck Anderson, from Ellis & Winters, on the North Harrison Avenue rezoning.
Emails From Citizens
Emails from citizens this week included:
A complaint about a neighbor's back yard.
A concern about Morrisville's decision to connect Crabtree Crossing which would divert traffic off Highway 54 through neighborhoods.
A notification that 10 year old Krish Attaluri won first prize in an essay contest held by the United States Tennis Association.
A concern about gang graffiti on US 1. (Cary has a practice of removing graffiti as soon as the police report has been filed. State roads are required to remove graffiti on state roads – like US 1)
A question about the McCrimmon Parkway development status.
Complaints about a proposed hotel on Weston Parkway.
Complaints about hotels proposed on North Harrison.
A complaint about the property at the corner of Carpenter Fire Station and Highway 55.
Next week's activities include staff meetings, a school visit, a council meeting, and Lazy Daze.
Get In Touch
Well, that is all for this week. My next post will be on Sunday, August 26th.  Although I have Facebook and Twitter accounts those are not the best means of communications with me. Please send all Town of Cary questions or comments to Harold.Weinbrecht@townofcary.org and email personal comments to augustanat@mindspring.com.
---
From the blog of Cary Mayor Harold Weinbrecht. Photos courtesy of Harold Weinbrecht.
https://carycitizenarchive.com/wp-content/uploads/2018/08/HaroldBlog-Aug20-1.jpg
550
800
Harold Weinbrecht
https://carycitizenarchive.com/wp-content/uploads/2020/03/cc-archive-logo-450-v3.png
Harold Weinbrecht
2018-08-20 13:02:12
2018-08-20 10:15:48
Harold's Blog: Quarterly Update, India Independence Day and More