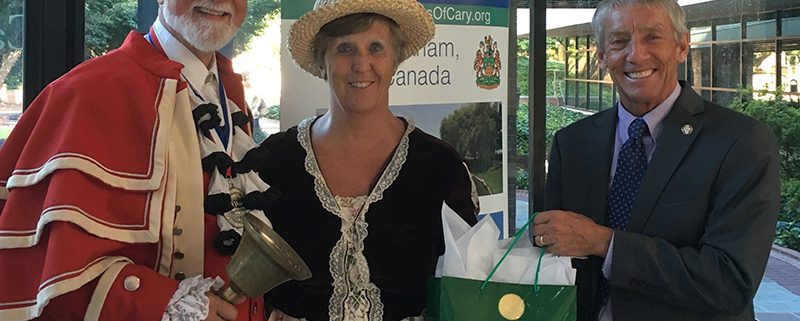 Cary, NC – This was a busy week for me with a council meeting and Lazy Daze.
Monday I contacted all council members to hear of any questions or concerns about Thursday's regularly scheduled council meeting. Most of the comments were about the discussion item on the proposed hotels on North Harrison. Council member Robinson informed me that she would be out of town on business at the time of the council meeting.
Monday – Planning for Council Meeting
Monday afternoon I joined Mayor Pro-Tem Bush in a meeting with management, directors, and key staff members. We went over the agenda including a discussion on the proposed hotels on North Harrison. At the time of this agenda meeting it appeared the vote on this proposal would probably be 3 to 3. Staff said they would notify the applicant that one council member would not be present for the meeting. Our meeting lasted about 30 minutes.
After the agenda meeting I was joined by Mayor Pro-Tem Bush in my weekly one-on-one with the town manager. Topics included the mall site, affordable housing, a review of the quarterly meeting, and an impromptu discussion on the future names of future parks.
Tuesday – Diwali Preparations
Tuesday I had my next to last individual Bollywood practice before group practice begins in September. I will be performing with the group at the Diwali celebration on October 13th. My sources tell me we will be the act before the main act in the evening.
Wednesday – Alston Ridge Elementary
Wednesday I visited second graders at Alston Ridge Elementary. They were studying local government which included me. During my visit I talked about what I did as mayor. Then I answered questions from the students.
Before I left several of the students gave me hugs. That made my day. Thanks to Ms. Dobner and the other teaches for inviting me.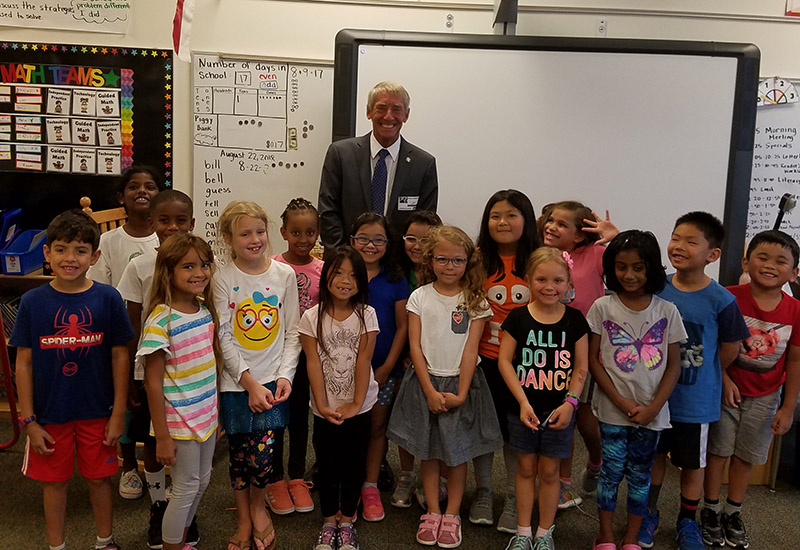 Thursday – Town Council Meeting
Thursday a reception was held for town crier John Webster and his wife Mary from Markham, Canada which is one of our sister cities. John is the official town crier of Cary along with Markham. He has performed in cities all over the world. We are very fortunate and grateful to have him here in Cary during Lazy Daze.
After the reception the council held its last regularly scheduled meeting of the month. The agenda included 9 consent items, 8 public hearings, and 2 discussion items. Since council member Robinson was called out of town on business there were only six council members. After receiving that information earlier in the week both applicants with projects under discussion asked for their projects to be tabled until the next meeting in September which was granted.
The public hearing on a proposal for 100 hospital beds 750,000 square feet of office, medical, and institutional uses; 55,000 square feet of commercial uses; 250 residential dwelling units; and 250 hotel rooms generated a lot of discussion from council. The majority felt that this project was so big that we needed to have a work session to discuss details at length. The minority felt just the opposite. That is, we do not need to be focused on the details and design and should stay focused on the use. A work session will be held within the next few weeks.
A proposal to rezone 25 acres to transitional use on Olive Pierce Road had a lot of speakers and comments. The transitional use would allow townhomes which many objected to.
The public hearing for an age restricted multi-family housing proposal at the corner of Morrisville Parkway and Highway 55 also had objections.
The final hearing ordering the demolition and removal of the dwelling at 130 Gold Meadow Drive had several speakers and a lot of conversation amongst council. One of the speakers stated that this house had been vacant since 2007. Minimum housing officials inspected and noted multiple violations with leaks in the roof, mold, and open access to the outside resulting in an infestation of multiple types of animals. And apparently this house has been in this state for years. The owner, who is living elsewhere, wanted 90 more days to remove contents in the house. After much discussion the council decided to give the owner 15 days, instead of the 7 days recommended, to make repairs or demolish the house.
The council meeting adjourned after about 2 ½ hours.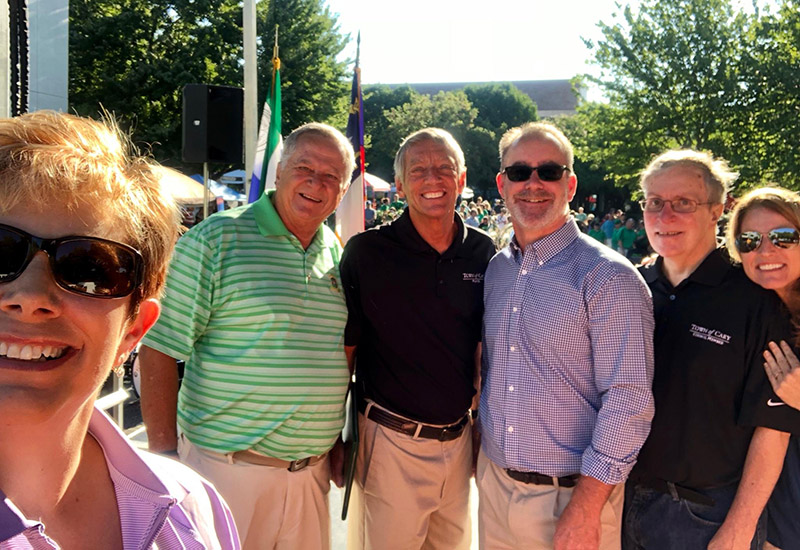 Saturday – Lazy Daze
Saturday, I had the joy of being a part of the 42nd Lazy Daze opening ceremony. I was joined by all council members but George who was working with the Sister Cities setup at the event. The ceremony started with the Cary High School band playing the national anthem. This was followed by our Town Crier declaring the event was opened.
I then followed by reading a proclamation recognizing the importance of the event. Before the opening ceremonies were finished the town was presented a planning award for the downtown. And downtown is just getting started in its rebirth. How special is that!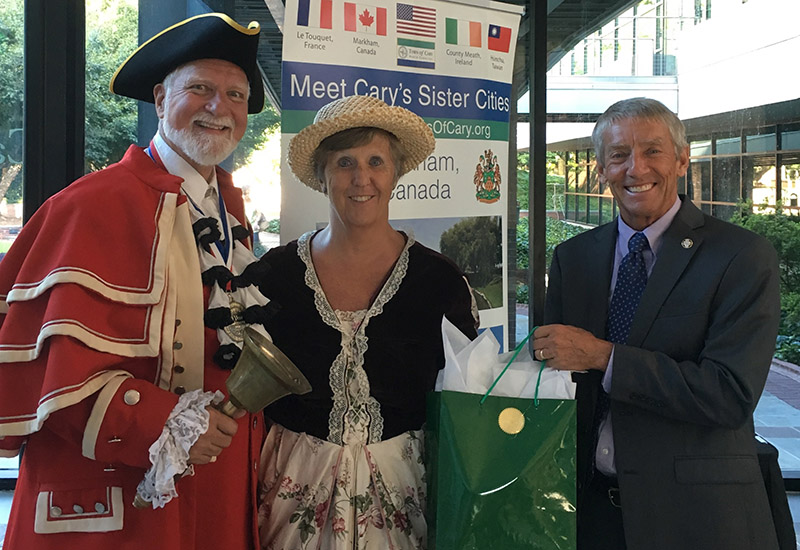 Town Manager's Report
The town manager's report for this week included:
Design Process Underway for Phase III of Higgins Greenway 

An open house will be held at St. Paul's Episcopal Church at 221 Union Street on August 28 from 6 to 7:30 p.m. to learn about the design process for Phase III of the Higgins Greenway.

This phase will extend Higgins Greenway about 0.8 miles from its current terminus at Union Street to Kildaire Farm Road near Cary Elementary School and Kay Struffolino Park. From there, pedestrians will have sidewalk access to downtown Cary destinations such as the Cary Arts Center, Downtown Park and soon-to-be-completed Cary Regional Library. Construction of the new trail is expected to begin in 2020.

Cary Initiates Structural Realignments to Achieve 2040 Vision

As I have already shared, and as part of our effort to keep Cary a strong and vital community through 2040 as envisioned by the Imagine Cary Plan, some reorganizations will be taking place to reposition us for future success. These changes include the creation of the Office of Economic Development, which will lead business location, relocation, expansion and retention efforts throughout Cary, as well as the formation of Planning and Development Services. This combination of existing departments is designed to improve coordination and collaboration, streamline processes and increase efficiencies. More details can be found in our press release that will be going out.

Cary Welcomes Town Crier and Wife 

On Thursday, August 23rd, the Town of Cary hosted a reception to welcome Cary's Official Town Crier John Webster and his wife, Mary, who are visiting from our Sister City, Markham, Ontario. We are honored to have them return to Cary to add to the fun and excitement at this year's Lazy Daze!

Cary Water System Passes Lead and Copper Testing

Cary's water system continues to be in full compliance with EPA's Lead and Copper Rule, which requires sampling for lead and copper in drinking water every three years. The intent of the rule is to protect the public from contaminants caused by corrosion of pipes and plumbing. Samples were collected from 60 homes with older plumbing containing copper and lead solder. We are pleased to report that in 2018 no lead was detectable in any of our samples.

Staff to Hold Open House on Downtown Address Changes

On Thursday, August 30 staff will hold an open house at the Page Walker Arts & History Center between 5:30-7:30 p.m. for citizens who will be impacted by new street address assignments to the 400 block of Sorrell Street, the 300 block of Wood Street and the 200 block of Walnut Street due to new and pending development projects. Accurate and sequential addressing is essential to prevent confusion in the event of an emergency call or providing public services. Staff will explain the notification process and the timing of the changes and be available to answer questions.

Survey Underway to Identify County Health and Social Needs

It's that time again for Wake County's quality of life to get another check-up. An effort to identify Wake County's health and social needs, as well as measure its well-being, is underway. Responses will be used to generate a Community Health Assessment Report that will guide the county's strategic action plan and funding allocations. Please share this survey with your friends, coworkers, and neighbors! The survey closes August 31.

Cary's Fleet Recognized as 30 Greenest in the Nation

This week Cary's Fleet was named the 30 Greenest Fleet in the Nation by 100 Best Fleets in the Americas. The Town was recognized for its commitment to running a sustainable, efficient and innovative fleet. In particular, Cary was recognized for efforts like telematics, biodiesel use, right-sizing, fleet utilization improvements, pool car system, reduced oil and coolant usage, anti-idling technologies, and supporting standard procedures and plans like the Strategic Energy Action Plan.

Aesthetics Enhancements for U.S. 64 Improvements Project

Cary hosted NCDOT, Town of Apex, and Stantec staff to kick off an aesthetics enhancements discussion for NCDOT's US 64 Improvements project, which includes the US-64 corridor between US-1 in Cary to just west of Laura Duncan Road in Apex. Thursday's meeting centered on key milestones related to aesthetic enhancements along the corridor. This may include landscaping and the incorporation of architectural design elements on bridges as part of the overall design process. NCDOT anticipates seeking public input on preliminary aesthetic enhancements for the project at a second public meeting tentatively scheduled for the end of the year.

Recognitions

Thanks to PRCR staff & instructors for ensuring that inclusive camp opportunities were provided for ALL participants and their families this summer. The families were truly appreciative of the creative camp experiences as well as the Town's willingness to include their family members in programs!

Supplemental Information Provided to Council

By next Friday, we'll provide Council with a plan for continued discussions and/or a work session for Green Level Mixed Use Destination Center.

We will provide more information relating to the timing of the Southeast Extension of N.C. 540.
Emails From Citizens
Emails from citizens this week included:
A complaint about the shopping center being built in Amberly.
Several complaints about proposed hotels in Weston and on North Harrison Avenue.
A question about last week's blog on the completion of the downtown library. As stated the downtown library will be completed by Spring of next year. But that is the construction and not the opening. The opening of the library will likely be in the fall.
A concern about safety at a school bus stop due to construction on Green Level Church Road near Weycroft.
A request to consider installing speeding cameras in Cary. (I believe this might fall under the same category as red-light cameras. There have been court cases against this which was part of the reason Cary removed its red-light cameras.)
Next week's activities include staff meetings, a meeting with a boy scout, a Higgins Greenway public information session, Bollywood dance practice, and a Wake transit meeting.
Get In Touch
Well, that is all for this week. My next post will be on Sunday, September 2nd. Although I have Facebook and Twitter accounts those are not the best means of communications with me. Please send all Town of Cary questions or comments to Harold.Weinbrecht@townofcary.org and email personal comments to augustanat@mindspring.com.
---
From the blog of Cary Mayor Harold Weinbrecht. Photos courtesy of Harold Weinbrecht.
https://carycitizenarchive.com/wp-content/uploads/2018/08/HaroldBlog-Aug26-1.jpg
550
800
Harold Weinbrecht
https://carycitizenarchive.com/wp-content/uploads/2020/03/cc-archive-logo-450-v3.png
Harold Weinbrecht
2018-08-27 13:02:04
2018-08-27 13:02:04
Harold's Blog: Town Council Meeting, Lazy Daze and More