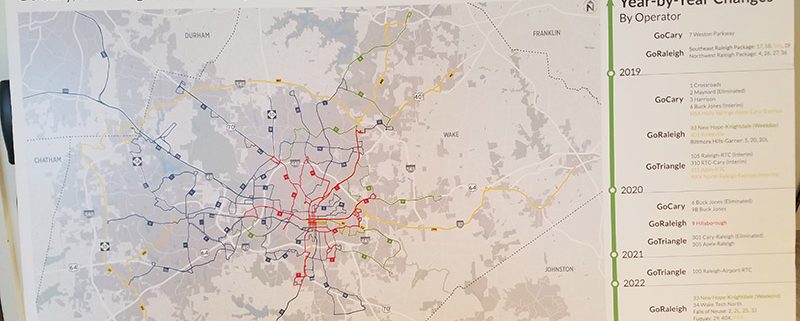 Cary, NC – This week was much slower than anticipated due to a few cancellations.
Monday – Boy Scout Community Badge
Monday I met with a scout working on a citizenship in the community badge. He was accompanied by his mother (we require all minors to be accompanied by an adult). He asked several questions including: Why I wanted to be mayor? What are some of the town's biggest issues? Our interview finished after about 35 minutes. Then I gave him a quick tour around town hall and the council chambers.
Tuesday – Diwali Practice
Tuesday I finished my last individual dance lesson in preparation for Diwali this October. I was also lucky to see Mayor Pro-Tem Bush's dance practice which is a lot different than mine and a lot harder.
Wednesday – New GoCary Route
Wednesday I briefly attended the Wake Transit Fall Outreach at the Cary Arts Center. There were several people there to answer questions about the latest proposals to the plan which goes for approval later this year. In the plan GoCary would have significant expansion in the next couple of years. This would include a new Weston Parkway route.
This new route connects businesses on Weston Parkway and the Park West Village shopping center with Downtown Cary. The Harrison Avenue route would also have changes. The alignment of the route would be modified to reduce the size of the terminal loop. The route would no longer serve NW Cary Parkway, Norwell Boulevard, or Weston Parkway. Service on Weston Parkway would be provided by the new Weston Parkway route. The following year would include Crossroads route changes, Buck Jones route changes, a new Holly Springs – Cary – Apex express route, and a new Trinity Road route.
To find out more details about these proposed changes go to http://goforwardnc.org/county/wake-county/get-involved/  and click on the GoCary Bus Plan.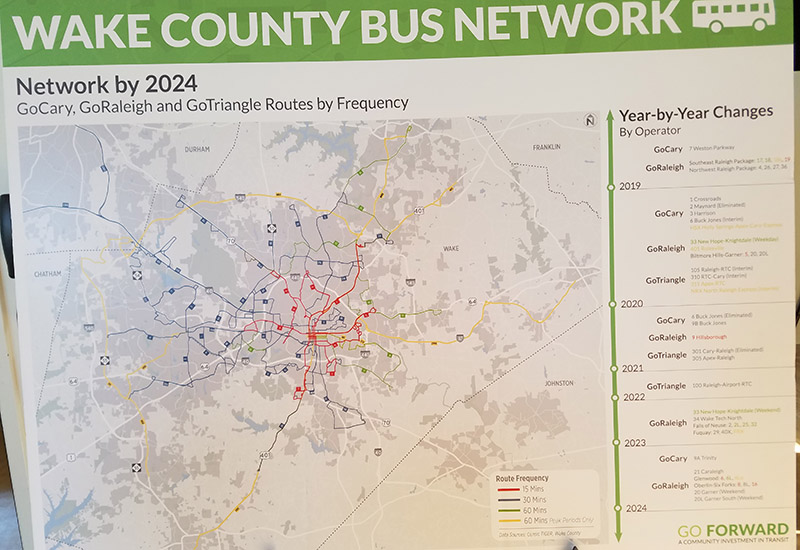 Emails From Staff
Emails from staff this week included an update on Google Fiber installation:
"… We have been working with Google and have approved approximately 37 miles of fiber optic cable installation since January 2018. This is not quite the rate the Town and Google Fiber were anticipating, but we have been working on some innovative ideas and methodologies which we hope will be beneficial for both parties and speed up installation in the future.  Google Fiber installations to date has been in western Cary and north and west of the Downtown area.

Also, please understand that Google Fiber generally has not shared their installation plan with us prior to submitting the encroachment applications so it is difficult for us to anticipate when Google will be coming to your neighborhood.  The best resource I can share with you to their website at https://fiber.google.com/cities/raleighdurham. There you can enter your address to determine if service is available as well as find other information. Also, I'd like to direct you to one of the Town webpages (https://www.townofcary.org/projects-initiatives/project-updates/general-government-projects/gigabit-fiber) which has additional information about fiber installation within the Town and other information with regards to whom to call regarding new service or service questions. …"
Town Manager's Report
The town manager's report for this week included:
8/23 Council Meeting Follow-Up Items

Safety Concerns Along Lake Pine Drive:

In an effort to address residents' safety concerns, staff installed flashing LED stop signs on all approaches of the intersection of Lake Pine Drive and Two Creek Road/Plantation Drive. These signs are radar activated to flash when an approaching vehicle is detected. With improved sight lines from previously removed vegetation, and vastly improved visibility of the LEDs, we anticipate traffic and safety concerns to be addressed. Additionally, Police is looking into the speed reports for the area. We will continue to monitor any safety concerns around this intersection.

Interstate 540 Timeline:

The Triangle Expressway Southeast Extension from the NC 55 Bypass to I-40 will be built under three separate design-build contracts. These contracts are being awarded east to west because the plans for the west portion (near Cary) are farther along. The current schedule attempts to get all the projects on the same construction and completion timeframe, allowing all portions to open together and is anticipated to take several years to complete. A better projection of construction completion will be available once all contracts are underway. We will keep you informed when we learn more about the timeline.

Work Session on Green Level Mixed Use Development:

As an update, we are still in the process of coordinating calendars for a time to have a work session. We will keep you informed as we learn more. Please let us know if you have any more questions on the items above.

Dan Ault Participates in Panel at BoxWorks 2018

Dan Ault participated this week in a panel discussion on changing citizen expectations at BoxWorks 2018 in San Francisco. The panel also explored how modern cities, states and federal government agencies are rising to the challenge using modern technology as a tool. The other panelists represented Maricopa County, Arizona, Santa Barbara County, California, and the Legal Services Corporation.

PD Listening Meetings

With so much change coming to the police department over the next few months, the Town Manager held four sessions this week to discuss several big issues including body cameras, the shift study, Chief Godwin's upcoming retirement, and our search for a new chief. Sean wants to thank so many officers and general staff for their interest, ideas and candor, and he's grateful for their trust and confidence as well as their commitment to Cary. They are an amazing group of men and women.

Town Hosts Quarterly Meeting to Discuss Stormwater Trends

Earlier this week, the Town hosted the quarterly meeting of the Stormwater Association of North Carolina (SWANC) at the Herb Young Community Center. Over 50 people from 24 municipalities, engineering firms, and environmental groups from across the state gathered to discuss current legislative and policy trends affecting stormwater on the local and national level. Speakers from NC Department of Water Resources, professional consulting firms and NC League of Municipalities spoke to help municipalities be better prepared for potential legislative changes and provide input regarding the affected communities.

Cross-Departmental Team Plans Branding Project

Our cross-departmental team met this week to help plan the public kickoff of the research portion of the branding project, Don McEachern conferenced in from Nashville and provided the group with a snapshot of the information he shared last month at the Chamber Planning Conference. Don and his team will be here the week of September 24th and serve as the keynote for Council's annual boards and commissions event on the 25th. Be on the lookout for one-on-one interviews to be added to your calendars that week.

Cary, Raleigh to Collaborate on Flooding Mitigation, Water Quality in Walnut Creek Basin 

Staff met with the City of Raleigh Stormwater Department this week to initiate discussions on how we, as adjacent communities, leverage opportunities along the Walnut Creek Basin. The goal is to partner on efforts to mitigate flooding and improve water quality while increasing pedestrian connectivity, providing additional public amenities, and taking advantage of educational possibilities in an economical manner. The City of Raleigh has agreed to team with the Town in pursuing a grant in the Walnut Creek Basin as well as combining our efforts with stream gauging along the creek. This is an exciting opportunity for both municipalities to work together to solve the ever-complex stormwater matrix.

Cary Parkway/ High House Road Intersection Enters Next Phase

The Phase 2 of the Cary Parkway and High House Road intersection improvements project is scheduled to start next week, weather permitting. Left lane closures will be necessary to safely build additional left turn lanes on High House Road and northbound Cary Parkway, and to extend the southbound left turn lane on Cary Parkway.

In preparation for the phase change, the driveways between First Citizens Bank and Mellow Mushroom on southbound Cary Parkway and between Wells Fargo Bank and Lowes Food Shopping Center will be closed on Tuesday in order to rebuild them with appropriate asphalt structure and to ensure drainage and ADA compliance.

Over the next month Duke Energy Progress is also scheduled to start installing new decorative street lighting throughout the intersection. Right lane closures will be necessary to complete this work.

Town Launching Multiple Water Line Projects in Support of Good Hope Tank

With the Good Hope Tank project about a year from completion, we are kicking off a series of water line projects that will support the tank, create system redundancy and help simplify the operation of the water system. The Wimberly Road and Western Cary Water Main Improvement Project, which is set to be completed by the end of 2019, will shift into high gear after Labor Day. Preparations are underway for pipe installation along pipe Jenks Road, starting at Roberts Road and working toward NC 55.

In mid-October crews will begin the installation of 8,500-feet of 36-inch pipeline along Wimberly Road, closing the final gap between the Cary/Apex Water Treatment Facility and the existing pipe network leading toward the northwest portions of Cary. New water lines will also be installed along Good Hope Church Road, Hortons Creek Road and Green Level West Road. Minor delays could be possible at all work locations as temporary lane closures will be needed periodically.

Public Meeting for Higgins Greenway

A public meeting was held Tuesday evening to present designs for Phase III of Higgins Greenway to the public. The meeting was well attended with over 90 citizens signing the attendance sheet and about a dozen staff and consultants available for questions and answers.

In general, response to the greenway itself was positive, but there were a number of citizens who voiced strong reservations to allowing greenway users to pass through the Historic Hillcrest Cemetery.

Withers and Ravenel and staff are compiling the comments received at the meeting and will be working diligently to address the concerns and to provide a respectful way to combine the benefits of our world class greenway system with the Town's hidden historical gem of Hillcrest Cemetery.

Recognitions

Congratulations to Captain Couch who completed his Managing Officer program at the National Fire Academy. The two year program consisted of four unique classes and a capstone project. Chief Cain had the opportunity to present Captain Couch with his certificate in front of a group of his peers at fire station 7.

Supplemental Information Provided to Council

After the Q-4 Meeting at WakeMed Cary, Council Member Don Frantz was provided multi-family unit permitting information for our neighboring communities. Below are the total multi-family units permitted in FY 2018 for Raleigh, Apex, Cary, and Morrisville:

Raleigh – 2670 units

Apex – 580 units

Cary – 366 units

Morrisville – 318 units
Emails From Citizens
Emails from citizens this week included:
A thank you for putting on Lazy Daze
A question about the proposal off I540 at Green Level
An inquiry about independent films
A concern about a rezoning proposal at Green Level West and Pine Rail
A concern about flooding at the Harrison Grande townhomes
A vote of support for the Higgins Greenway
Dozens of emails about the school reassignment proposal – with some being very nasty and blaming the Cary council. While some think Cary is in charge of school reassignment most realized that the Wake County Public School System is responsible. Those residents wanted the council to advocate for them. The Cary Council has always advocated for our citizens on all kinds of issues including school reassignment. It is my understanding that all of us have been in contact with school board members. However I caution my colleagues to be cautious when making requests of another governing body. Public displays of criticism usually have the opposite effect of what is desired. It is better to have one-on-one conversations with the school board members.
Next week is a holiday week so things will remain slower than normal. My activities include dance lessons, a meeting with the homebuilder president, a historic marker celebration, retired WRAL anchor Bill Leslie's stage dedication, and a 911 prayer meeting.
Get In Touch
Well, that is all for this week. My next post will be on Sunday, September 9th.  Although I have Facebook and Twitter accounts those are not the best means of communications with me. Please send all Town of Cary questions or comments to Harold.Weinbrecht@townofcary.org and email personal comments to augustanat@mindspring.com.
---
From the blog of Cary Mayor Harold Weinbrecht. Photos courtesy of Harold Weinbrecht.
https://carycitizenarchive.com/wp-content/uploads/2018/09/HaroldBlog-Sept4.jpg
550
800
Harold Weinbrecht
https://carycitizenarchive.com/wp-content/uploads/2020/03/cc-archive-logo-450-v3.png
Harold Weinbrecht
2018-09-04 10:29:22
2018-09-04 10:29:22
Harold's Blog: New GoCary Route, Google Fiber and More