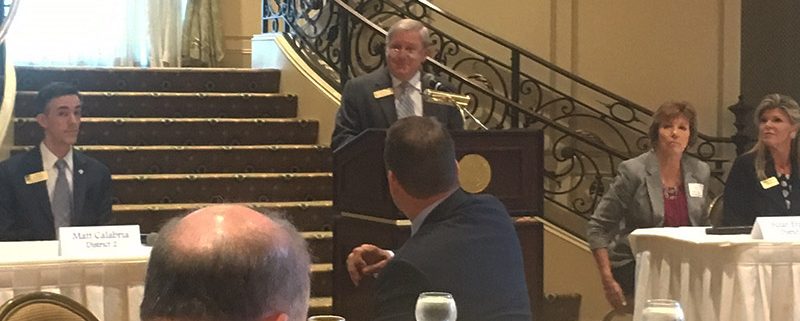 Cary, NC – Education, transportation and how it all gets funded were the main topics at a candidate forum for Wake County Board of Commissioners candidates ahead of the 2018 election.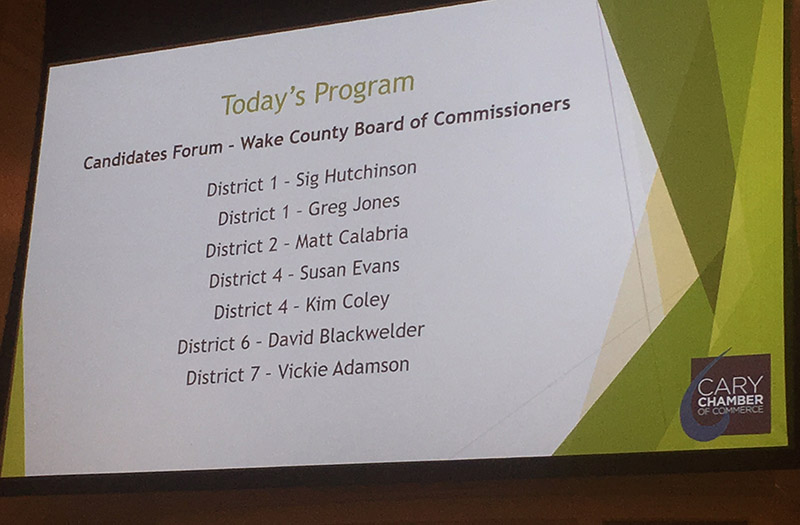 Wake County has seven elected commissioners and voters in the county get to vote for all seven seats. Candidates running in the five competitive races (seats 3 and 5 have incumbents running unopposed) gathered before the Chamber of Commerce at Prestonwood Country Club on Wednesday, September 26, 2018 to make their case and answer questions on top concerns for local residents. The candidates who attended were:
Sig Hutchinson, incumbent for District 1
Greg Jones, running for District 1
Matt Calabria, incumbent for District 2
Kim Coley, running for District 4
Susan Evans, running for District 4
David Blackwelder, running for District 6
Vickie Adamson, running for District 7
Wake County's Growth
The first question candidates answered was how to balance Wake's growth (it has grown by 170,000 people since 2010 according to the U.S. Census) with taxes and bonds. Hutchinson said growth is best maintained by investing in infrastructure, which he said the bond referendums will do.
"We have a AAA rating so we can borrow cheaper than almost anyone in the county," Hutchinson said. "With these bonds, we'll be able to save money."
Jones talked about his focus on fiscal responsibility for much of the forum and said the county should spend its money more wisely, prioritizing schools and roads over parks and other non-essentials.
"We have enough tax base in this county that we shouldn't need to go to the public with bonds asking for money," Jones said.
Calabria also highlighted Wake County's AAA rating while saying the county has funded education, transportation and other government functions while having a lower tax rate than many other counties in North Carolina.
"In the midst of growth, we have to make smart investments in our infrastructure," Calabria said.
Evans started her response by saying "growth does not pay for itself" and the influx of new taxpayers is not enough to keep up, so she said investment in public infrastructure is important. Evans also said she thinks bonds are the best way to accomplish this.
"The counties are required to fund the schools and general obligation bonds are the cheapest way to do that," Evans said.
Coley talked about making sure the county stays within its budget and prioritizes not only its spending but what other government bodies Wake County partners with.
"If partnerships are not getting us where we need to be, we have to cut those losses," Coley said.
Blackwelder said he thinks too much of the county budget is being spent on school construction and it could be more efficient to have a limited template of school architecture or to repurpose existing buildings the way charter schools do. He also pushed back against Evans' point about voters supporting bonds because the county has to fund schools.
"If you vote no, I will hold the board responsible and I will find another way to fund our schools," Blackwelder said.
Adamson also said investments in schools and other infrastructure is important to manage growth while also saying the budgets are already tight.
"People say, 'I'll cut the waste.' I've seen the budgets," Adamson said. "There's very little waste."
Commissioners Role in Education
Education funding came up in many of the responses to questions about growth and funding and Wake Commissioner candidates were also asked about the role of the commissioners in public education.
Coley talked about her children's experiences at local high schools and called Apex High School "dilapidated" and said the county needs to provide students with a place to learn and grow.
"My son said, 'The school isn't about the building, it's about the people in it,'" Coley said.
Evans said the government body with the most responsibility for funding is the North Carolina General Assembly but it is also on the commissioners to understand the Board of Education's requests and provide funding.
"It is not our place to dictate policy," Evans said.
Blackwelder said his biggest concern is making sure schools are safe but also said he wants to see more resources for mental health and better pay for teacher's assistants.
"We can't get that money if we're spending so much on school construction," Blackwelder said.
Adamson said because the Board of Commissioners controls funding for the Board of Education, they have a larger authority on education. She also said the number of social workers for public schools does not currently match the need.
"If we want to improve the community for the least of us, we need social workers," Adamson said.
Hutchinson talked about where Wake County schools get their funding, with a third coming from inside of the county, while also highlighting high teacher pay here.
"Our teachers are paid more than other counties and we get the best teachers for our students," Hutchinson said.
Jones said he wants to provide a different strategy to the school board and said there needs to be more diverse skills taught, particularly trade skills instead of computer-based skills as he put it.
"It's getting harder to find skilled workers. I try hiring for my business. They can use Google but they can't get a ladder off of a truck," Jones said.
Calabria said the work being done on local education comes after "unfunded mandates" from state government. But amidst that, Calabria said he has worked to expand school food programs.
"It gets us perhaps our biggest return on investment, which is the biggest reason to do it other than it's the right thing to do," Calabria said.
Future of Public Transportation
The candidate forum also focused on the Wake County Transit Plan and how it will be implemented. Evans reiterated what is proposed in the plan, with expanded bus routes, bus rapid transit and commuter rail, giving it her full support.
Coley said public transportation in Wake County is lacking and talked about her own experiences growing up and needing to take buses and said many other people in the area have that need as well.
"We need to make sure this is a plan where those who depend on transit the most are the priority," Coley said.
Blackwelder focused on the commuter rail side and while he seemed to generally support the idea of a commuter rail line, he wanted to make sure it would get enough use and not be a "money pit," while saying Charlotte's own commuter rail is losing ridership.
"Will it pay for itself or will we have to raise taxes for it?" Blackwelder said.
Adamson said she is excited for the potential the transit plan holds and said she has been asking county residents for their thoughts on it.
"Over the Summer, I've been going on a tour, listening and learning," Adamson said.
Hutchinson pointed to his experience as vice chair of CAMPO and cited increased bus capacity as part of the transit plan's progress.
"More transportation dollars are now coming to the Triangle," Hutchinson said.
Jones was the most critical of the plan of any of the candidates. His main issue stemmed from his accusation that rural residents would not have access to public transportation while still paying for it for the rest of the county.
"Everyone keeps saying how well Wake County is doing. We don't have public transportation now and we're doing okay," Jones said.
Calabria said the county does not have the authority under state law to leverage any more taxes for public transportation and said the plan will pass benefits onto all county residents.
"If people ride the bus or take a train, it lessens traffic so even if you don't ride, you'll see benefits," Calabria said.
Election Day is Tuesday, November 6, 2018. Early voting starts on Wednesday, October 17, 2018.
---
Story by Michael Papich. Photos by Lindsey Chester.
https://carycitizenarchive.com/wp-content/uploads/2018/09/WakeCommishForum4.jpg
550
800
Michael Papich
https://carycitizenarchive.com/wp-content/uploads/2020/03/cc-archive-logo-450-v3.png
Michael Papich
2018-09-27 13:01:16
2018-09-27 10:21:47
Wake Commissioner Candidates Talk Taxes, Education at Forum