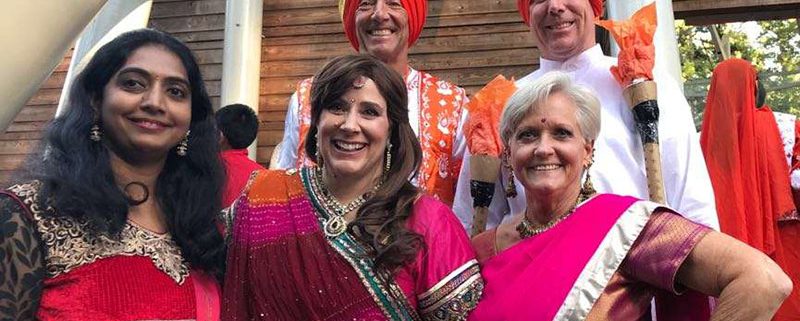 Cary, NC – This week Cary was impacted by Hurricane Michael while hosting two of our biggest events of the year, the SAS Championships and Diwali. 
Tuesday – SAS Championships
Monday, Columbus Day, was a holiday for some but not for town employees. Nevertheless, things were very slow and so my meetings were cancelled.
Tuesday I participated in the SAS Championships pairing party. This event's purpose is to play a trivia game which will decide the order of which to pick the pros for the Pro-Am. One of the biggest bonuses of this event is to meet local business leaders and to showcase SAS and Cary to business leaders from around the world. In the trivia contest my group finished 11th out of about 3 dozen which is not too bad.
Wednesday – Hurricane Preparation
Wednesday I joined the town manager, the Cary Chamber President, and council member Jack Smith for the first day of the Pro-Am. Our pro was Jeff Sluman and we had a lot of fun. During the round the town manager and I were getting constant updates on the hurricane. About mid-afternoon we decided to cancel the Thursday council meeting and work session. After we finished our round the town manager went to meet with Public Works and I went to sign emergency declarations as I did for Hurricane Florence.
Thursday – Hurricane Michael
Thursday we played with pro Fran Quinn. Our round was only 9 holes because of the approaching winds and rain from Hurricane Michael. We played well and came within a couple of points of winning.
The storm hit Cary late Thursday morning and lasted until Thursday night with about 3 to 4 inches of rain and winds with gusts around 50 mph. This caused some minor flooding and isolated power outages due to fallen trees. Some people were still without power 3 days later. There were areas that our public works crews could not remove trees for days until Duke Energy removed power lines first. This caused a great deal of frustration for residents as well as town employees. But Cary was lucky compared to the devastation in Florida and other areas. My thoughts and prayers are with all those who suffered loss and especially those that lost loved ones. As I said after Florence I believe it is the duty of all of us to help our brothers and sisters that lost so much due to this storm.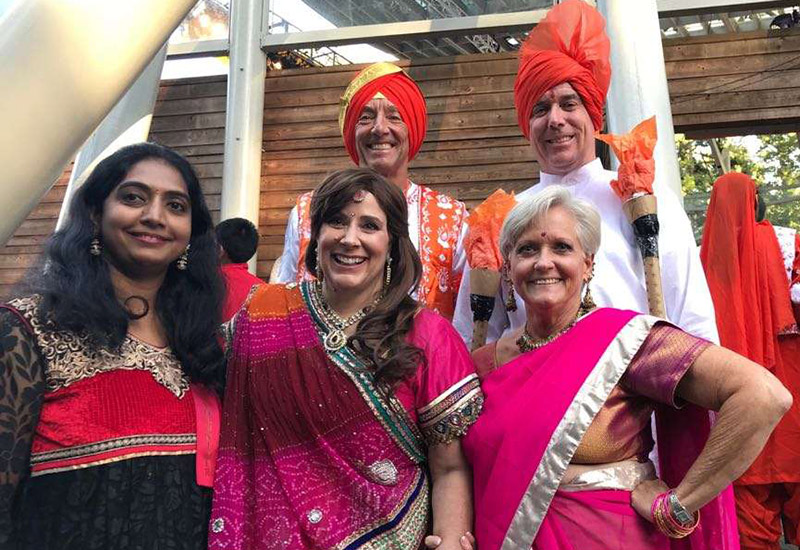 Friday and Saturday – Diwali
Friday night was the Diwali dance dress rehearsal at Booth Amphitheater. I had to have help putting on my Bhangra outfit to go along with my dance. Bhangra is worldwide popular Punjabi dance. The earliest developed of these was a folk dance conducted by Punjabis in the central northern areas of the region to celebrate the harvest, and whose general practice had ended by the Partition, 1947. We had 2 complete rehearsals and I made mistakes on my individual dance both times. I rehearsed the group dance fine. Needless to say I was a little apprehensive to perform the next evening.
Saturday I provided remarks at the opening ceremony of Diwali. Here is an excerpt from my remarks:
"…Since 2001 when we first hosted Diwali, we've seen it grow from a small festival in the Herb Young Center to one of the largest Indian cultural celebrations in the southeastern United States. It's also the largest event we host at Koka Booth Amphitheatre. And it recently received the "Arts and Humanities Award" from the North Carolina Recreation and Park Association.

Diwali's theme this year is Drishti – A window to the World, is reflected in today's rich program. Today you will have the opportunity to experience India's vibrant music, dance, theater performances, unique exhibits, colorful decorations, and delicious cuisine. It is nice to know that in this time of so much hate we can embrace our diversity and differences and celebrate the rich diversity that contributes so much to our community's greatness. …"
After my remarks I read a proclamation recognizing the importance of the event. Congressman David Price and North Carolina State Senator Jay Chauduri also gave remarks. Other elected leaders included Morrisville Mayor Cawley, Morrisville council member Rao, Morrisville council member Garimella, Cary council member Frantz, and Cary council member Yerha. We all participated in the lighting ceremony since Diwali is the Festival of Lights.
Saturday afternoon I did my second public address at Diwali. This time my comments were brief.
Saturday evening I joined Mayor Pro-Tem Bush, Morrisville Mayor Cawley, and N.C. Representative Adcock in the dance performance we have been practicing for weeks. It was a great time and a lot of fun. All of us were dressed in costume and each one of us did a dance representing a specific style. I am so thankful to all our choreographers and the time they spent with us. What a great group!
Saturday night my wife and I watched Diwali's main performance which was the equivalent of Indian Idol's finalist. They were backed by amazing local dance groups. The day long event's finale was a wonderful fireworks display.
Sunday – Bond Brothers 5K
Sunday morning I was the emcee for the Bond Brothers 5K. The proceeds of the race went to the Captrust Community Foundation. That foundation was created ten years ago with a purpose of giving back to the communities specifically enriching the lives of children. This year the Captrust beneficiary was Kidznotes which engages pre-k through 12th grade students in an out of school musical program. There were several students at the event today that performed. The race raised over $25,000 for this cause. There were about 800 people participating and everyone seemed to have a great time.
Sunday afternoon I watched the final round of the SAS Championship at Prestonwood Country Club. Despite experiencing a tropical storm the event went on without a hitch. And Cary and surrounding areas were showcased on an international stage. What a fantastic event.
Town Manager's Report
The town manager's report for this week included:
Maynard Road Grade Separation Project Public Meeting

NCDOT will be holding a public meeting for the Maynard Rd. grade separation project on Tuesday, October 16 from 4:00-7:00 p.m. at the Herb Young Community Center. The meeting will be an informal drop-in session for the public. The purpose of the project is to eliminate conflicts at the existing rail and highway crossing on NE Maynard Rd. near E. Chatham St. and improve vehicular mobility and safety in and around the project area. Comments will be accepted at the meeting and by phone, mail or email until October 31st.  In addition to the public meeting next week, NCDOT has also scheduled a business owners meeting from 9:00-11:00 a.m. at Spirits Pub & Grub at 701 E. Chatham St.

GoCary Soliciting Public Feedback on Proposed Major Service Changes

We are soliciting public feedback regarding proposed major service changes to the entire GoCary system. Riders and the public will be able to learn about the proposed changes and comment at three public meetings next week, as well as by email, mail, and phone. Comments will be accepted through November 2. A public hearing date will be determined in the future, due to a backlog on council agenda.

Dismantling, Salvage Work Beginning on Historic Sanders House Barns

As part of the Carpenter Fire Station Road Realignment and Grade Separation project and in accordance with the adopted Imagine Cary community plan, Cary will begin work weather permitting Monday, October 15 to dismantle record and salvage historical portions of the Saunders House Barns that are currently located within the construction corridor of the future roadway.

Barn dismantling work including site restoration is expected to take approximately four weeks with a mid-November 2018 completion. The construction of the Carpenter Fire Station Road Realignment and Grade Separation Project is tentatively scheduled to begin winter of 2019 with a fall 2022 completion.

FY19 Street Improvements Under Design

We are currently evaluating and designing the street maintenance plan for the FY19 Street Improvements Project. This map shows the streets under consideration for resurfacing, patching, and rejuvenating. These streets are still being reviewed and are subject to change based on available budget. This plan builds on the neighborhood approach to street maintenance that we have been refining for the past couple of years. Construction bid advertisement is scheduled for this Fall with construction expected to start in Spring 2019.

Crabtree Crossing Parkway Extension Removed from Morrisville's CTP

Morrisville's Town Council removed the Crabtree Crossing Parkway Extension (CCE) from their proposed Comprehensive Transportation Plan (CTP) this week. The proposed CCE was opposed by many Cary and Morrisville residents who regularly attended Morrisville Town Council's work sessions and Council meetings. While the CTP has not yet been approved, the CCE has been removed from the draft plan. A proposed greenway is still recommended in this location.

Staff Participates In Weatherstone Elementary Annual "Community Helper Day"

Last week, staff participated in Weatherstone Elementary School's "Community Helper Day." This annual event brings in various personnel from the Town's Operations Center, Fire and Police Departments. Staff demonstrated their service vehicles and equipment to the various classes of elementary school students and explained their essential job functions.

Former Cary Legal Interns Go on to Careers in Apex, Forsyth County

Chris Welch and Fred Johnson, two attorneys who, while students at UNC Law School, interned for at least one semester each with the Town's legal department, have gone on to promising careers in local government.  Chris spent two semesters with us in 2017 and has been hired as the Town of Apex's newest assistant attorney.  Fred, who interned with the Town in 2013, first worked for 3 years as an assistant attorney for the City of Concord and now is with Forsyth County's legal department.  The Town's legal internship program, in addition to providing the Town with valuable legal services, is designed to encourage talented young attorneys to consider careers in local government.

UNC Capstone Students Tour the Walnut Creek Basin

Dr. David Salvesen and his Capstone students, a senior level class at UNC Institute for the Environment, were in Town last week to see firsthand the Walnut Creek Watershed Basin. Complementing the work staff and the Downtown Stormwater Working Group are engaged in, their project focuses on the connectivity between the Eastern Gateway and the Downtown Park from a perspective of flood risk reduction and open space, and explores the opportunities and challenges with establishing a green corridor through this evolving and diverse part of Cary. At the end of the fall semester they will share with us a written report based upon their ideas, concepts and innovative analyses.

Hundreds of Cary Students Participate in Annual Walk to School Day

Hundreds of Cary students participated in the 22nd annual Walk to School Day event on October 10. Thanks to Mayor Pro Tem Lori Bush, and Council Members Jennifer Robinson, Don Frantz, and Ken George for participating.

The Town partnered with Safe Routes to School as well as twelve Cary elementary schools. The event serves as a great opportunity to recognize and bring awareness to the Town's greenways and sidewalks and to ensure Cary remains a healthy, connected, and walkable community.

Recognitions

Congratulations to Detective Elizabeth Pearson and Detective Armando Bake for being recognized with Bailey's Fine Jewelry's "First Responder Hero Awards."

Advocates for Health in Action nominated Detectives Pearson and Bake in recognition of their leadership within the Cary Police Department for increasing awareness around Adverse Childhood Experiences (ACEs) and building resilience to lessen the impact of ACEs.

Supplemental Information Provided to Council

Council Member Jennifer Robinson requested information on the Town's philosophy on walkability following this week's meeting with Chase Brady on school reassignments.

Russ Overton provided her with the opening statement of Chapter 6, Greenways & Trails, of Cary's Parks, Greenway and Cultural Resources Master Plan, Walkability Data, and a graphic of the Panther Creek Greenway.
Emails From Citizens
Emails from citizens this week included:
Complaints about Farmington Woods Elementary traffic.
Comments about a rezoning on Roberts Road.
Comments about the Cary Parkway pedestrian study.
A complaint about the planned RDU Quarry
Compliments to public works for cleaning up after Hurricane Michael.
A request for help with a tree removal.
A request for lights on pickle ball courts.
Next week's activities will include staff meetings, a meeting of the Wake County mayors, a meeting of the executive board for CAMPO (Capital Area Metropolitan Planning Board), a meeting with the Cary Community Foundation, the Oktoberfest ceremony, and a CERT (Community Emergency Response Team) event.
Get In Touch
Well, that is all for this week. My next post will be on Sunday, October 21st.  Although I have Facebook and Twitter accounts those are not the best means of communications with me. Please send all Town of Cary questions or comments to Harold.Weinbrecht@townofcary.org and email personal comments to augustanat@mindspring.com.
---
From the blog of Cary Mayor Harold Weinbrecht. Photos courtesy of Harold Weinbrecht.
https://carycitizenarchive.com/wp-content/uploads/2018/10/HaroldBlog-Oct15-1.jpg
550
800
Michael Papich
https://carycitizenarchive.com/wp-content/uploads/2020/03/cc-archive-logo-450-v3.png
Michael Papich
2018-10-15 13:02:23
2018-10-15 10:55:33
Harold's Blog: Diwali, Hurricane Michael and More