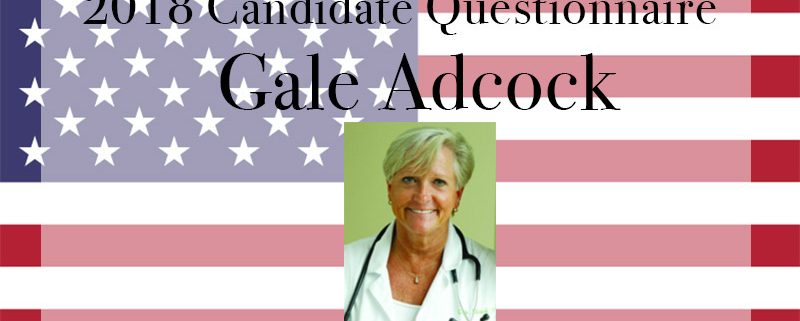 Cary, NC – We are now putting out our questionnaires from candidates in the 2018 elections in Cary and Morrisville. This questionnaire comes from Gale Adcock, who is running for North Carolina House District 41 as the Democratic Party nominee.
We will be publishing more questionnaires leading up to the elections. These are in the candidates' own words and we do not edit or alter the content in their responses aside from formatting.
Why are you running?
I am running for my third NC House term after previously serving 2 terms on the Cary Town Council (2007-2014). As a family nurse practitioner of over 30 years I have spent my professional life helping people solve problems so they may enjoy the best health and quality of life possible. I regard my work in the legislature from the same perspective: the opportunity to serve my community and state by identifying and working with others to solve important problems.
What are your top three priorities and how will you accomplish them?
Public education. I support increasing per pupil spending, creating a long range plan to raise teacher pay to at least the national average, funding TA positions, and increasing the number of nurses, psychologists and counselors in schools. Extending broadband coverage to rural communities is critical to educate students in these areas. While they have internet access at school, there is a recognized 'homework gap' created when their homes do not have internet access. This must be addressed for these students to have the opportunity to succeed in the same way as urban students. I support expansion of job training programs across our community college system and supporting innovation and entrepreneurship in our university system. We need these university business spin-offs to stay in North Carolina, creating jobs and adding to our economy and quality of life.
Health care. Access to health insurance and access to health care providers are two of my areas of focus. There are compassionate and economic reasons for expanding Medicaid to cover the 500,000 North Carolinians who currently have no health insurance. Small hospitals and health systems of all sizes need patients who seek care at their emergency departments—sometimes their only option for care of any kind—to have insurance so the hospital can be paid for the care they deliver instead of providing uncompensated care that puts them in financial peril and shifts costs to those of us fortunate enough to have insurance. Hospitals are important employers and economic engines in communities of all sizes and we must support their financial viability. I also support the elimination of obsolete state laws and regulations that inhibit access to licensed health care providers like nurse practitioners and certified nurse midwives.
Behavioral health & substance abuse treatment. I voted for the 2017 STOP Act and the 2018 HOPE Act, both focused on addressing the opioid crisis. However, there is a lack of treatment coverage, treatment facilities and mental health professionals to meet the needs of opioid users as well as individuals with mental health issues and other types of substance abuse. Medicaid expansion will improve this situation to a degree, but is not the only solution. I will continue to push for all licensed health care providers to practice "to the top of their license" and to support telehealth especially in the areas of behavioral health and dentistry, two of our most desperately needed and under-supplied services. Telehealth will require significant public and private investment in broadband access into our rural areas.
Give us a brief bio and tell us about your relevant experience
I moved to NC from my native Virginia in 1976. My Bachelor's degree is from East Carolina University and my Master's degree is from UNC-Chapel Hill. I have been a Registered Nurse since 1975 and a Family Nurse Practitioner since 1987. I am the Chief Health Officer for SAS where I've worked for 27 years. My family and I have lived in Cary since 1993. I represented District D on the Cary Town Council from 2007-2014 and Cary Mayor Pro-Tem 2011-2014. I was first elected to the NC House of Representatives in 2014. I am a member of the Friends of Page Walker and serve on the Advisory Board of the Cary Taylor Family YMCA. I am the Governor's House appointee to the State Health Coordinating Council which is responsible for creating the annual State Medical Facilities Plan. I am past president of the NC Nurses Association, past chair of the NC Center for Nursing, past chair of the NCNA Council of Nurse Practitioners, and a former member of the NC Board of Nursing.
Website: GaleAdcock.com
Facebook: GaleAdcock NC
Twitter: @galeadcock
Email: galeadcock@gmail.com
---
Read more in the Candidate 2018 series.
https://carycitizenarchive.com/wp-content/uploads/2018/10/AdcockQuestionnaire-2018.jpg
550
800
Community Contributor
https://carycitizenarchive.com/wp-content/uploads/2020/03/cc-archive-logo-450-v3.png
Community Contributor
2018-10-16 09:14:29
2019-12-08 15:31:08
Candidate Questionnaire: Gale Adcock