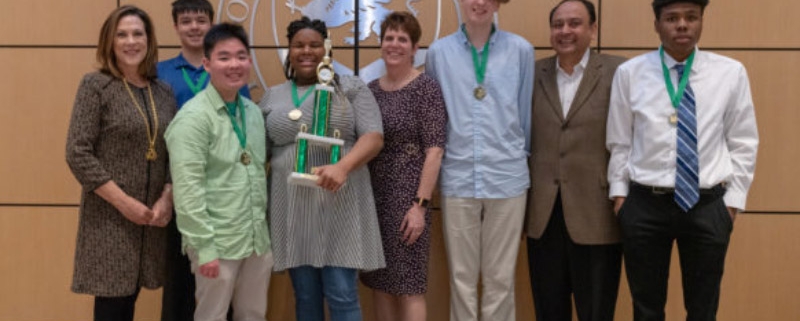 Cary, NC – Cary High School has an extensive culinary education program, both for cooking and for restaurant management. This year, five students at Cary High School won first place in a statewide culinary competition and now move on to compete nationwide later this year.
State Champions
The ProStart Invitational is a yearly high school competition for both culinary arts and restaurant management, as part of the ProStart high school program run by the National Restaurant Association Educational Foundation.
In this year's North Carolina ProStart Invitational, Cary High School won first place. Not only does this enter the team into the National ProStart Invitational on May 8-10, 2019, but it also earns all five participating students scholarships to culinary schools around the United States.
"Cary High is known for its band but it should also be known for its culinary teams," said senior Khoi Ha, one of the five students who won at the state invitational.
Ha – along with senior Micah Thomas, junior Bryson Walther, junior Brandon Gunter and sophomore Clancy Larmour – had to compete in a difficult framework where four of the students are in a 10 foot by 10 foot space while one student on the outside manages the others. Also, students have to not only plan out their three dishes (appetizer, entrée, dessert) for the judges but also plan out all of their knife cuts and they cannot use refrigeration.
Thomas, who competed in last year's North Carolina ProStart Invitational along with Ha, said they had challenges with time management at the previous competition, when Cary High School came in third place
"It's all about practice. We knew what had to be done first, what had to be done last and we actually finished with extra time," Thomas said.
The students said they split the dishes between themselves so they could be prepared simultaneously, which also made cohesion and teamwork crucially important.
"When I'm prepping a dish, my teammates are relying on me," Gunter said. "It's affecting others, not just yourself."
The challenges in the competition extended beyond the kitchen as they are all also full time students and some, including Thomas, are also student athletes.
"It was hard last year to get my schoolwork balanced with my culinary education and sports," Thomas said. "Since then, I've learned when to practice and when to work on school."
And with the national competition coming up, that time split will be even more prominent.
"We'll be practicing a lot more," Walther said. "But everyone agreed on balancing our time and practicing more gives you an edge."
Now that the team has made it to the national competition, they said there are some criticisms from their judges they still need to work on, namely sanitation. But when it comes to the dishes themselves, they said they were confident in them, particularly their fish entrée.
"It's all minor changes to the dishes. Thankfully, they're things we can control," Larmour said.
Passion for Food
For the competition, the Cary High team made:
"Locals Seafood" Shrimp Escabeche Stack on a bed of Bibb lettuces, stacked with cucumber and avocado salad and garnished with oranges supreme and Julianne radishes
Smoked "Locals Seafood" Swordfish Steak with Thai Red Curry Sauce on a bed of cauliflower rice with sautéed mango and red peppers with Thai basil crunch
Lavender Panna Cotta with Spiced Poached Pear on a pool of vanilla cream anglaise with candied almonds
With the win at the North Carolina ProStart Invitational comes scholarships to many culinary schools nationwide and several of the students said they want to pursue the culinary field for their career, so the scholarship is a big help.
"Looking forward to the future, it makes it so I have more of a chance to continue this path," Walther said. "I'm one of four so I definitely need the help."
Even though not all the students want to pursue culinary arts as a career, all of them said they had life long connections to cooking, whether it was their families working in restaurants or enjoying cooking with their parents and grandparents at a young age.
"If you like eating good food, why not learn to make it?" Larmour said.
For those students who have been cooking since they were young children, they've still found a way to refine that through their time at Cary High School.
"My grandma taught me how to cook, but without the Cary Culinary Academy, I wouldn't have gotten the expertise I do now," Thomas said.
Leading up to the state competition, the team got help from professional chef Ricky Moore from Saltbox Seafood Joint, which helped them craft their seafood entrée. They also got advice from former Cary High and Cary Culinary Academy student Sheradin Lowell who not only gave the students advice but also pitched ideas.
These connections were made possible by Ashley Whitesides, ProStart Educator and Academy Coordinator at Cary High School. Whitesides also helped the students get donated ingredients from Locals Seafood, Lowe's and the Butcher's Market.
Before the national competition in May, the team will participate in a preparatory boot camp in April. But back before the statewide competition, Ha wrote on a pie plate that they would take first place and they are bringing that same confidence now.
"We're winning nationals," Thomas said.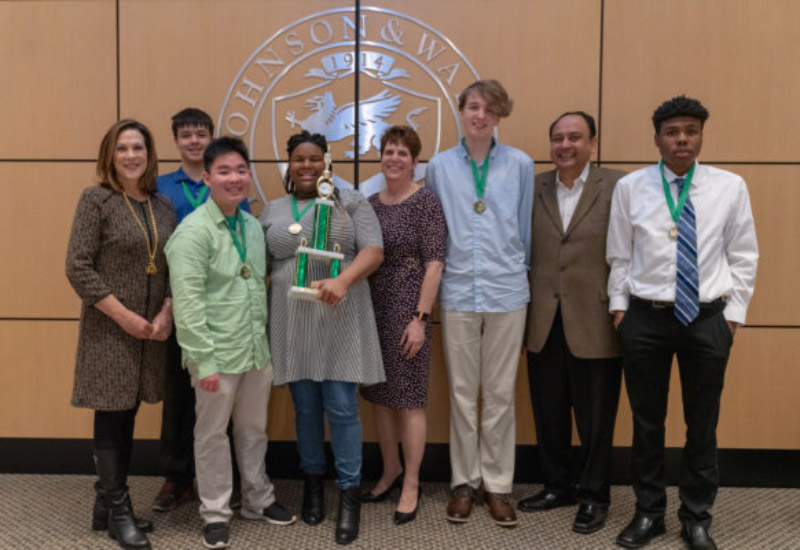 ---
Story by Michael Papich. Photos courtesy of Cary High School.
https://carycitizenarchive.com/wp-content/uploads/2019/03/CaryHigh-ProStart-2019-1.jpg
550
800
Michael Papich
https://carycitizenarchive.com/wp-content/uploads/2020/03/cc-archive-logo-450-v3.png
Michael Papich
2019-03-19 13:03:22
2019-03-19 13:03:22
Cary Students Win State-Wide Culinary Competition