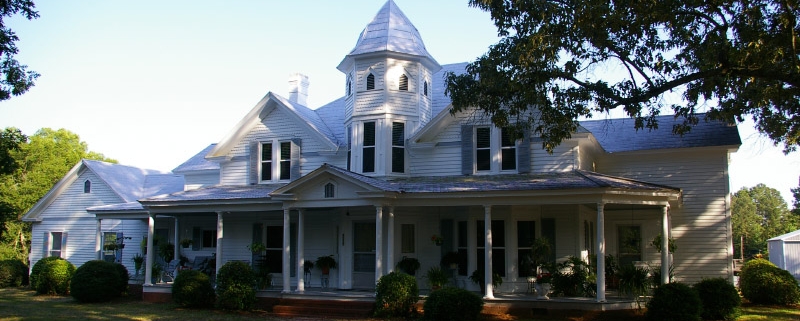 Apex, NC – One of the region's oldest buildings, the James Madison Williams house burned down early Tuesday morning, May 22, 2019. No one was reported injured and the fire's cause is still unknown.
The James Madison Williams House was built in 1909, located on 4525 Green Level West Road, on the border of Cary and Apex. At around 3:30 AM on Tuesday, May 22, Cary emergency services received a call that the house was on fire.
Cary's fire department had the fire under control by 6 AM but by that point, the house was already destroyed, as were several vehicles on the property.
The Williams House was designated as a historic site by Capital Area Preservation in 2015 and it was still being used as a private residence by the Williams family at the time of the fire, but the residents were able to escape the house without injury.
"We worked so hard with the family to make the decision to preserve it," said Gary Roth, president and CEO of Capital Area Preservation. "We're very happy no one was hurt and everyone was able to get out in time but it's a very sad loss."
The house stood out because of its high-style late Queen Anne architecture, which is uncommon in Western Wake County. Together with other houses in the area, the Williams House made up a historic farmscape, connected to the boom of tobacco planting here.
Roth said there are roughly two dozen houses and buildings in this part of Wake County that are 100 or more years old but the Williams House stood out in a number of ways.
"It had a corbeled chimney, and its size is something you didn't see back then," Roth said. "In many ways it resembled the Upchurch Williams House, with the same size and volume, but what that lacked is that turret. That was really unique."
The Williams House had some other characteristics that made it very important for local historians. For one, the house was still being used as a residence and a farm, so it stayed in its historic context.
"Often you will see these historic houses but the buildings around them have been replaced so you don't have the context. Here, they still had their out-buildings and it was still used for farming, though not for tobacco farming anymore."
Several of those out-buildings were included in the historic site designation, such as sheds and the original home which was later converted into a farm building, and these were not lost in the fire.
The Williams House also had its original wood siding and windows, and had similarities to other surrounding houses such as the Roberts Road House.
"We believe these were all built by the same craftsman, or group of craftsmen," Roth said. "Unfortunately, we don't know who they are."
The Cary Fire Department does not yet have a definite cause of the fire.
---
Story by staff reports. Photos courtesy of Capital Area Preservation.
https://carycitizenarchive.com/wp-content/uploads/2019/05/James-Madison-Williams-House.jpg
550
800
Michael Papich
https://carycitizenarchive.com/wp-content/uploads/2020/03/cc-archive-logo-450-v3.png
Michael Papich
2019-05-23 09:56:47
2019-05-24 15:07:06
Historic James Madison Williams House Burns Down