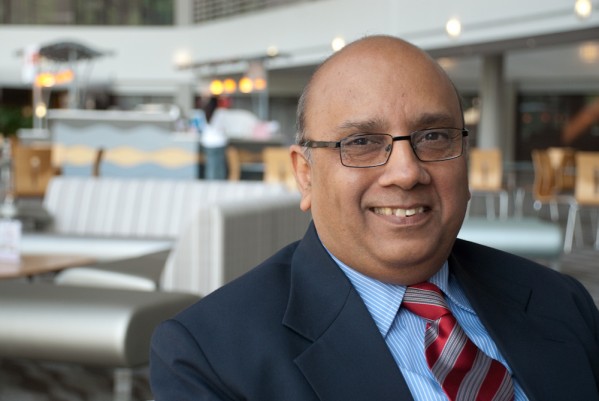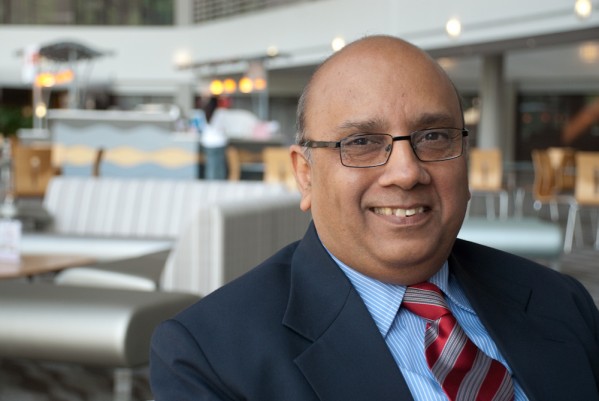 Story by Lindsey Chester. Photo by Hal Goodtree.
Cary, NC- This is the second in our continuing series about large companies you may not know, operating right here in Cary.
Recently, it was reported that HCL, located at 11000 Regency Parkway, would be hiring more than 400 new employees over the next couple of years. Excited to hear such good economic news, I decided to contact them to learn more about the business they conduct in their Cary Delivery Center.
I met with Rajiv Swarup, Corporate Vice President, in HCL's spacious office on Symphony Lake in Regency Park.
What Does HCL Do?
Rajiv was quick to point out that they do not manufacture a product, but instead help their clients handle their business processes more efficiently.
For example, many corporations purchase other businesses in their efforts to grow. In so doing there may be duplication of accounts payable and supply chain operations. These can be consolidated and outsourced. That's where HCL comes into the picture.
They relocate this work to their this HCL office, or manage remotely at their headquarters in India. For many US clients, having the Cary office is very desirable. If issues arise, Cary's location in the mid-Atlantic makes travel to US clients on the East Coast a one day trip.
Why Cary?
HCL spent 2-1/2 years researching their 3rd US delivery Hub – their other US locations are Sunnyvale, CA and Florham Park, NJ.

Location: Cary is located near RDU Airport which makes travel easy for day trips to East Coast clients. Rajiv  said their "Focus (was) on where service can be delivered best"
Weather: The weather here is good most of the year, not too hot, not too cold, and very little extremes of inclement weather holding up travel or work days
Cost of Living– not only for the business, but also for their average employee. Cary was very affordable.
Educated Workforce: The 3 major universities are great resources for educated  employees. Many residents here are tech savvy
Customers: And some of HCL's customers were already located right here in the Triangle, Cisco for example. HCL also works with state governments on IT and Raleigh is right down the road.
I took a tour of their location (63,000 square feet). They have 5 spacious conference rooms and then many large offices which are dedicated to their various customers.
Several of these were open as "flex space" awaiting new customers. These offices will then be customized to their clients needs. That's where the new hires come from.
HCL has continued to grow at 30% per year even in the current recession.
Who Are They Looking to Employ?
HCL is looking for recent grads who have a background with IT networks; computer science majors, and people with a background in economics and business processes. It is very important for potential employees to be well spoken and good problem solvers.  They all wear headphones and are on their computers solving problems all day in this Service Delivery Hub.

HCL believes in "Employees first and clients second." A seemingly contradiction in a customer service oriented business. But Rajiv explained the philosophy like this: The work force is empowered to satisfy the customers' needs on their own to speed solutions.

Stats:
HCL employs 90 people in Cary, with 4,000 total in the US, 5,000 in Europe and 45,000 in India with 62,000 worldwide. Total revenue is $5 billion. Operations are located in 26 countries. Their Infosystems businesses are located in India and their R &D and Technologies are located in their Global markets.
Some businesses require a lot of customer service. Government and ITAR (International Traffic and Arms Regulations) for instance need high security clearance and a great deal of personal service. To that end, HCL provides private offices within their location completely dedicated to these clients. Their hubs operate 24/7 with second and third shifts that come into HCL with their own security codes.
My visit took me to a place I didn't even know existed as Rajiv spoke about IT and customer solutions. Who knew that a business that doesn't actually MAKE a physical product could become a $5 billion dollar enterprise? Welcome to the 21st century!
Another Hidden Giant revealed.
—————————————————————-
CaryCitizen is grateful for the support of Koka Booth Amphitheatre. This week:
Wed June 9th – Styx/Foreigner/Kansas

Fri June 11 – Phoenix
https://carycitizenarchive.com/wp-content/uploads/2010/06/rajiv-0018-e1411140557770.jpg
401
599
Lindsey Chester
https://carycitizenarchive.com/wp-content/uploads/2020/03/cc-archive-logo-450-v3.png
Lindsey Chester
2010-06-06 20:58:11
2015-12-29 22:52:15
Hidden Giant: HCL