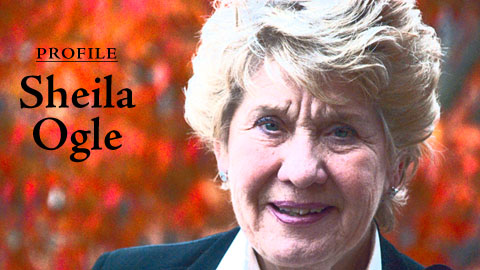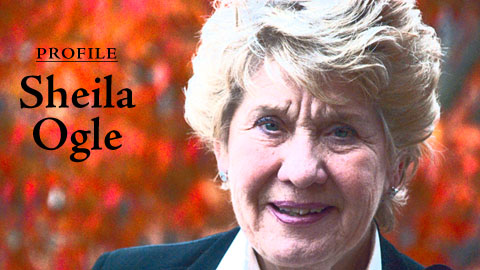 Story by Matt Young, photo by Hal Goodtree

Cary, NC – "You have got to talk to Sheila Ogle." I was given that advice a half dozen times. Finally we contacted Mrs. Ogle to see if we could spend a little time with her.
The discussion never had an awkward pause. This, folks, is a high energy woman. She seems to know everyone. She is an entrepreneur in the true sense of the word – starting businesses and other ventures in areas in which maybe she wasn't formally trained, but where she knew there was a need. Yet Sheila Ogle remains humble and unassuming.
A Lifetime of Community Involvement
Here's a sample of Sheila Ogle's accomplishments:
First woman ever inducted into the UNC Advertising Hall of Fame
Recipient of American Advertising Federation/Triangle Federation Silver Medal Award
SBA NC Small Business Person of the Year
Cary Small Business of the Year
NC Delegate at the White House Conference on Small Business
NC/SC Entrepreneur of the Year-Top 25 Finalist
Working Woman Magazine-General Excellence Regional Award
Served on the board of directors for the NC Committee to Prevent Child Abuse, NC 4-H   Development Fund, and Founding Director for Crescent State Bank
Served on board of Greater Raleigh Chamber of Commerce and was vice-chair for the Small Business Board
Immediate Past President and board member of The Cary Community Foundation Board, Chairman of the Board of Governors for The Capital City Club and Board of Directors for The Academy for Leadership Excellence
The Pink House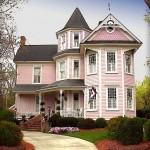 We stopped by her beautiful pink Victorian house on Academy Street and commented on it. "You should see it when it's decorated for Christmas!" she declared. She proceeded to tell us that that house was once owned by her chemistry teacher at Cary High "when Cary had 5000 people and there were 100 students in my graduating class at Cary High School".  The chemistry teacher, Mrs. Rood, was married to H. Waldo Rood (Mayor of Cary from 1949-1961).
The renovation of the Pink House was a labor of love for Sheila and her initially reluctant husband, Carroll. The house had homeless people living in it and was in ill-repair. They moved into the house in 1994. Carroll was soon on board and deeply involved in its restoration. He even had the idea to host a birthday party for the house after it was finished. They invited the town to have cake and pink lemonade in the back yard. The party also served as a fundraiser for Page-Walker Arts and History Center and Prevent Child Abuse North Carolina.
But there is much more to Sheila Ogle than "the lady who owns the pink house on Academy Street".
Living and Working in Cary
Sheila was originally raised in Raleigh. Later her family purchased property and lived in Cary adjacent to where the WakeMed Soccer Park stands today.
For twenty years, she worked for the Howard, Merrell and Partners Advertising agency in Raleigh. After she retired in 1987, she decided that she wanted to start an agency that put the employees in front of the clients and eliminated the account exec layer between the business and its clients. But she wanted to maintain the same level of integrity, quality and service she learned at Howard, Merrell & Partners. She called the company Media Research Planning and Placement Inc. (MRPP).
In 2001, she and Carroll purchased and renovated the Matthews House on Chatham Street, which is a landmark today with its beautiful gardens and Greek Revival decor. It is used for banquets, corporate meetings and elegant weddings. It was empty for eight years prior this project.
"It was a business I knew nothing about, but I partnered with smart people that could make it work".
In 2001 she started another company, Integrated Clinical Trial Services, that recruits patients for clinical trials studies.  In 2006, Sheila entered the catering business to support the clients at the Matthews House as well as other businesses in the Triangle.
Giving to Cary
Sheila was a founding board member for The Cary Community Foundation. She and her husband established the Ogle Family Fund in The Cary Community Foundation. This fund is designated for historic preservation and the arts in Downtown Cary.
"We have the ability to add to the fund by personal contributions as well as donations from family and friends. It's a good example of how people can achieve their personal philanthropic giving objectives and leave a legacy to the town. This money will do good in downtown for perpetuity." Sheila said.
The Cary Community Foundation has been able to give grants to The Miracle League, Cary Visual Arts, Read and Feed, the YMCA, Purple Elephant Computer Factory and others in past years.
"I want to leave Cary when I am done on this earth with a legacy. I want to leave this town better than I found it. Isn't that what we all want? For now though, I want to help Cary, especially downtown continue to grow – to become a center of activity. We could start with a grocery store. And we certainly need more good  restaurants."
Final Thoughts On Our Interview with Sheila
I'm amazed at the people who made Cary what it is, and amazed at those involved so deeply in what it could become. Sheila's one of those people.
I'm glad I finally made that phone call.
And I'm glad that I got to know her.
https://carycitizenarchive.com/wp-content/uploads/2010/11/Sheila-Ogle-Cary-NC.jpg
270
480
Matt Young
https://carycitizenarchive.com/wp-content/uploads/2020/03/cc-archive-logo-450-v3.png
Matt Young
2010-11-18 19:00:43
2019-12-07 16:59:21
The People of Cary: Sheila Ogle