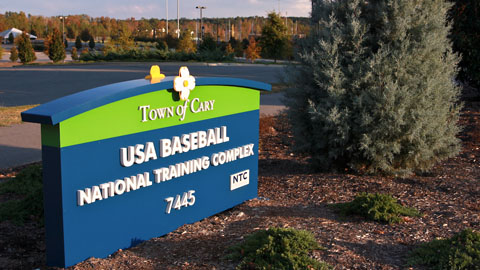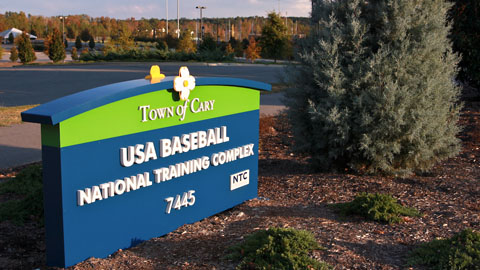 Part 2 in our Cary Parks series.
Cary, NC — At Thomas Brooks Park in Cary, world-class baseball players sharpen their skills next to kids climbing on the monkey bars and families picnicking beneath a shelter. With perfectly manicured grass and top notch facilities, it's a municipal park like few others in the world.
USA Baseball in Thomas Brooks Park
The main attraction lies just inside the entrance of the 220 acre grounds: The USA Baseball National Training Center.
Each year, the USA National Baseball team travels to our fair town to hone their skills for competitions such as the World Baseball Classic and the IBAF World Cup.
Thomas Brooks Park has no trouble accommodating, offering a total of eight baseball fields, half of which lie inside the National Training Center Complex. These four fields are maintained at Major League Baseball standards with Coleman Field, the main stadium field, able to seat nearly 2,000 spectators. To complete the experience, USA Baseball placed a team store near the ticket office that sells authentic gear and paraphernalia.
Also of note: Thomas Brooks Park has a significant economic impact on Cary and the region. Just one tournament (National Team trials in mid-summer) booked 1,920 hotel rooms and had an economic impact of $500,000 (source: VisitRaleigh.com). USA Baseball hosts more than a dozen similar events a season.
And, it's just a great place to see a game. It's Cary's Field of Dreams. Derek Jeter, Chase Utley, Chipper Jones and Evan Longoria have all been a part of USA Baseball.
If you haven't seen a USA Baseball game at Thomas Brooks Park, you need to go next season. We'll remind you.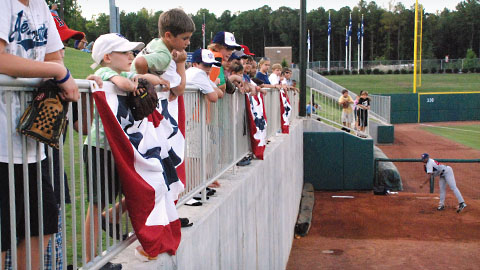 Community Baseball
Four additional diamonds are located in the western part of the park and are used often by both adult and youth recreational leagues. If you feel like warming up before your game, head over to one of the nearby enclosed batting cages before taking the field. Spectators are welcome in the centrally located bleachers that surround a pagoda-shaped building.
Here one can find restrooms, water fountains, and refreshments at ground level; the upstairs is reserved for announcers and score keepers. A paved walking trail allows visitors to safely make their way around the fields and to other areas within the park.
Playgrounds & Other Amenities
While the baseball facilities alone are sure to please any fan of the game, Thomas Brooks has much more to offer.
Adjacent to the four public-use fields is a well equipped playground with ample parking. Parents can relax on one of the five benches around the perimeter of the mulched play surface while their children enjoy themselves on the swings, in the sandbox, or on one of the jungle gyms.
Those looking for a longer outing may choose to pack a picnic and eat under the nearby shelter, complete with seven picnic tables and a large grill. On a hot day this space is sure to be in use as shade on the playground is at a premium; one small tree in the middle provides modest cover from the sun.  A water fountain is close by if you have forgotten to pack liquid refreshment.
A short walk across the small park road reveals another shelter almost identical to the one located near the playground (both of which are available for rental). The important difference – this one has restrooms. It is also well stocked with six picnic tables, a grill, and water fountain. This shelter sits next to two full-sized soccer fields, both surrounded by fencing and attractive landscaping.
Again, parking should be no issue as a large parking lot can be found next to each field. Although the soccer fields are not lit in the evenings, the nearby basketball courts are.
Two full-court cement slabs round out the sports-specific offerings at Thomas Brooks Park. Bike racks are available next to these fenced courts which are playable well into the evening thanks to the timed lighting system that remains active until 11 pm.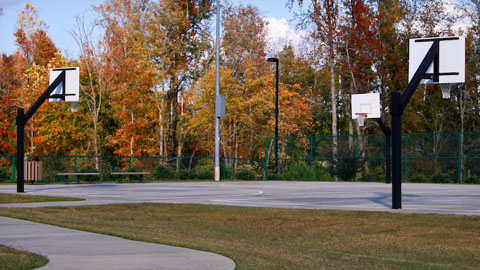 More Info
Thomas Brooks is definitely a unique park, unlike any other in the Cary Parks system. Baseball players and fans will instantly fall in love with the beautiful National Training Complex, a feature no other park in the nation can claim. The expansive grounds provide recreation for a variety of athletes, comfort for spectators, and entertainment for all ages.
This park truly has something for everyone.
Inventory / Facilities
USA Baseball National Training Complex
8 lighted baseball fields
Batting cages
Pavilion with restrooms
Water fountains
2 Soccer fields
Shelter with grill
6 picnic tables
Restrooms
Water fountain
At the playground:
Large jungle gym
Small jungle gym
2 swings
2 bucket swings
Sandbox
Mulch surface
5 benches
Shelter with 7 picnic tables, grill
Water fountain
2 lighted basketball courts with benches
Bike racks
Parking: Multiple lighted lots, bike racks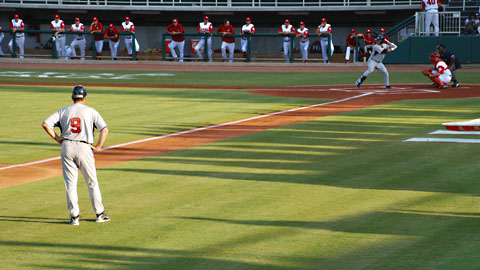 Address
Thomas Brooks Park
200 Brooks Park Lane
Cary, NC 27519-8201
—————————————————————————————————————————–
Story by Zach Hayes. Photos by Hal Goodtree and Zach Hayes. Read more in our Cary Parks series.
https://carycitizenarchive.com/wp-content/uploads/2010/11/thomas-brooks-park-cary-2.jpg
270
480
Staff
https://carycitizenarchive.com/wp-content/uploads/2020/03/cc-archive-logo-450-v3.png
Staff
2010-11-17 18:32:16
2015-12-29 22:54:32
Cary Parks #2: Thomas Brooks Park