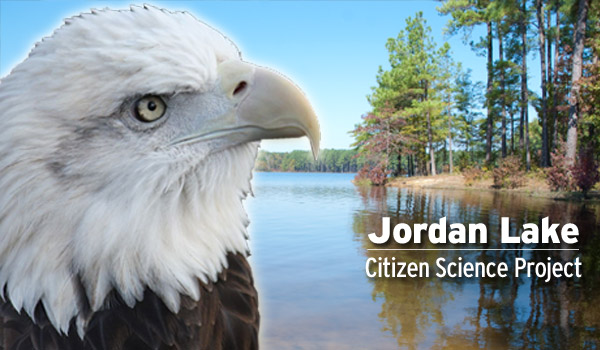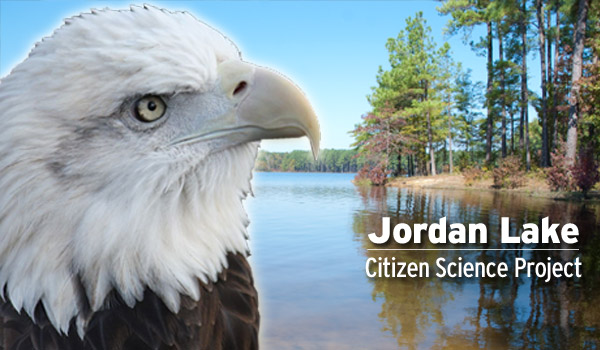 Story by Matt Young.
Cary, NC – Jordan Lake is beautiful. I fish there in my jon boat a few times a year.
I remember one time about ten years ago – my friend Mike and I were trolling in a cove. The water was flat. T-shirt weather. He had just reeled in a small largemouth. We chided the fish about "needing to grow up" and "go get your daddy" and all that other silly stuff fishermen say, as Mike unhooked and tossed the fish back.
Out of the sky, from about 20 feet away, a bald eagle soared in, claws out, and swooped into the water, snatching the fish. Scared the heck out of us. As it flew away to its eaglets, no doubt, Mike and I "oooohed and awwwed" as the magnificent bird first flapped hard to get altitude, then soared away. We stopped the boat motor and just floated for a while.
That was ten years ago, as I said – when bald eagles had just began showing up in North Carolina reservoirs. There are now nearly 10,000 nesting pairs in the U.S., and the bird is off the Endangered List since 2007, according to N.C. State.
EagleCam

Right now, at this very minute, you can observe what's happening in an eagle nest on Jordan Lake. In fact, you could help with the study of eagles by watching.
From the EagleCam web site:
This project originated when Army Corps of Engineers biologist, Francis Ferrell, led a class of NCSU ornithology students on a visit to an active Jordan Lake Bald Eagle nest in March 2010. Everyone on the trip agreed that most Triangle residents would be amazed to learn that eagles were nesting nearby.

Our team of volunteer engineers, NCSU graduate students, faculty, and staff formed over the next six months. We installed video cameras at an active nest in October and began monitoring the breeding pair just before the female laid two eggs in early December.

The video stream is transmitted wirelessly from the nest site to a residence across the lake where it is sent via the internet to servers at NCSU. The chicks should hatch by mid-January and remain on the nest until early April.
Calling Citizen Scientists
I went to the site on Sunday morning and it looks as if a young eaglet had JUST HATCHED!
The public is invited to participate in a project aimed at learning more about the feeding ecology of Bald Eagles at Jordan Lake.
EagleCam is looking for help in documenting the species of fish and other prey items delivered to the nest, and the feeding rates of the chicks. They are looking for citizens to keep logs on what they see – if you see a new prey item delivered to the nest, note the date and time in your log and identify the prey to the best of your ability. Similarly, if you observe the adults feeding the chicks, note the date, time, and prey item in your log and include comments on any interesting behaviors you observe.
Once a week email your prey and feeding logs to the Citizen Science Coordinator, Kyle Kittelberger kkturtledude@yahoo.com. Kyle will post periodic summaries of the observations to the web page.
Sponsor
Your ad lives forever when you sponsor a CaryCitizen channel. Find out more.
https://carycitizenarchive.com/wp-content/uploads/2011/01/eagle-cam-2011.jpg
350
600
Matt Young
https://carycitizenarchive.com/wp-content/uploads/2020/03/cc-archive-logo-450-v3.png
Matt Young
2011-01-16 16:12:25
2015-12-29 22:58:44
Jordan Lake, Eagle Cams and "Citizen Science"