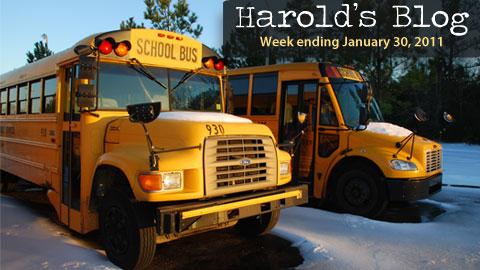 From the blog of Cary Mayor Harold Weinbrecht, covering the week through January 30, 2011. Photo by Hal Goodtree.
This week was a busy week for me. I was especially anxious about the State of the Town address to the chamber on Wednesday since it is one of my biggest presentations of the year.
Monday started with a call to council members about Thursday night's agenda. I was only able to contact council members Adcock, Smith, and Robinson. Mrs. Robinson suggested we pull the naming for the Cary Cultural Community Arts center (Old Cary Elementary) item from the consent agenda for discussion and I agreed. We also talked about the pros and cons for the Tryon and Cary Parkway proposal. That evening I met with staff to go over the agenda. Since there were very few items for discussion our agenda meeting was short.
Nearly 100 Voices on Schools
I then headed over to Cary High School to make welcoming comments to the Wake County School board that was holding a public hearing on reassignment. There appeared to be about two hundred parents in the audience.
There were signs that said "We love Goldman" and to stop reintegration. I am sure there were more but that was all I could see. I believe every news outlet was in attendance.
I was joined by the Morrisville mayor, mayor pro-tem, and council member. After school board chairman Margiotta gave the ground rules he recognized me for opening comments which I gave.
Unfortunately, I was only able to stay long enough to give welcoming comments since I had a private dinner meeting. My understanding was that 92 people had signed up to speak. I think only 75 ended up speaking.
My comments focused on thanking the school board for being in Cary, for locating their offices in Cary (starting this summer), and for their service.
I then talked about my role as mayor in relation to the schools. My role is to listen to my citizens and make sure their messages get to school board members.
I also gave special thanks to Debra Goldman who is doing a good job advocating for Cary citizens. She and I communicate regularly which I believe is important in making sure our citizens are heard. She even comes to council meetings. Now that is dedication.
Despite all the differing opinions that are ongoing we all agree that we want to insure our students have the best education possible.
New Hill and Western Wake Partners Stop Lawsuit on Waste Water Facility
On Tuesday I discussed various issues with the town manager. The biggest issue was the agreement between the New Hill Association and the Western Wake Partners on mitigation to stop a lawsuit against locating a waste water facility in New Hill. This was announced to the public on Thursday. To read the press release see http://www.westernwakepartners.com/docs/Press%20Release_1-28-11.pdf.
Chamber Sponsors State of  the Town
Wednesday morning I gave the state of the town address to at the Cary Chamber's Eye Opener breakfast. By my estimation there were roughly two hundred people in attendance.
I only modified about one fourth of the original state of the town for this address. It focused more on businesses locating, relocating, expanding and I talked more about economic development. I actually received applause twice which is a first for me. Once for comments about the Cary Chamber's support in recruiting new businesses and another for comments about the Town of Cary staff. My talk lasted somewhere between 20 to 30 minutes.
Some background on my preparation – To prepare for long talks like this one I usually write the copy, practice from the copy, create bullets from the copy, and do a final practice with the bulleted copy. I do my talk from the bulleted copy which helps me look at the audience.
No Sweat
Wednesday evening I taped the February version of Cary Matters with co-host Jennifer Robinson. Our main topic was on the retreat. Our Question and Answer segment had four questions which is unusual. Usually there are only a couple of questions.
One interesting thing about this taping was that Jennifer and I showed up on contrasting red sweaters. So I took mine off and wore a purple sweater that belonged to one of the staff members. The actual taping only lasted about 30 minutes.
Jennifer, like the other council members, is a great co-host and we had a lot of fun.
The Best Staff
Thursday afternoon I participated in a panel discussion at town clerk school being held in RTP. I was joined on the panel by the town clerk, town attorney, and town manager. The panel focus was on relationships. I was the only elected official, so I have a different perspective of why relationships are so important. I hope my comments were not out of place.
One of the points I made was that relationships between elected officials and staff are essential for good governance. That is, to be effective you must trust your staff and communicate with the often. As Mayor, I can tell you that Cary citizens are served by the very best that local government has to offer.
After the panel, the four of us decided to have dinner before heading to the council meeting. Unfortunately, we got caught up in traffic and were almost late for the start of the council meeting. I actually think the meeting started a minute late.
Tryon Rd/Cary Pkwy Land Status – Change to Residential?
The council meeting was dominated by the discussion to change land use amendment from commercial to residential at Tryon Road and Cary Parkway. All the residents in the area, with the exception of a couple, stated they did not want this change. Nevertheless, we passed it 4-3.
The approval now means commercial and high density residential is planned for this property. The property is still zoned commercial which means the developer will have to propose a zoning change.
If one adjacent resident files a protest petition then it will take 6 out of 7 council members to pass the zoning change. This is a very high hurdle for the developer to achieve.
After a brief closed session the council meeting adjourned a little before 9:30.
Ashworth Art Walk
Friday night my wife and I attended the art walk in Ashworth Village. On display was unique artistry from painting with layers of wax paper to fiber art and felt work. It was all very interesting. As you can tell from my description, I don't have a lot of art background.
Car Wash for Cary Police Officer Matt Long
Sunday afternoon my wife and I went to a fundraiser at Bunkey's car wash for Cary Police Officer Matt Long who is battling cancer. If you are interested in helping a very worthy cause I was invite you to contribute whatever you can. Contributions can be made at any Wachovia bank in Cary. In addition, the Police Benevolent Foundation has set up an online form for credit cards. Just go to http://www.ncpba.org/carychapter.htm.
Mailbag: Land Use, Year Round Schools, Districts, Cop Kudos, Arts Center Name Suggestion
There were lots of emails this week. The majority were in opposition to the land use plan amendment at Tryon Road and Cary Parkway (and a couple in support). In addition, there were emails about Highcroft Elementary being year round or traditional. The emails I received on this were divided.
Other emails requested residential involvement in downtown planning, a request for Cary to have 7 districts instead of 4, a name suggestion for the Cary Cultural Arts Center, a recommendation about a road name change, and kudos for Officer Wright of the Cary Police Department.
Next week will ease up with intensity. I will visit an elementary school on Monday, meet with the Police Benevolent Association on Tuesday, and meet with the Wake County legislators for breakfast on Thursday.
Well that is all for this week. My next post will be on Sunday, February 6th. Please feel free to email me with a comment.
Personal comments please send to augustanat@mindspring.com.
All Town of Cary business – please email me at Harold.Weinbrecht@townofcary.org
Harold Weinbrecht
https://carycitizenarchive.com/wp-content/uploads/2020/03/cc-archive-logo-450-v3.png
Harold Weinbrecht
2011-01-31 13:09:15
2019-12-07 16:59:25
Harold's Blog: State of the Town, School Reassignment, Waste Water, Land Use