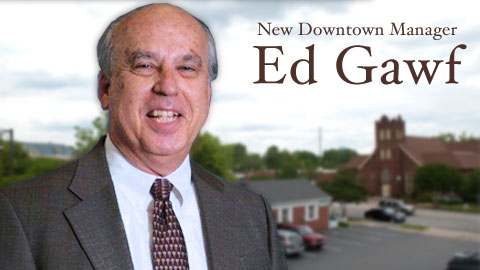 From staff reports.
Cary, NC – Cary Town Manager Ben Shivar has selected George "Ed" Gawf to serve as the community's first Downtown Manager. Gawf has been working in the field for 40 years and was Shivar's top pick from a pool of 280 applicants from as far away as Washington, Wisconsin, Texas, Maine, and Florida.
"Ed's vast public and private sector experience and high-profile successes will be invaluable as he helps lead our efforts to develop a vision for downtown and the strategies to make that vision a reality," said Town Manager Ben Shivar, who noted that Gawf was integral in energizing downtowns in Boulder, CO, Palo Alto, CA, and Scottsdale, AZ.

Gawf has a long career in city planning. He was Assistant City Manager of Scottsdale, AZ from 2001-2007. Prior to that, he was Director of Planning and Community Environment for the City of Palo Alto, CA. Earlier in his career, he was Deputy Director, City of San Jose and Planning Director for Boulder, CO
Downtown Manager's Job
As the Town of Cary's first Downtown Manager, Gawf will serve as the Town's key contact for those interested in downtown development and encourage downtown development by recruiting businesses and promoting economic opportunities. A resource to developers, businesses, and residents, Gawf will work with potential tenants and brokers to explore downtown real estate options, explain Town policies and procedures, and convey the needs and desires of downtown stakeholders to Town officials. He will also be part of the staff team that assists with planning and prioritizing downtown capital improvements, including identifying and recommending property acquisitions and sales.
"Cary is consistently ranked as one of the best places in the nation, and I'm excited about the opportunity to work with the community to bring more vibrancy to the heart of this great town," said Gawf.
Gawf's range of expertise includes city planning, downtown revitalization, downtown master planning, development entitlements, land use regulations, environmental programs, and organizational development. He is a charter member of the American Institute of Certified Planners and has a BA and MA from Oklahoma State University.
Gawf and his wife will relocate to Cary from Scottsdale, AZ, where he is a partner with G and G Consulting, a planning and development firm. His first day on the job with Cary will be March 21, 2011.
Staff
https://carycitizenarchive.com/wp-content/uploads/2020/03/cc-archive-logo-450-v3.png
Staff
2011-02-21 18:30:09
2011-02-21 18:30:09
Cary Hires Downtown Manager