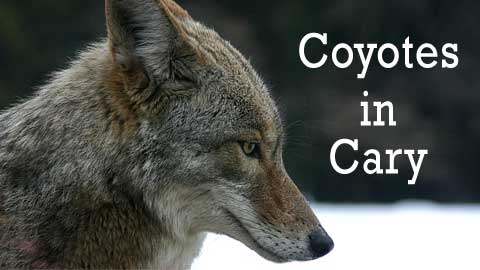 Story by Matt Young. Photo from Wikipedia.
Cary, NC – Coyotes have been spotted in Cary.
Some suspect that the drought may have created a newly available food source in the Glenaire section near Dorothy Drive and Union Street (Map of the Area). There was an abundance of rodents in the area during the last drought, we were told.   
One of the witnesses, John W. Broughton of Ann Street, told CaryCitizen, "I do believe I saw a coyote two nights ago (Feb. 15) going down Union Street toward Dorothy. Another neighbor has informed me earlier this week he saw what he believed was a dead coyote in the Glenaire parking lot while out walking his dog. It is completely possible for them to be in the area since they have been reported between Apex and Cary. Given our greenway and the tunnel under Glenaire there is suitable habitat  available for them." Mr. Broughton heads up the Community Watch Team in the Dorothy Park area.
One of the other citizens in the area said that last Thursday at around 11 am, a coyote was spotted running down Union Street, then down Marjorie and when it had spotted him it made the turn and headed up Griffis St. toward the Church (St. Paul's Episcopal).  He claimed it was a "positive i.d.".
The Cary Police and Cary Animal Control have been notified and are working with citizens to be wary of coyotes in the area.
Shelly Davis from Animal Control was nice enough to immediately return my call. She said she was not surprised to hear about this. Certainly citizens should continue to report injured, dead or dangerous-looking animals. People should also be aware that if they see or hear that coyotes are in the area they should keep an eye on, or keep inside, their pets.
Coyotes are opportunistic and they eat just about everything: small animals, bird seed, berries, even garbage from your trash cans.
They are known around here to make a lot of noise with their howling during mating season in January, February and March. And the females will certainly be seen more often during the day hunting after they give birth in June to feed their pups.
With the population growth and development in recent years they are somewhat less afraid of people than in years past, and have been displaced from places like Chatham County.
"They really have no natural enemy (predator) in this area, other than humans, so coyotes are at the top of the food chain. In general, they are afraid of humans and to chase them away normally all one would need to do is make noise like shouting or whistling." 
Again, if you see something suspicious (of a four-footed variety), contact Cary PD Animal Control:
Contacts
Shelly Davis
Animal Control Supervisor
Cary Police Department
120 Wilkinson Ave
Cary, NC 27513
(919) 319-4517
shelly.davis@townofcary.org
Michele Schulz
Animal Control Officer
Cary Police Department
(919) 319-4517
michele.schulz@townofcary.org
Chuck Haggist
Animal Control Officer
Cary Police Department
(919) 319-4517
chuck.haggist@townofcary.org
Matt Young
https://carycitizenarchive.com/wp-content/uploads/2020/03/cc-archive-logo-450-v3.png
Matt Young
2011-02-21 17:30:41
2015-12-29 22:58:46
Coyotes in Cary