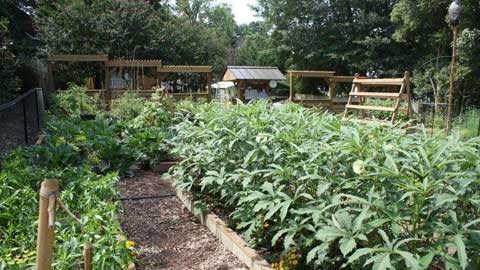 By Guest Columnist Michele McKinley, Project Coordinator, Advocates for Health in Action (AHA)
Cary, NC – Fresh food, a sense of community and generous giving are sprouting at community gardens in Cary and nearby Apex and Morrisville.  Community gardens can "grow" in different ways, but they all are about people working together to grow healthy, fresh food. By sharing a plot of land, the supplies and physical labor, garden members enjoy and benefit from fresh foods. Many gardens also often donate extra produce to hungry people in the area as part of their purpose.
Many Cary citizens have already broken ground on this local food and garden movement. If you want to dig in and get involved in your community, check out these local gardens. Cary's Pocket Community Garden and Gracious Harvest Community Garden at First United Methodist Church, both located in downtown Cary, have begun their spring planning and garden preparations. Gardeners at Simple Gifts Community Garden in Apex are also busy preparing for spring, and the new Morrisville Community Garden is breaking this year. Each of the gardens is currently taking new memberships.
Dig In
You may want to join a garden or perhaps you are looking to start a new garden at a school, in your neighborhood, at your place of workshop or at work. Attend Dig In on March 5, 8:30 am-1:00 pm at Marbles Kids Museum for all the down and dirty on gardens. Presented by Advocates for Health in Action, this educational gardening summit is designed for anyone looking to start a garden, improve a garden or gain expertise for success in a home garden. The event is free, but you'll need to register at AHA's web site as space is limited.
Local Experts and Businesses Speak at and Support Dig In
Dig In will feature presentations from urban farming and gardening experts, hands-on workshops and educational booths—all designed to help the community dig in and grow fresh, healthy food. Keith Bliss of Cary's Pocket Community Garden will speak at one of the workshops, "Money Talks:  Fundraising and Financially Sustaining a Community Garden." Farmer Ben Shields of Ben's Produce, who sells local produce at the Western Wake Farmers' Market (WWFM) in Cary, will speak on, "Going Green:  Organic Gardening & Pest Management." Linda Spain of Spain Farm, also a WWFM vendor, will have an educational booth on growing mushrooms. Yes, you can learn to grow mushrooms at home!
Three Cary businesses are supporting Dig In and AHA's community gardening initiatives as well:  Whole Foods Market of Cary, Great Harvest Bread Co. and Garden Supply Co., and Western Wake Farmers' Market as well as Whole Foods Market have donated raffle prizes for Dig in participants. Come see what you can win and learn!
The Down and Dirty on Community Gardens
"The energy created by Dig In last year is still present," commented Laura Aiken, executive director of AHA and Community Health Specialist at WakeMed Health & Hospitals. "We have seen at least 10 new community gardens created in Wake County, and our municipalities are adjusting policies to make it easier for community gardens to get started. AHA partners are excited to provide the tools and resources needed to make these gardens a reality, and we are thrilled to build upon last year's inaugural event and engage even more people in gardening across our area."
"Community gardens are increasing access to fresh fruits and vegetables," Aiken continued. "Schools, churches, neighborhoods, community groups and other nonprofits can capitalize on the excitement around sustainable food systems, connect people with where their food comes from and promote environmentally friendly living."
Health in Action
Advocates for Health in Action is a group of more than 50 diverse organizations and community members who are shaping the environment throughout Wake County so healthful eating and physical activity are the way of life. Subscribe to Health in Action, AHA's new monthly e-source for a healthier Wake County. If you know of additional community gardens in Cary, please contact AHA to add it to the list of local community gardens.
Community Contributor
https://carycitizenarchive.com/wp-content/uploads/2020/03/cc-archive-logo-450-v3.png
Community Contributor
2011-02-22 12:14:03
2019-12-07 16:59:27
Cary Community Gardens Dig In