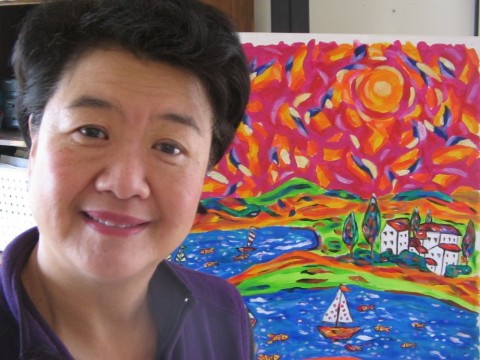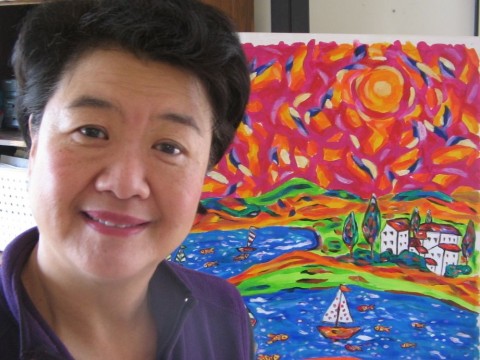 Story and photos by Lindsey Chester
Cary, NC- At the recent Lazy Daze Grants ceremony the artwork was unveiled that will represent the Lazy Daze Festival this August. I had the opportunity that night to meet the artist, Grace Li Wang. She agreed to a future interview.
The weather had again decided it was winter in Cary, but inside Grace's studio the sun was shining. Many of her vibrant paintings feature the sun above a  lush field or undulating waves and here the weather is always fair. The table in the middle of the room displayed five large works with boats and fields and trees. Happiness radiated off these canvases. I'd had cabin fever and a cold for about a week and my mood immediately lifted.
I asked Grace how her work was selected to represent Lazy Daze. She told me that Joy Ennis, the Town of Cary's Festivals Director, approached her last July. The committee was familiar with Wang's work and asked her to create a painting. Her painting depicts the Lazy Daze Festival. A glowing sun shines down on  Academy Street lined with vendor tents, balloons and lots of people with Cary Elementary School (soon to be Arts Center) in the background. The painting will be displayed on all promotional materials beginning in June.
Grace
Grace is a native of Taipei, Taiwan and moved to the States in 1964 with her family, settling in Greensboro. Her father was a professor at A & T University during the civil rights era.
When she graduated from N.C. State's School of Design in 1974, she liked the area so much that she stayed, later moving to Cary in 1978.
Her design degree led her to a career as an industrial designer creating visual identity and point of sale displays for corporations including Ericsson, Black & Decker and F.H.I. (Family Health International). Her successful career led to many recognitions in her field, and she showed me a book full of these commendations.
Her awards include:
Designers Choice Awards from the International Design Publications
Distinguished Art and Design Graphics Awards from the International Society for Technical Communications
COMPLEAT Communication Design Award
International Assoc. of Business CommunicationOzzie Award for Design Excellence
… and many others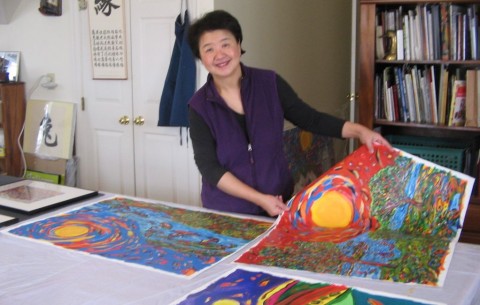 She left the corporate world and ran her own marketing firm from 1991-1996. Then in 1999 Grace decided to paint full time and run her own  gallery in North Raleigh for several years. She describes a feeling of bliss and contentment when she paints that has fueled her belief that she was meant to create art full time.
Of her work Grace says:
"I want to create vibrant images that become the active force in expressing colors and forms in nature, with emotional qualities that are strong and radiate energy and exuberance." She adds that she wants her art to "move (her) audience, to feel the vibrancy and energy of life through expressive works of dramatic and bold colors…and see art as an extension of their own cultural experience".
Inspiration
Van Gogh, Matisse, Gaugin and many others in the Fauves and Impressionist movements are very much in evidence. Her bold colors and brush strokes have a great similarity to these masters.
Two Shows In Cary:
Currently Grace has two exhibits in Cary with a third planned for August. You can see her collection titled "Radiance in Nature" at Stonehaven Jewelry and "Radiance Fields" at Chatham Street Cafe through the end of March. A new gallery, Chamber Arts Gallery will be opening soon in Ashworth's Village. For August they will hang a show of Wang's work to coincide with Lazy Daze.
All of these works are for sale and can also be viewed on her website.
https://carycitizenarchive.com/wp-content/uploads/2011/03/Grace-2-480x3601.jpg
360
480
Staff
https://carycitizenarchive.com/wp-content/uploads/2020/03/cc-archive-logo-450-v3.png
Staff
2011-03-06 19:00:08
2015-12-29 22:58:47
Profile: Grace Li Wang Shines For Lazy Daze