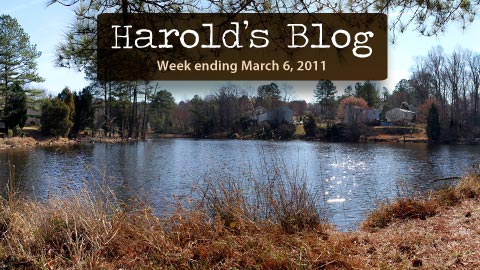 From the blog of Cary Mayor Harold Weinbrecht, covering the week through March 6, 2011. Photo by Karl Fisher.
Fix a Leak
Monday I did the taping of "fix a leak" for Cary TV. The town of Cary is giving away free toilet leak detection kits as part of a national campaign to be "water wise." Basically the taping had me say a couple of lines, drop a tablet into a toilet, and see if the bowl turned blue. If so, it means you have a leak. After participants take the test they are encouraged to enter their results online for a chance to win a WaterSense certified toilet.
Meetings and Events
Tuesday I had my weekly meeting with the town manager to discuss a variety of issues. We usually discuss about a half dozen to a dozen issues and talk about the town's potential strategies to handle these issues.
Wednesday morning I talked to several high school students in the council chambers at the Cary Chamber Youth Leadership Program. I explained my duties but spent most of my time talking about the political nature of the job. The group only asked about a half dozen questions and I was done in about 15 minutes.
Then I headed across the street to the Cary Chamber to listen to a speaker from the Greater Raleigh Convention and Visitors Bureau speak on economic development.
I next headed over to Kingswood Elementary to read to kindergartners in Read Across America. The only problem was that they weren't doing Read Across America and were not expecting me. Oh well, mix ups do happen.
Wednesday afternoon I convened a meeting of the Cary Apex Water Treatment Facility Advisory Committee. This committee was formed in the early 2000s and is made up the Cary and Apex managers and mayors. Our business was to approve minutes from our last meeting and of course this meeting otherwise we would have perpetual meetings to approve minutes.
Next I attended a meeting of the Western Wake Partners Policy Advisory Committee. This is the committee that makes decisions on the Western Wake Wastewater Facility. The purpose of this meeting was to approve the fiscal year 2012 budget and other items.
Heart of Cary and the Downtown Vision
On Thursday morning I spoke with the Heart of Cary Association. My talk focused on my vision of the downtown in the near and distant futures. One of the main messages I wanted to get across was the need for all of us to partner in creating events and an environment to bring people downtown. These comments seemed to be well received. I look forward to the new initiatives that will come from the great people in the Heart of Cary Association and our new downtown director Ed Gawf.
Email-bag: Development, Odors and Health Risks from Water Meters
Emails this week included complaints about the proposed apartments at Tryon and Cary Parkway, odors from the Kit Creek pump station, and potential health risks from automated water meters. I also received a couple of name suggestions for the Cary Community Arts Center.
Next week's meetings include a regularly scheduled council meeting, meeting with Chatham County legislators, and the Economic Development Board.
I apologize for the brevity of my comments in this week's blog. Unfortunately, I came down with a stomach virus on Friday. At least I am back on solid food today. Hopefully, I can get back to normal on Monday. At least that is the plan.
Well that is all for this week. My next post will be on Sunday, March 13th. Please feel free to email me with a comment. Email all Town of Cary questions or comments to Harold.Weinbrecht@townofcary.org. Email personal comments to augustanat@mindspring.com.

See more pictures from around town on the Cary NC Flickr Group.
Harold Weinbrecht
https://carycitizenarchive.com/wp-content/uploads/2020/03/cc-archive-logo-450-v3.png
Harold Weinbrecht
2011-03-07 09:29:58
2016-01-09 11:43:31
Harold's Blog: 7 Meetings and a Leaky Toilet