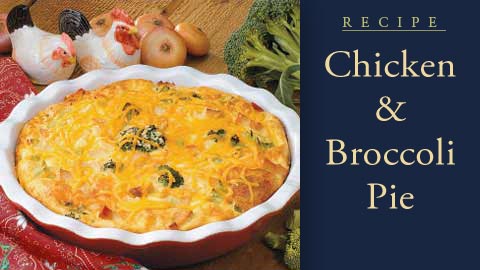 Story by Leslie Huffman, photo from the Ditto Family
Cary, NC – I don't know about you, but life is very hectic at our house. My children are in a gazillion activities and have tons homework. My husband and I have work and after hours meetings and of course somewhere in there we must make dinner.
Even with all the crazy schedules we hold, we do manage to eat dinner as a family at least 4 days a week. It is the prep time that I seem to lack when it comes to cooking. So here is a one dish meal that packs in all the food groups and tastes delicious.  Oh, and it's easy as pie!
I call it Chicken and Broccoli Pie
Here is what you need:
1 package of frozen chopped broccoli (or fresh if you want)
1 rotisserie chicken from the grocery store (de-bone and chop or shred chicken)
3 cups shredded cheddar cheese
2/3 cup chopped onion
1 1/3 cups milk
3 eggs
1 cup buttermilk baking mix (I use low fat Bisquick)
3/4 tsp salt
1/4 tsp pepper
Here's how you do it:
Preheat your oven to 400 degrees F. Grease a 10 x 1 1/2 inch pie plate.
Rinse broccoli under cold water to thaw and drain thoroughly.
Mix broccoli, chicken, 2 cups of the cheese, and onion in the pie plate.
Beat milk, eggs, baking mix, salt, pepper until smooth in blender. Pour liquid ingredients over chicken mixture.
Cover with foil and bake for 35 to 45 minutes. Bake until knife inserted in the center comes out clean. Remove foil and sprinkle remaining cheese on top and bake until cheese is melted.
The best part about this recipe, is you can customize the ingredients to what you like or even what you have in the fridge. You can use the left over chicken from an earlier meal or even the chicken already cooked and chopped in the meat section of the grocery store.
To change it up, try chicken, olives, frozen spinach and feta cheese. Replace the chicken with ham. Or make it a vegetarian dish. Serve it with a fruit salad and your done!
Leslie Huffman
https://carycitizenarchive.com/wp-content/uploads/2020/03/cc-archive-logo-450-v3.png
Leslie Huffman
2011-03-21 16:00:00
2012-09-27 11:39:47
Recipe: Easy As (Chicken and Broccoli) Pie