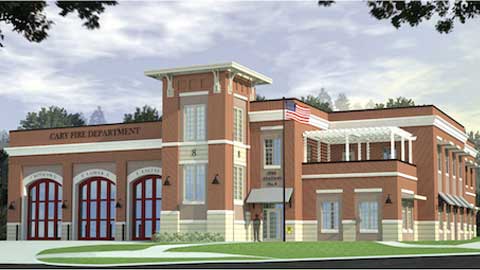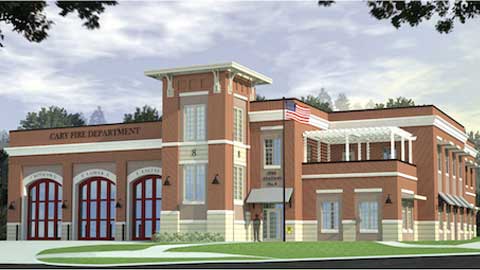 Story by Leslie Huffman
Cary, NC – The Town of Cary is getting a grant to help build the first green firehouse in the United States. Construction of Fire Station #8, to be located on Mills Park Drive west of NC 55, is set to begin in Fall 2011.
First Sustainable Fire Station in the U.S.
This is a "first-of-its kind" project to reduce the environmental impacts of fire and police departments, and Cary will take the lead. With this project, the Town of Cary aims to pioneer reductions in cost and greenhouse gas emissions in local fire and police departments. Success in Cary will help pave the way for departments around North Carolina and the rest of the country to do so as well.
The town of Cary will build a Climate Showcase Fire Station, which will also be the town's first municipal building to use green building principles.
Fire Station #8 will be built with low-emitting building materials, an efficient HVAC system, enhanced ventilation systems, and extensive use of day lighting. Rooftop solar photovoltaic cells will be installed which the station will then use to sell power back to the grid through a power purchase agreement, defraying the station's energy costs.
Hybrid police and fire vehicles will be purchased to increase the overall fuel efficiency of the fleet and reduce emissions. Other sustainable practices like reclaimed water usage, recycling and composting will also be implemented.
The Cary Climate Showcase Fire Station will be located at 408 Mills Park Drive. Construction is scheduled to begin Fall 2011 and be completed in 14 months. When finished, a detailed case study of the project will be conducted so other towns nation wide will be able to replicate the process.
Sustainable Initiatives Shared With Other Triangle Departments
Cary is partnering with the City of Raleigh, the City of Durham, and the City of Chapel Hill to implement many of these sustainable practices in local fire and police departments. Reducing greenhouse gas emissions and decreasing energy consumption will help fire and police services to meet increasingly tight budget constraints, save jobs, and improve services.
Emily Barrett, Town of Cary's Sustainability Manager, says, "The Town is undergoing a process where we strategically examine our energy use, by examining ways to make efficiency gains that will allow us to save money and reduce our environmental impacts.  This grant will help Cary to make progress on these energy-related sustainability initiatives, while working with Raleigh, Durham, and Chapel Hill to highlight the region's efforts to make our Fire and Police buildings and operations more efficient."
Because of it's proximity to a planned community center, elementary school, and middle school, outreach activities and tours will also be a regular function at the fire station.
Fire Chiefs Climate Challenge
Throughout the process the town will collect baseline data on fire and police station energy use in order to track sustainability efforts and facilitate the sharing of best practices. Finally, fire chiefs in the Triangle region will issue the "Fire Chiefs Climate Challenge" to other departments and stations in the state, region, and nation.
The program will include a greenhouse gas emission reduction pledge and list of commitments, as well as a toolkit for other interested chiefs that include a detailed case study of the Cary Climate Showcase Fire Station and other recommendations based on the experiences of the Triangle region.
Saving Enough Energy for 28 Homes
Altogether, the project is expected to reduce greenhouse emissions in Cary by 236 metric tons of CO2 annually and save 285 megawatt hours of electricity. That's enough to cover the energy costs for approximately 28 average sized homes for a year.
About the Grant
The U.S. Environmental Protection Agency (EPA) has awarded the Town of Cary with a $496,000 grant for an innovative program focusing on greenhouse gas reductions in fire and police departments. The town of Cary is among 22 communities from across the country, including three Indian tribes, receiving almost $8.3 million in grants.
These grants will help communities increase energy efficiency and save consumers money with new practices involving waste management, energy production, and land use management.
https://carycitizenarchive.com/wp-content/uploads/2011/05/green-fire-station-cary.jpg
270
480
Leslie Huffman
https://carycitizenarchive.com/wp-content/uploads/2020/03/cc-archive-logo-450-v3.png
Leslie Huffman
2011-05-03 16:15:43
2011-07-20 11:52:18
Cary, Home to America's Only Climate Showcase Fire Station