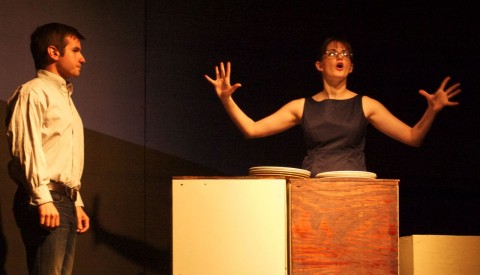 Review and photos by Lindsey Chester
Cary, NC- Just like the nursery rhyme, the characters in F.A.T.E.'s new play "Jack & Jill", experience the uphill and downhill tumbles of love relationships.
Directed by John Paul Middlesworth, the play begins simply enough with a pick up line – and not a very good one, ladies. I would have broke his crown.
The dialog that follows foreshadows the troubles that lie ahead for the couple. Before your eyes, the pick up line leads to a date in Jill's apartment, full of uncomfortable attempts at learning about each other. Including a funny bit about smoking a joint to relax.
The play evolves over many years, and the crew has done an excellent job of portraying the passage of time. Before your eyes, Jill, played to bitchy passive aggressive perfection by Noelle Barnard, changes outfits from office suit to bathing suit , PJ's to evening dress. With each passing scene, you watch as the two struggle to find any common ground.
What you come to realise, is that everything in this relationship is a negotiation. From the first date, the wedding,the honeymoon, moving, and a career choice, to having a baby, or a divorce, and more.
Jim Azarelo embodies Jack, an amiable guy, who wants love and believes he has found it with the odd Jill. But Jill self examines everything, questioning motives, independence, their roles, and finally their love.
Flash forward to the inevitable at the close of Act 1. This left me wondering, "What could possibly follow that ending?" Without spoiling the second act, the tables get turned on these two, and they continue their downhill adventure to its finish.
These two actors do a remarkable job of filling the theater with their two characters – quirky, but believable. FATE's director, Middlesworth has done a fabulous job of creating a world with minimal props and scenery. Much is left for the audience to fill in with their minds. To that end, there are three "changers" who bring in needed items from off stage, but are never acknowledged by the actors as part of the action. Middlesworth explained that he chose not to cloth these folks in black as expected- but to dress them in khakis and white tees.
Both lead actors were cast in FATE's last production, "Oh Baby!", and they both serve on the board of the Ensemble. I look forward to following this group as it expands its presence in Cary and the Triangle.
Catch the Play
The play continues this week with shows on Thursday through Saturday,  June 16 – June 18. All shows are at 8 pm.
Location: 267 Grande Heights Dr, Cary (located in the Harrison Pointe Shopping Center, corner of Maynard and N. Harrison).
Tickets
$15 for general admission
$10 for Students, seniors, military and  educators.
Call in advance for a reservation: 919-228-8184
https://carycitizenarchive.com/wp-content/uploads/2011/06/JJ2-e1307841423473.jpg
275
480
Lindsey Chester
https://carycitizenarchive.com/wp-content/uploads/2020/03/cc-archive-logo-450-v3.png
Lindsey Chester
2011-06-14 11:50:18
2016-01-01 18:35:19
Theater: Jack & Jill Go Up The Hill