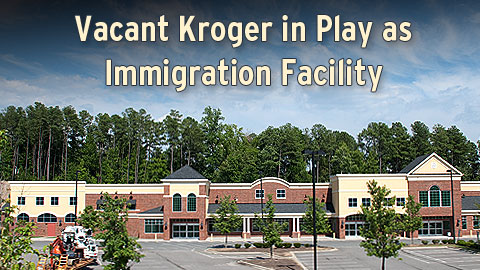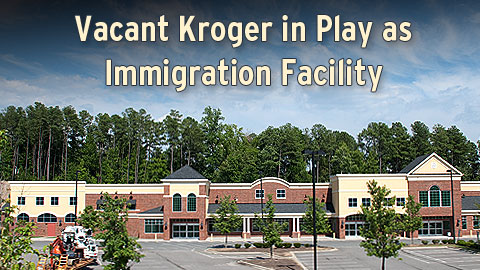 Story by Lindsey Chester, photos by Hal Goodtree. Matt Young also contributed to this story.
Cary, NC – The Town of Cary has learned that the Federal Government is looking at possibly locating an Immigration and Customs Enforcement (ICE)  facility in the vacant Kroger site at the corner of High House and NC 55, and the neighbors are not happy.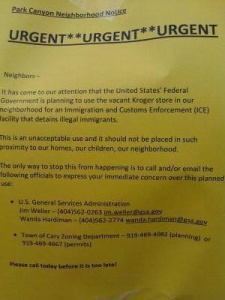 The West Park neighborhood learned last week through an anonymous flyer that the current ICE facility (located off Evans Road in Cary) will be relocating in 2012 when their current lease expires.
One of several sites in Cary that are being looked at (the US General Services Administration will not disclose the other sites), is the Kroger facility which abuts the West Park neighborhood.
ICE is part of the Department of Homeland Security.
Mobilized
The West Park HOA mobilized quickly and began contacting the Cary Town Council and staff. On Tuesday night, June 28, they held a well-attended meeting at their clubhouse.
In attendance were Cary Mayor Harold Weinbrecht, District D Representative Gale Adcock , Julie Robison, At Large Representative and Town Manager Ben Shiver. CaryCitizen was there to see if any new information was available, as were other media outlets.
Where To Find Info
Mark Howard, president of the West Park HOA, recommends that residents continue to check the Town website where a FactSheet has been set up.
Howard also suggests that people check the West Park website and a new site that is being built called: Stop Cary ICE Now
The Town and the West Park HOA have contacted the U.S. General Service Administration (GSA) under whose jurisdiction this falls. Representative David Price says he wants to hear "all the facts" before he takes a position on this issue.
But facts are in short supply.
What Is ICE?
The Immigration and Customs Enforcement (ICE) agency is the principal investigative arm of the U.S. Department of Homeland Security (DHS) and the second largest investigative agency in the federal government. Created in 2003 through a merger of the investigative and interior enforcement elements of the U.S. Customs Service and the Immigration and Naturalization Service, ICE now has more than 20,000 employees in offices in all 50 states and 48 foreign countries. [Source: ICE website]
ICE has within it a number of divisions, requiring a number of different types of facilities to monitor, arrest, process and detain those individuals who are not in our country legally.
The current (ICE) center in Cary processes people suspected of being illegal immigrants, and those immigrants that have committed a crime. Many are then deported.
Detainees are brought in shackled and handcuffed, and wait in cells to be processed. The facility maintains that detainees are not kept overnight. The building operates from 8-5pm. If kept past 5pm, they are transported off-sight. There are no beds, showers or commissary facilities. No one has ever escaped or run amok from the current facility. In the 10 years that the Cary ICE office has operated, a couple of human rights protests have been the only sign that the building exists.
The current 8,000 square feet building is located in the Center West office park on Evans Road. In a move to consolidate and save money, it is thought that the GSA is grouping North Carolina offices together and now leasing or purchasing this larger building to serve several functions. The Kroger facility is over 55,000 square feet.
From the Town's Website
ICE enforces 400 federal statutes including cyber crimes/crimes against children, financial crimes, gangs, human trafficking.  For security reasons, DHS doesn't confirm numbers of officers, agents or staff.  However, agents are armed as one would expect.

While the West Park Planned Development District (PDD) zoning only allows up to a total of 12,000 sq. ft. for leased office space, the federal government is exempt from the Town's zoning conditions for the Kroger or any other site whether it leases or owns the property. However, federal statue 40 U.S.C Section 901 encourages land transactions entered into by the GSA "be consistent with the planning and development objectives of local governments and planning agencies." Further, statute 40 U.S.C. Section 903 provides that "notice of the intended acquisition" shall be given to local governments before making a commitment to acquire real property in an urban area.
Nothing is definite at this point. It has been learned that Kroger is working with a developer (un-named), who will in turn lease this building out either to a subcontractor to handle the facility or directly to GSA and ICE. Jim Weller of GSA has confirmed that the site is definitely being looked at for the move. No official statement has been forthcoming from the GSA, and the Town is working hard to get some answers.
What are the Fears?
Tuesday night residents expressed concerns about sex offenders, escapee problems and the proposed size of this facility compared with the current building . Many are worried about how this facility will impact their property values. One person pointed out that there are 7 schools in the nearby area.
An ICE center is better suited to an Office and Industrial  (O&I) area, such as the Center West area of the current facility. Weinbrecht added that (ICE) "would be a hardship on our citizens, and (we) fear for their quality of life".
Feeling Powerless
Many residents feel powerless. They learned Tuesday night, that the Federal Government can effectively exercise eminent domain and claim the site without town approval. No re-zoning is required, and only occupancy and fire inspections need to be conducted prior to moving in.
What CAN Citizens Do?
Email your town representative.  The site is in District D – where Gale Adcock is the elected official. She can be reached at gale.adcock@townofcary.org.
Call your State Legislators- Tom Murry (tom.Murry@ncleg.net) represents district 41 in the NC House Representatives.
Call or email your federal government officials.
David Price (http://price.house.gov/ or  919-859-5999) serves in the  U.S. House of Representatives for District 4. He is a ranking member of the House Subcommittee on Homeland Security, and ICE is an agency which is a part of the Department of Homeland Security (DHS).
Richard Burr and Kay Hagan serve as North Carolina's U.S. senators.
GSA staff:
Gale Adcock maintains that calling and emailing your representatives is very important and effective. If they hear 100 voices complaining about the same issue, they will understand that it is important.
If you choose to contact these representatives, Gale advises you be factual, unemotional, and stick to the talking points which are available on the Stop Cary Ice website.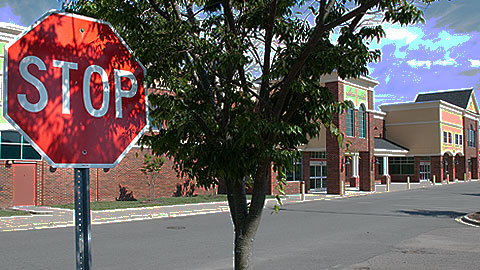 Comments from the Mayor
Mayor Weinbrecht told CaryCitizen:
"The main concern of the people in the Kroger area was our position and what we were doing to support them.

After the closed session we went and spoke to about 100 people. I assured residents that we were on their side and in opposition to this proposal, and that we were contacting everyone that could help and/or make a decision.

Our main opposition is that this proposal is in violation of the current zoning which is part of the West Park Planning Development by proposing roughly 5 times the institutional space allowed.

I promised to introduce a resolution in opposition to the ICE facility to the council for consideration at our Thursday meeting. Mayor Pro-Tem Robison and council member Adcock agreed to co-sponsor the resolution. Information continues to trickle out about this proposal".
https://carycitizenarchive.com/wp-content/uploads/2011/06/kroger-cary-ice.jpg
270
480
Lindsey Chester
https://carycitizenarchive.com/wp-content/uploads/2020/03/cc-archive-logo-450-v3.png
Lindsey Chester
2011-06-29 18:10:58
2016-01-01 18:35:23
Vacant Kroger in Play as Immigration Enforcement Facility