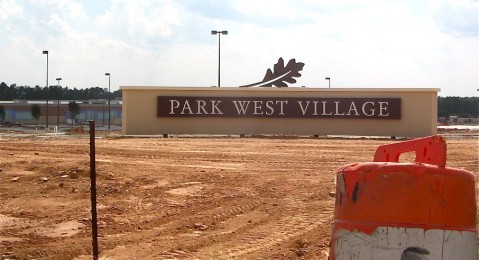 Story and photos by Lindsey Chester
Cary, NC – You can see the building and the signs have been up for months… A new Target will be opening in Park West Village October 9th at the corner of Chapel Hill Rd and Cary Parkway.
One of Five Targets Built
This location is one of only a handful that the retail giant decided to go forward with in this still rocky economy. In yet another sign of the Triangle's health- Target was willing to place one of only 5 new stores here in the Cary/Morrisville real estate market.
The Casto Properties website, cites the demographics of our area (median income of over $83,000/year, a growing population of over 1 million in the Triangle) and paints a rosy picture.
Coming in October
The first phase is almost complete and will include the anchor, Target, a TJ Maxx, Dress Barn, Rack Room Shoes,  and a new store to the area, Buy Buy Baby. Expect this phase to open in early October. A Stone Theater is located at the back of the site but does not have a grand opening date set yet.
Also on the site plans are apartments, an office building, and a row of shops that will lead up to the theater (The Village part of the shopping center). This phase does not have a construction date set as of this writing.
Traffic Concerns
Improvements to area roads have been a major concern to residents in the 3 years since the plans were initially approved by the Morrisville Town Council. Three traffic lights are being installed at the three major entrances:  Cary Parkway, Morrisville Parkway and Chapel Hill Road. Turn lanes should be complete in early August.
But what about actual road widening? Cary Parkway cannot be widened- it is already a four lane, median divided road, and the lead up to the development includes a divided bridge that spans the Railroad. Any widening here, would be of epic cost and scale.
And Chapel Hill Road (also called NC 54) is an NCDOT road. Morrisville is working with Cary to petition the State to move up the timeline for road improvements.  Mandated by Morrisville Planning & Zoning,  the developers must make improvements adjacent to the shopping center. Turning lanes and widening on NC 54 will occur from Cary Parkway west to Morrisville Parkway. Turning lanes are also being constructed on Cary Parkway north to NC 54 and south adjacent to the site. These are being paid for by Casto and 1st Carolina.
What is Morrisville Doing?
The town is ready to vote on some traffic calming measures on the Morrisville section of Crabtree Crossing. The two weeks to construct speed humps and build planned sewer improvements which will force a 2 week road closure, may help to permanently divert traffic off this residential street. Residents in that neighborhood were some of the biggest opponents tot he construction of Park West with their concerns of additional traffic in their area.
Currently the Cary section of this road has 7 large speed humps. By adding bumps to the Morrisville section and keeping the speed limit to 25 mph the hopes are that traffic will stay on the main thoroughfares. The speed limit on Morrisville Parkway goes to a vote with an expected switch to 35mph (from 45mph) except 25mph in the School zone.
Other Improvements
I spoke with Morrisville Mayor, Jackie Holcombe to learn of any concessions of improvements that have been made by Casto or 1st Carolina Properties in the years since approval and her election. This development was very controversial in 2007 and resulted in 2008 election that swept out the "yea" voters on the board and resulted in her Mayoral win over then mayor Jan Faulkner.
Jackie mentioned that the developers are looking into building a gathering place within the center, similar to North Hills. At that shopping center, there is music and entertainment and a weekly farmers market. This type of amenity would greatly enhance this area and provide a wonderful benefit to the town.  1st Carolina has also been instrumental in the new Morrisville Community Foundation which kicks off next month. Like the Cary Community Foundation, the aim of this group will be to fund grants to town non-profits.
Above is the site plan of what is to come. Many residents are excited by the availability of a Target so close to their homes. And many are appalled. Come October, this will be a reality that the towns of Cary and Morrisville will live with. Only time will tell how this story turns out.
https://carycitizenarchive.com/wp-content/uploads/2011/06/parkwest4-e1308955348285.jpg
260
479
Lindsey Chester
https://carycitizenarchive.com/wp-content/uploads/2020/03/cc-archive-logo-450-v3.png
Lindsey Chester
2011-07-08 09:00:13
2013-03-12 13:16:33
Park West Village To Open This Fall