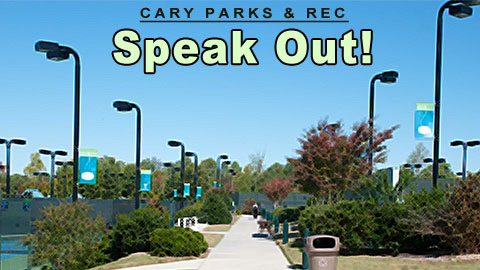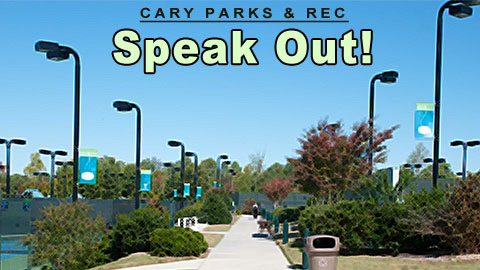 Story by Lindsey Chester. Photo by Hal Goodtree. Ms. Chester is a member of the Cary Parks & Rec Advisory Board.
Cary, NC- The Town of Cary is in the process of revising the Parks, Recreation and Cultural Resources Master Plan. There are several ways for your ideas to be heard.
What is a Master Plan?
A Master Plan provides a guide for the staff in planning funding and programming to match the town's budget and population and to balance that against perceived need.
Comprehensive planning is the basis for Cary's nationally accredited park system. When completed, the PRCR Master Plan will provide detailed recommendations for the next 10 years, from 2012–2022. These recommendations will include new parks and open space, community centers, greenways and cultural arts facilities for the entire Town.
The Master Plan for the Parks Department was last created in 2003, so it is time to relook at priorities and needs now that the town has added about 50,000 residents during that time.
Sessions Lead Up to Public Comment
In June, four Master Planning sessions were held at the Herb Young Community Center. Members of the many town advisory boards were invited along with other groups deemed to be stakeholders. These groups included sports organizations, performing arts groups, and educators. The meetings were a chance for groups to voice concerns about future needs, but also to praise what is working in the system.
Goals of the Plan
The town wants input from as many different residents and organizations as possible. They have hired GreenPlay, a planning group based in Broomfield, CO, to gather all the various info, and organize a set of prioritized needs. From there, the planners and architects will begin to shape what will become a road map for parks planning into the future.
Items to consider:
What to do with the AM Howard Farm (which the town purchased several years ago)
Where a new community center (or centers) should be located, and what needs to serve
Additional greenways
Aquatics, or other sports
Performing Arts spaces
Nature Centers
Classrooms- location and type
STEM education center
Ballfields, how many, where and what type
Talk to a sports enthusiast, and ballfields (soccer, baseball/ softball, football, lacrosse) are in short supply. For others, connectivity to greenway trails is a priority. Many want increased exercise classes or a pool.
The recession put many Cary plans on hold. The town balanced  its budget by mothballing many ideas on the current Master Plan. With the gradual improvement of the economy, dollars will again need to be spent in this area. The town has not kept up infrastructure needs generated from rampant growth in Western Cary. Those new residents (it is projected as many as 20,000 newcomers will live west of 55) have to drive miles for any Cary classes. There are only 3 Cary parks west of NC 55, and no community centers closer than Bond Park.
How to Be Heard
The town has several ways for Cary residents to add input to this planning.
1. Send an e-mail:
For Parks Planning: parksplan@townofcary.org
For Public Art: publicart@townofcary.org
2. Attend a Public Meetings
1st meeting:
Monday July 18, 2011 – 6-8 pm
Green Hope Elementary School Gym, 2700 Louis Stephens Road, Cary
Call for info (919) 469 – 4061
2nd meeting:
Tuesday July 19, 2011 – 6-8 pm
Cary Senior Center 120 Maury O'Dell Place, Cary,
call for info (919) 469 – 4081
3. Take the Survey
This survey will be mailed to a pre-determined number of households in the Cary community. Not everyone is on this mailing list.
4. Online Survey
The survey will be also be available to a larger audience through an open web site. We'll share that link when it becomes available.
If you have something to say about future Parks and Rec planning in Cary (good, bad or indifferent), now is the time for your voice to be heard.
https://carycitizenarchive.com/wp-content/uploads/2011/07/cary-parks-and-rec.jpg
270
480
Lindsey Chester
https://carycitizenarchive.com/wp-content/uploads/2020/03/cc-archive-logo-450-v3.png
Lindsey Chester
2011-07-12 11:45:04
2015-12-30 17:36:55
Speak Out About Cary Parks & Rec