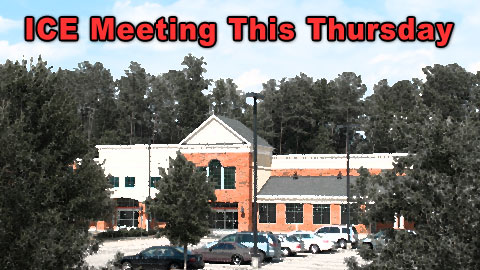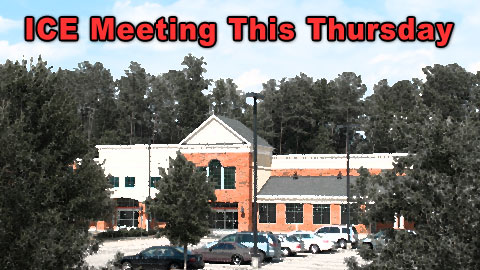 Story by Lindsey Chester. Photo by Hal Goodtree.
NOTE: We received word at 7pm Tuesday night that this meeting is no longer being held.
GSA has canceled plans for this site. Members of GSA will be present for the Cary Town Council meeting scheduled for Thursday evening at 6:30p to discuss their plans to restart the procurement cycle, and members of the StopCaryICENow core team will also be present to participate as we are invited or required.  We want to ensure that the GSA re-enters the procurement process in a way that appropriately involves the Town and the public they serve.
Cary, NC  – Representatives from the GSA will be meeting with Cary community members at Green Hope Elementary School on Thursday evening, July 14, 2011 to discuss the proposed ICE facility.
ICE at Kroger
Just to recap, folks in Cary recently learned that the Federal Government is looking at possibly locating an Immigration and Customs Enforcement (ICE)  facility in the vacant Kroger site at the corner of High House and NC 55.  ICE processes people suspected of being illegal immigrants, and those immigrants who have committed a crime. Many are then deported.
Detainees are brought in shackled and handcuffed, and wait in cells to be processed. More background on the story Vacant Kroger in Play as Immigration Enforcement Facility.
Community Mobilizes Against ICE
A community group called StopCaryIceNow has been able to acquire a copy of the GSA Request for Solicitation of Offers. This document is used for all criteria in which to pick a site.
StopIceNow has focused in on some important facts about the GSA process as it relates to the Kroger site. One of the first requirements is that a site not be located near a school.
Requirement: Section 1.2 (Unique Requirements), Requirement C: "Space cannot be located in close proximity of schools, daycare centers, residential concentration, hotels or areas of high civilian activity or vulnerability."
Requirement: Section 1.2 (Unique Requirements), requirement E: "The offered building must have the capacity for a dedicated enclosed entry into the Government space.  There should be no public access or visibility into detainee processing, offloading or transport areas of the building.
Requirement: Section 5 (Project Overview), requirement 5.1.3: "ICE shall not be located to, in close proximity and/or within residential areas, educational facilities, religious facilities, and/or retail facilities.  FPS and ICE PM shall provide direction during Advertisement for Space and Market Survey phases."
Requirement: Section 1.2 (Unique Requirements), Requirement G: "The entire perimeter of the site shall be encircled by a security fencing barrier designed to stop a 15,000 lb vehicle traveling 50 MPH."
Cary Town Council Opposes ICE
The Cary Town Council met on Thursday June 30 and unanimously passed a resolution which states:
"A Resolution Strongly Encouraging The Federal Government Not To Locate An Immigration And Customs Enforcement Facility Adjacent To Established Residents". Furthermore, in this resolution, "The Cary Town Council strongly encourages the GSA and ICE not to choose the Kroger site for relocating its Cary office and instead choose a site that is located far enough away from established residential areas …".
In addition, as mentioned in Harold's Blog, the town has enlisted the help of other elected officials including Congressman David Price.
GSA Responds
In response to the many inquiries made to DHS/ICE and the US General Services Administration (GSA), the Town of Cary received a response from the GSA indicating that they would officially "pause" the selection process, and according to an e-Mail from John Dennis with the GSA, were "prepared to meet on the 14th", and further given "the proximity to the initial end period of the 2-week pause we are prepared to extend the pause to the following Wednesday – the 20th to re-assure our good faith to provide reasonable follow-up.".
As a result, a Community Meeting will be held by DHS/ICE on Thursday, July 14th, 2011 at 5:00pm in the Green Hope Elementary School gymnasium, located at  2700 Louis Stephens Drive in Cary,NC.
According to Susan Moran, Public Information Director with the Town of Cary, the GSA has informed them that "representatives from the General Services Administration as well as the Department of Homeland Security will be on hand to update citizens and answer questions".
Concerned residents are encouraged to attend.
GSA Community Meeting About ICE
When: Thursday July 14th, 5pm
Where: Green Hope Elementary School Gymnasium
2700 Louis Stevens Drive, Cary
https://carycitizenarchive.com/wp-content/uploads/2011/07/ice-meeting-cary.jpg
270
480
Lindsey Chester
https://carycitizenarchive.com/wp-content/uploads/2020/03/cc-archive-logo-450-v3.png
Lindsey Chester
2011-07-12 08:45:15
2016-01-01 18:35:23
GSA to Hold Public Meeting about ICE Facility