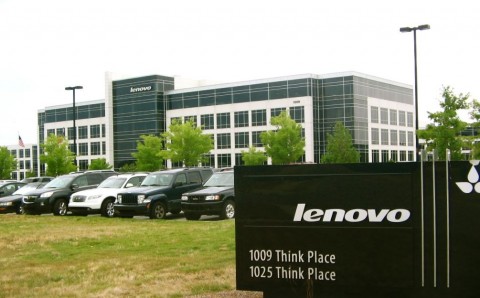 Story and photos by Lindsey Chester.
Cary, NC – My family is made up of diehard Mac fans, always have been. Before we bought our first Apple, we had a Commodore. Last week I got a tour of Lenovo's innovations, and I must admit, I was impressed.
Product Review Panel
Lenovo is headquartered in Morrisville on a large multi-building campus off of Chapel Hill Road just south of RTP.
I was invited by my friend Eric Hobbs of  Technology Associates as part of a panel to review new products and developments that are in the pipeline.
Lenovo Top Trends
Here's a run down of Lenovo's top trends:
Brandy Rogers opened her presentation with the question "Are desktops dead?" I don't think so. I work on a laptop all day and the neck strain alone was answer enough for me!
Lenovo's answer: "All In One" desktops.
These are computers that do not have the bulky towers, and CPUs taking up valuable space on your desk. Many are offered with wireless keyboards and mouses, further de-cluttering your workspace. They also look a lot more attractive and modern than older models.
Smaller towers called "Form Factors". For computers that still require more power or networking, the towers are reducing in size.
Another space saver, many monitors are mounted on adjustable poles, or can be wall mounted.
Screens are getting bigger and sleeker : 19″, 22″ and 24″ are all common.
Energy Star efficiencies have emerged as companies become increasingly aware of green practices and the money they can save on the bottom line, so Lenovo is making their machines greener. Many use post consumer materials, are packaged in smaller boxes, and packed using recycled materials. They also are designing machines that do not heat up as much, with strategically located fans and designs that use less energy for cooling.
Laptops and Battery Life
In laptops, presented by Lane Jesseph, the lead product is the ThinkPad and it is getting smaller and lighter. The T-series currently sells over 400,000 worldwide per quarter, with the T420 a best-selling workhorse. The T420 is Energy Star efficient, and is the first notebook to be awarded a Gold Level Sustainable Product. And it promises boot time of less than 10 seconds! I was happy to hear the pricing. Many models retail for under $500.
With more folks streaming live video and watching TV on their computers, video quality is being improved. Battery life on many models was touted at over 22 hours.  The X-series promises better viewing experience, both outdoors as well as peripherally. And touts a 23 hour battery life, making it the longest ever tested. You can also get a quick boost for a half hour to extend that life. Great for business travelers who need a little juice at an airport.
Lenovo's Tablet
Last but not least was Lenovo's entry into the tablet marketplace. Although late to market, they claim they waited to make sure what they sold was the right product. Flash-based, and running Android it will also have remote desktop support. The price point will start at as low as $449.
What I particularly liked about this product was the amount of ports they have built in. USB and Mini- USB, as well as the power port, come standard. They also built it for security and manageability in the business realm and to be able to create content, not just consume content- which has been my issue with the iPad. This product will be compatible with Sprint, Verizon, and ATT – so you won't need a new phone plan for the tablet.
The biggest innovation is the Folio that can be purchased separately. It is a cover and much more. The separate keyboard lives there and hooks up to the tablet seamlessly. When opened, the top locks in place to creates a stand for the screen. The Folio case will retail for about $100 with the keyboard (compare to the $69 for a bluetooth keyboard for the iPad PLUS a cover for $59 and up). You can also purchase a "pen" for about $70 to be able to write on the screen in actual neat handwriting and input notes (no finger painting).
The tour also took us into their "showroom" to play with many of the new shiny toys.
My Impression
Lenovo has some very interesting, even compelling, products in the pipeline.
My one suggestion: increase the interaction with the public. If I didn't know the great things you do, many others don't either. Also reduce the amount of SKUs in your product line. For instance, one Think pad model came in two thicknesses with a difference of about $200. Pick one and stick with it. The customer will will thank you.
Apple got where it is by taking a stand to stand out, and it's working. Go to any Apple store and people are playing with stuff and buying like it's a fire sale. Lenovo has products that are worthy of that excitement, too.
https://carycitizenarchive.com/wp-content/uploads/2011/06/lenovo-1-e1308922103528.jpg
298
480
Lindsey Chester
https://carycitizenarchive.com/wp-content/uploads/2020/03/cc-archive-logo-450-v3.png
Lindsey Chester
2011-07-21 15:25:19
2015-12-30 17:36:56
Technology: An Inside Look at Lenovo's Product Pipeline