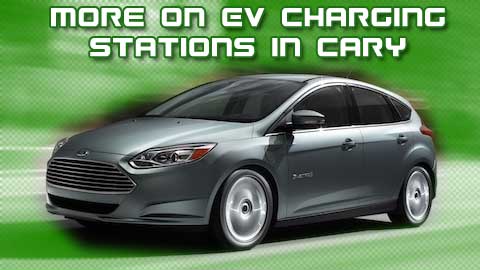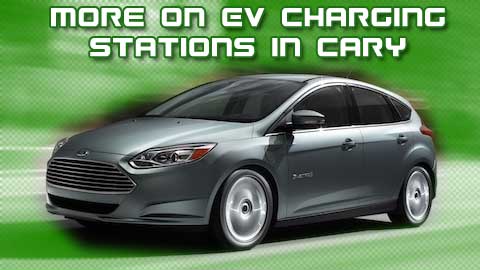 Cary, NC – Following up on our Electric Vehicle (EV) Charging Station story yesterday, Emily Barrett from ToC has passed along some info about other charging stations and plans in Cary.
Sustainability Manager
Emily is the Town's new Sustainability Manager, a cross-departmental job that is in the Town Manager's office (Administration).
The Town explains sustainability this way:
Sustainability is a process that involves making decisions today with the future in mind. These decisions include considering the environment, economics, and quality of life to examine options for a path forward.

The Sustainability Manager position was created in 2010 to identify opportunities for the Town to lead by example on sustainability. Current projects are focused on assuring that Town operations are run efficiently and effectively with attention to the key values of environmental stewardship, cost consciousness, and creativity.
See our previous story about the Town's first Sustainability Manager or our piece on the new Green Firehouse.
Electric Cars
Plugin cars, some hybrids and others all-electric, are starting to be readily available to consumers. Ford, Chevy, Nissan, Volkswagon, BMW and other manufacturers have electric vehicles currently for sale or soon to be available on the market. For a good guide to electric vehicles, see PluginCars.com.
Electric vehicles represent a fundamental shift in transportation. Widely available charging stations are a key to viability.
The Town is kickstarting the program, but consumers will soon see gas stations and power companies getting into the act. If EVs become popular, large retailers and developers are likely to offer charging stations as well.
More Charging Stations Around Town
Emily Barrett supplied this information about additional charging stations and EV plans in Cary:
"The Town is installing 1 Siemens electric vehicle charging station this month at the James Jackson Public Works and Utilities Center.  Currently the Town has one all-electric vehicle, the Nissan Leaf, on order—expected to be delivered by the Fall of this year.  More electric vehicles are not planned at this time.

There are other electric vehicle charging stations planned for other locations in town.  Two will be installed at Cary Arts Center in September (those will be GE WattStations, made in Mebane, http://www.geindustrial.com/products/static/ecomagination-electric-vehicles/ge-wattstation.html).

The Town is also discussing a partnership with Progress Energy to install two Eaton electric vehicle charging stations at the Herb Young Community Center parking deck."
Regarding the adoption of more EVs in the future, Emily said "provided the Town's experience with the Leaf is good and we see  that this technology meets operational needs in a cost effective manner, electric vehicles will certainly be one of the suite of transportation options the Town considers, especially as the price of this technology comes down and more models are available. "
The Town is installing public stations as part of its participation in NC Get Ready!.
https://carycitizenarchive.com/wp-content/uploads/2011/07/electric-cars-cary.jpg
270
480
Hal Goodtree
https://carycitizenarchive.com/wp-content/uploads/2020/03/cc-archive-logo-450-v3.png
Hal Goodtree
2011-07-20 16:30:15
2019-12-07 17:00:24
Environment: More on EV Charging Stations in Cary