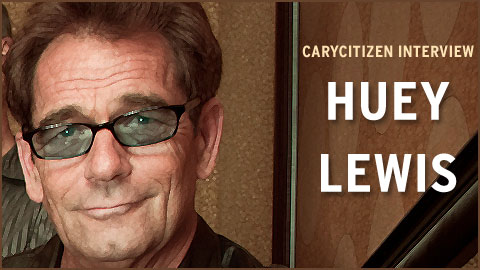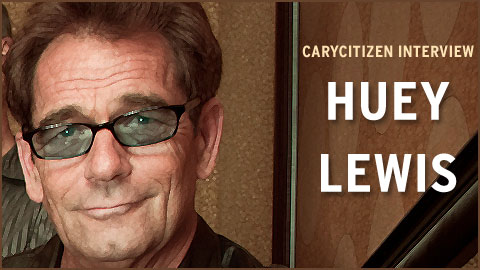 Cary, NC – This weekend the heart of rock 'n' roll will be beating in Cary. On Sunday, July 24, Huey Lewis & The News will take the stage at the Booth Amphitheatre.
Huey Lewis spoke with Cris Cohen about the new album, the fun of recording live, and the evolution of his voice.
Huey Lewis Interview
During their 30+ years together, Huey Lewis & The News have created songs that were Top 10 hits ("I Want A New Drug", "If This Is It", "Hip To Be Square"), albums that reached #1 on the Billboard Charts ("Sports" and "Fore"), and tunes nominated for Academy Awards ("The Power of Love").
Now, the band has gone from "Heart And Soul" (off of their album "Sports") to "Soulsville", their new album that pays homage to their favorite Southern soul and Memphis soul recordings from the '60s and '70s.
Cris Cohen: First off, to jump into this new album, to jump into "Soulsville", what was the goal in creating this album?
Huey Lewis: The last thing you want to do is a pale imitation. So first of all, the selection (of songs) was important. We wanted to make sure that rather than do the chestnuts and render them some contemporary treatment, we thought we would go deeper in the catalog and play some recognizable things, but also some things that maybe people hadn't heard. And try to capture them faithfully. And although we did change them kind of from the inside out a little bit, we only did things that we thought they would have done if they had had more time. (Laughs)
And we cut it in Memphis at Ardent (Ardent Studios is where many of these songs were originally recorded). So the goal was to really capture the stuff faithfully. And I figured we'd know whether we had or not by the reaction of the people around the studio.
CC: And what was it like recording in Ardent, recording in the center of where all of this magic originally took place?
HL: It was wonderful. I mean, I fly in on a Sunday and who checked me in to the hotel, but Nicole Hayes, Isaac Hayes' daughter.
The stars really aligned for us as it were. We cut five songs a day in two studios. We cut them live. Basically we did everything live. We cut 20 songs in about four or five days.
Recording live is more fun. It's more musical.
I want people to own (this album) and use it. If you've got a little barbecue in the summer time happening. You just throw this thing on. It works. Believe me. (Laughs)
CC: But was there an intimidation factor in recording this music that you listened to and a feeling of "Oh my God. I'm taking this on."?
HL: Definitely. And when we worked the songs up right from the get go … we worked them all up in California in our little garage studio. We picked batches of five and had two-day rehearsals for the first batch and two-day rehearsals for the next. Band one day. Horns the next day. And then we recorded it.
We sounded very natural on this stuff. It was surprising that way. And you know, it is not too risky to record the stuff. It is only risky when you release it.
One problem was picking an Otis Redding song. You gotta pick an Otis Redding song. And so what Otis Redding song? A few of them are untouchable I think. So we picked "Just One More Day" and I was worried. I thought, "This is gonna be tough." And the first day at Ardent Studio, John Fry comes in. He was the engineer on all of these songs and he now runs the studio. And I thought, "We'll know how things are going if John Fry starts coming in the studio and we're in trouble."
We put the horns in one studio and a four or five piece rhythm section in the other studio, with me in the booth. And we just cut live. There were no overdubs at all. "Just One More Day" has no overdubs at all. It is a complete performance. And I think it sounded pretty good. I hadn't sung that song that much, but I just kind of channeled it. And I took it as a sign from the Soul gods.
CC: And is there a whole different feel, is there a whole different energy when you are recording live like that?
HL: Oh yeah. It's awesome. Plus these songs were arranged back in a day when they couldn't do overdubs.
CC: Has this experience affected how you perform your own songs at all?
HL: Well, maybe incrementally. Not really. What's interesting about it, though, is … we tried to stay faithful to the original recordings. We labored to keep it just right. And then oddly enough – and a few critics have said this – on playback a couple of these (songs) sound like Huey Lewis and the News (songs). And I suddenly realized how much I in fact was influenced by Johnnie Taylor and Otis Redding without even realizing it. I mean, I don't think of myself as that way, but I know I love that stuff. I don't think of myself as being an Otis Redding kind of singer, but there are parts when I am listening to the Otis Redding song, some of those parts sound like Huey Lewis songs to me.
CC: Well, I am guessing it was always some sort of subliminal, subconscious influence going around in your life.
HL: It is as simple as "the music you like to listen to". That's always the stuff I like to listen to. Even when I was in bands. We played all different kinds of stuff, but that's the kind of stuff I like to listen to.
CC: So you're at home, you're hanging out, you're driving in your own car – this is the kind of stuff you gravitate towards.
HL: Yeah. All music is fun to play. Some music is more fun to listen to than others. It's really true. I mean, you think about that fusion stuff. It's a ball to play that stuff. But it can be hard work listening to that sometimes. (Laughs)
I think this is some of our best work, though. I'm really proud of it. And we are coming to Cary, North Carolina to sell those records one at a time. I will come over to your house and wash your windows if you buy the album. (Laughs)
CC: And I don't know if this was a plan but, for instance, you listen to some of those screech metal guys who sang really high when they were young and can't hit those notes anymore. Whereas you are in this zone, your style of music – the personal songs you play as well as the covers you do – it seems like your voice is getting better for the music you play. It's getting that smokey, gravelly quality and I am wondering what's it been like as your voice has evolved?
HL: Well, I think that's very perceptive. And it's true. But I've also become a better singer. I'm a smarter singer. I make better note choices I think. I'm still improving at this ripe old age (Mr. Lewis just turned 61). But I think you're right. And it is not only just the sound of the voice. We started pre-television, pre TV music. When we started, it was all audio. There wasn't a thought of (visual) presentation. And the idea was to make the songs non-age specific. Make them timeless. Why be trendy when you can be larger than that? But now it's served us well interestingly.
CC: So you said you're a smarter singer. Would you mind explaining what you meant by that?
HL: It's like with high notes. If you see a high note coming up in a song, rather than go up to that high note, sing through it. 80% goes as far as 100%. It's the same with a golfer or a pitcher. A pitcher will throw as hard as he can and the ball won't go as fast as if he relaxes and throws at 85% and accelerates the motion. Go through the note.
But you learn some studio technique. You learn how to sharpen your voice or flatten your voice. You get smarter about controlling your voice.
And that's just one facet. Another one is where to breathe and how to stay in breath. You need to map your breaths out on a song.
CC: It's almost like playing a horn.
HL: Exactly like that.
CC: It also seems like you picked a really good time in your life to record this album. When you were younger, you had a great voice, but it wasn't as smokey. And it's like your voice has evolved and gotten even weightier as you've matured.
HL: Yeah, I think that's true. And I thank you for saying that. It's all about tone. It isn't brain surgery. We're not singing opera here. It's not that tough and there's not that many notes. But it's all about the sound of those notes. What did you like about these songs originally? It's the tones. And what do the tones tell you? It's when the singer sings the song, he ain't kidding. When a guy sings "I'm goin' to Kansas City. They got some crazy little women there. And I'm gonna get me one", you gotta believe he's been to Kansas City. He knows about the crazy little women.
CC: Yeah. You don't wanna hear these songs from Tiny Tim, because it's not going to come through.
HL: Probably not. Although, that would be an interesting rendition. (Laughs)
CC: Well, I think that might fall under the category of: Fun to play, but not that much fun to listen to.
HL: Yeah. Maybe.
But it's the singer and the song and the marriage of those two. That's what it's always been.
CC: Is there anything about the music that no one has asked you about, that you would really like to discuss? That no one seems to pick up on?
HL: That's a really good question. In years past it was really true. They (interviewers) never used to ask me how we made the records, which is always the interesting part to me. In the old days in the '80s, when it was about CHR radio, it was really about making a record. Making a hit record. And we did that rather well I thought. All on our own actually. Figured it out for ourselves. We actually assembled those records. Piece by piece. There weren't any Pro Tools in those days.
And we've gotten better at our craft. And I'm proud of that.
https://carycitizenarchive.com/wp-content/uploads/2011/07/huey-lewis.jpg
270
480
Community Contributor
https://carycitizenarchive.com/wp-content/uploads/2020/03/cc-archive-logo-450-v3.png
Community Contributor
2011-07-22 13:26:05
2015-12-30 17:36:56
Music: CaryCitizen Interview With Huey Lewis