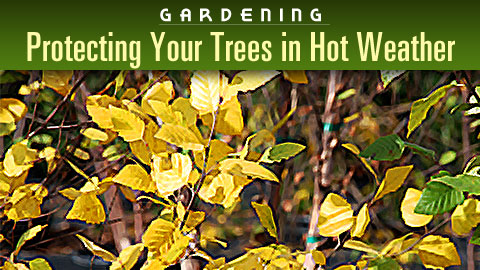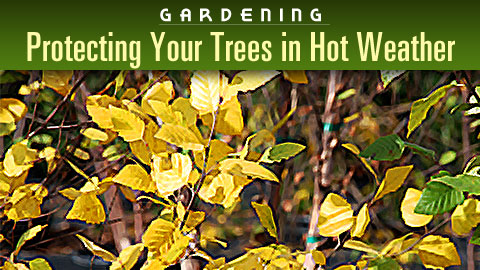 Story and photo by Hal Goodtree
Cary, NC – Trees can get stressed in hot weather, and it's sure been hot in Cary. Here's a gardening tip to help your trees survive (even thrive) during the height of summer heat.
Are Your Trees Heat-Stressed?
Hot weather and scant rain can stress out the hardiest specimen. There is no rule of thumb except when it's been hot and dry out, take a look at your trees to see if they are showing signs of stress.
Pine trees start dropping needles. The pines will survive, but it's a sign things are dry.
Take a look at your broadleaf trees – oaks, maples, birch and so forth. Are any leaves turning yellow?
Chances are, you'll find a few drought-stressed trees if you look around at your property, given how hot it has been in Cary.
How Much Water Does a Tree Use in a Day?
I remember way back when asking my Uncle Bill, the farmer, "How far away are the stars, Uncle Bill?"
Bill looked down at me. "Well, that depends on where you're standing, son."
Trees use different quantities of water based on size, location, time of year. But that's not the point.
The point is: are they getting enough now?
Watering Your Trees
It's important to water your trees during a summer heat wave if they show any signs of stress. Drought-stress will start by dropping the leaves but continue by killing the branches. Bugs can get in and you can end up losing the whole tree.
So act promptly if you see signs of stress.
1. Easiest Way to Water a Tree
You can easily use a lawn sprinkler to quench the thirst of a tree.
Imagine an imaginary circle underneath the outermost leaves of the tree. That's called the drip line.
Set you sprinkler to water inside (and up to) the drip line. Let it run slow and easy for 30-45 minutes.
2. Ingenious Way to Water a Tree
For this technique, you'll need an old plastic barrel or trash can with a hole in the bottom.
Place the trash can under the canopy of the tree inside the drip line. Fill with water. Let the water slowly drain into the base of the tree.
For smaller trees, once should get it done. For larger trees, move the barrel and fill it two or three more times.
3. The Professional Way to Water a Tree
My friend Nick, the Triangle Plant Doctor, uses a big syringe stuck in the ground. It's called a Deep Root Irrigator. He attaches a hose and pumps water and nutrients into the roots.
You can buy deep root irrigators at local plant and garden stores or see one on Amazon.
Seriously, Inspect & Water Now
As far as the CaryCitizen Gardening Column is concerned, our official position is that the trees around town are starting to looked stressed.
Protect the beauty and value of your property by giving your trees a look and taking action where necessary.
Always remember to set a timer when you water with a sprinkler and observe your correct watering days – Wed-Fri-Sun for sprinkler use at even numbered homes and Tues-Thurs-Sat for odd numbered homes. Sprinkler use prohibited on Mondays. Handheld watering (like the garbage can technique) and deep root watering on any day of the week. More info on Cary Watering Days.
———————————————————————————————-
Community news on CaryCitizen is sponsored by Ashworth Drugs, Cary's corner drug store.

https://carycitizenarchive.com/wp-content/uploads/2011/07/gardening-watering-trees.jpg
270
480
Hal Goodtree
https://carycitizenarchive.com/wp-content/uploads/2020/03/cc-archive-logo-450-v3.png
Hal Goodtree
2011-07-24 18:30:40
2015-12-30 17:36:57
Gardening: Protect Your Trees in Hot Weather