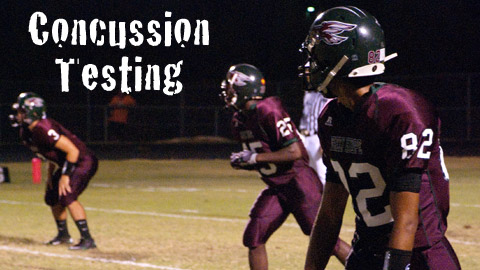 Story by Janna Fonseca, Head Athletic Trainer with Carolina Sports and Family Practice. Edited by Leslie Huffman. Photo by Hal Goodtree.
Cary, NC – Ready or not, Fall is around the corner and once again school will be in session. That means many teens are already practicing for their school sport, whether it's football, soccer, cheerleading or any other physical activity.
As parents, we make sure that our children are well prepared for school and sports by providing all the equipment needed. But, what about preparing for the possibility of a future head injury?
Gfeller-Waller Concussion Awareness Act
Now you can have a baseline ImPACT test done for all high risk athletes before a head injury like a concussion occurs.
In June, Governor Bev Purdue signed into law a bill to protect North Carolina middle and high school student-athletes against concussions. This piece of legislation, known as the Gfeller-Waller Concussion Awareness Act, is designed to raise awareness of the significance of concussion injuries, as well as emphasize the importance of safety in sports.
Matthew Gfeller died in August 2008 after sustaining a head injury during a high school football game in Winston-Salem. He played for R.J. Reynolds High School.  Jaquan Waller, a football player at J.H. Rose High School in Greenville, died in September 2008, after sustaining a head injury during a game. Waller suffered from Second Impact Syndrome, a condition that occurs when a person sustains multiple concussions in a short period of time.
What exactly qualifies as a concussion?
A concussion is so much more than just a bump in the head, or getting one's "bell rung."  A concussion is a mild traumatic brain injury and results in a wide variety of symptoms.
These symptoms fall into four categories:
Physical
Cognitive (those that affect thinking & concentration)
Emotional
Sleep related
These symptoms are a result of either a direct blow to the head, or a blow to another part of the body which transmits a force through the head resulting in the brain being shaken, compressed, or twisted within the skull.
When the brain is functioning normally, there is a nice, steady balance of impulses shooting from one cell to the next.  When this balance is disrupted, a change in emotional responses occurs and these symptoms become apparent.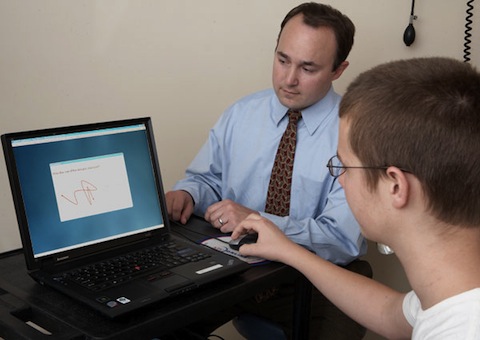 Measuring Head Injury
Since this metabolic imbalance cannot be seen on imaging such as CT scan, or MRI, how can the severity of these injuries be measured?  Healthcare professionals used to rely solely on the description of symptoms provided by the athlete.
An athlete could say "I have a headache" or "I feel dizzy when I turn my head from side to side" but it was difficult to measure the cognitive deficit that had likely occurred.
Now, there are options and ways to measure neurocognitive function using a computer-based test. In Cary, physicians at Carolina Family Practice & Sports Medicine (CFPSM) developed the Carolina Sports Concussion Clinic.
This clinic, in addition to obtaining a thorough medical history and asking specific questions regarding symptom patterns, has added the use of ImPACT testing to its toolbox. ImPACT helps providers make appropriate clinical recommendations based on an athlete's composite scores in four categories:
verbal memory
visual memory
visual motor speed
reaction time
In the Fall of 2008, CFPSM provided baseline ImPACT testing for all high risk athletes in the Wake County Public High Schools.  Once these baseline tests were established, athletes were then referred to CFPSM after sustaining a concussion and a repeat test was performed as part of the athlete's office visit.
Once an athlete was evaluated, his or her ImPACT scores were also taken into account in making a diagnosis of concussion as well as developing an individualized plan for each athlete's recovery.
Can I get a baseline test for my child?
Each year, CFPSM has added new schools and organizations to its baseline testing pool.  Student-athletes at Campbell University, St. Augustine's College, Cardinal Gibbons High School, East Coast Eagles Hockey, and various youth sports programs have initiated baseline ImPACT testing as part of their pre-participation standards.
Other area schools like Cary Academy are considering implementing baseline testing for the 2011-12 school year. Check with your school to make sure they offer this test to their student athletes.
If you or your child is in an extracurricular sport, you can get the whole team tested. Baseline testing can be done in a group setting, takes less than an hour to complete, and is reasonably priced.
As athletic participation remains a popular recreational choice for youth, adolescents, and adults alike, concussion awareness will continue be to at the forefront of the Carolina Sport Concussion Clinic's presence in the Wake County community.
https://carycitizenarchive.com/wp-content/uploads/2011/08/concussion-testing.jpg
270
480
Community Contributor
https://carycitizenarchive.com/wp-content/uploads/2020/03/cc-archive-logo-450-v3.png
Community Contributor
2011-08-11 17:00:21
2012-08-31 12:43:13
School Sports: Concussion Testing