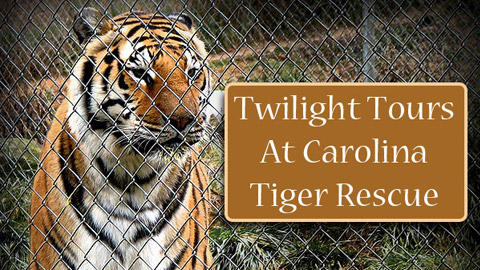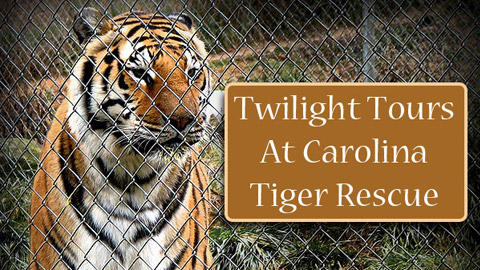 Story by Julie Roland. Her Route 64 Journal in Pittsboro is part of the CaryCitizen publishing network. Photo by MacKensie Cornelius.
Pittsboro, NC -A short drive from Cary is the lovely town of Pittsboro, home to many artists, family farms, fabulous restaurants and personable shops. It's also home to many tigers, lions and other wild big cats. Carolina Tiger Rescue houses over 25 large exotic cats that have been rescued from private owners. You can take a tour, and it's just 20 minutes from Cary down Route 64.
About Carolina Tiger Rescue
Carolina Tiger Rescue is a 501(c)3 nonprofit wildcat sanctuary, whose mission is saving and protecting wildcats in captivity and in the wild. Carolina Tiger Rescue provides a home to wildcats in need of rescue and educates the public about what threatens these animals: in the wild, in the pet trade, and in the entertainment industry.
The Humane Society estimates there are 5,000 – 7,000 tigers in private ownership in the United States. Sadly, in contrast, there is approximately 3,200 tigers that remain in the wild.
Twilight Tour
Available seasonally (April-October) on Saturday evenings, you are invited on a special walk to see some of the most spectacular cats on the planet. Beginning at sunset, you will see these exotic predators during the most active part of their day.
Your tour will take you on guided half-mile walk outdoors on grass and gravel to meet some of the world's most endangered species. Your guide will personally introduce you to tigers, lions, caracals, servals, ocelots, binturongs, and kinkajous, explaining the rescue stories that brought them to Carolina Tiger Rescue and the issues that their kind face in the wild.
The tour lasts approximately 1 1/2 – 2 hours, depending on the group's involvement.
The Laws Regarding Wildcat Ownership

There are 2 primary federal laws pertaining to the ownership of wildcats, the Captive Wildlife Safety Act and the Animal Welfare Act.
Captive Wildlife Safety Act – The CWSA, passed in September, 2007, makes it illegal to move certain types of live big cats across State lines or U.S. borders unless you qualify as exempt.
Animal Welfare Act – The AWA extends minimal protection to certain warm-blooded animals who are exhibited to the public, bred for commercial sale, used in research, or transported commercially.
State Laws – Beyond the federal law, exotic pet ownership is regulated by state and local law. Most states do have laws regarding the ownership of native wildlife, so it is typically far more difficult legally to have a pet squirrel than a pet tiger!
North Carolina is one of a small handful of states that has no regulation whatsoever regarding the ownership of exotic wildcats. There are some local laws, typically put into place at a county or city level following an escape or attack. For more information about these laws, view Appendix V of the Animal Protection Institute's Exotic Pets Report.
Find Out How You Can Help
More than 13,000 people visit Carolina Tiger Rescue each year, learning about the issues affecting wildcats through guided tours and field trips. Research projects at Carolina Tiger Rescue are assisting conservation efforts in the wild and providing valuable information to colleges around the country about the rainforest habitat and about species represented at this facility.
Carolina Tiger Rescue provides internships for students from around the country, and provides community service opportunities to the local community. Find out how you can help by visiting CarolinaTigerRescue.org.
https://carycitizenarchive.com/wp-content/uploads/2011/09/carolina-tiger.jpg
270
480
Community Contributor
https://carycitizenarchive.com/wp-content/uploads/2020/03/cc-archive-logo-450-v3.png
Community Contributor
2011-09-06 14:30:34
2019-12-07 17:01:27
A Short Drive From Cary: Carolina Tiger Rescue