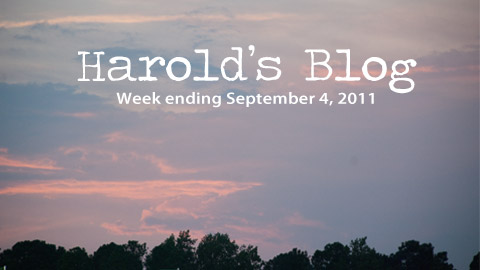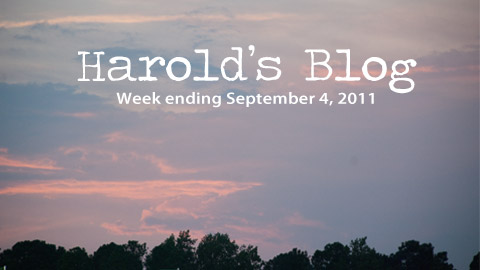 From the blog of Cary Mayor Harold Weinbrecht, covering the week through September 5, 2011. In compliance with North Carolina election law, CaryCitizen has edited Harold's Blog this week to omit any campaign-related references. You can read Harold's Blog in its complete form at http://haroldweinbrecht.com. 
Cary, NC – This week was a light week as mayor due to the Labor Day holiday.
White Plains Methodist Church
Monday's only meeting was with Reverend Regine Jean-Baptiste who is the Associate Pastor at White Plains Methodist Church. She wanted to introduce herself and ask for ways in which she and her congregation can help the community. We were only scheduled to meet for 30 minutes but ended up talking for more than an hour. She was a delight and we had a great time. I shared stories of my time as a youth advisor at my church and about being a Sunday School teacher. I plan to participate in a ceremony for their 50th anniversary which is coming up in October.
Cary to Return Tax Money
Tuesday was a busy day for me. I started by meeting with the town manager and Mayor Pro-Tem to go over various issues. We talked about a half a dozen issues.
One issue we talked about was a notice by R.H. Donnelly that they have overpaid their taxes. This company was recently audited and it was pointed out that they made declarations incorrectly and therefore paid too much tax. For the last four years they have declared in house software as a taxable item. It is their responsibility to provide correct information. Any checking that is done would be the responsibility of the county. Now Wake County and Cary will have to return several years of taxes. Cary's portion will come out of General Fund and will be around $435,000 and the county's portion is around $700,000. The town manager said that people and companies making mistakes on their taxes and refunds are common. A detailed financial report is on the council's consent agenda every month and includes some of these refunds.
Bottom line is the town collects what rightfully belongs to the town and returns what rightfully belongs to someone else.
Adam Younce – A 14 year old Eagle Scout!
My last event on Tuesday was an Eagle Scout ceremony for Adam Younce. This amazing young man earned the rank of Eagle Scout at the age of 14 which is rare. Most Eagle Scout ceremonies I attend have recipients around 18 years old.  As always, it is an honor and a privilege to attend these ceremonies and read a proclamation on behalf of the town. These young men statistically become leaders wherever they go. It is my hope they are the Cary leaders of the future.
Chatham Street Cary Theater
Wednesday I headed over to the old Cary Theater on Chatham Street. I was given a tour by the project manager and was joined by the downtown manager and a few other staff members.
There is some fascinating history in that building including the separate entrances for white and non-white patrons. When the theater was operational the non-white patrons would enter on the right and go immediately upstairs with no interaction with white patrons. Wow, we have come a long way in the last few decades. Thank God!
The preliminary plan is to restore the 1st floor theater back to its original slope. In addition, the second floor will be removed and the balcony will be restored. The ideas also include adding on to the side of the theater with new construction to allow a bigger lobby and restrooms. The plans will be more definite once everything has been torn out and the building assessed.
Omega Psi Phi
My second meeting on Wednesday was to welcome a new graduate chapter of Omega Psi Phi. The mission of this new Xi Mu Mu chapter is to provide community service to Cary, Morrisville, Apex, Holly Springs, Lee County, and Johnson County. I met several of the Basileus including school board member Keith Sutton.  I committed to helping this service fraternity in any way I could.
There several announcements and emails of interest this week from town hall.
A list of all plans in review as of August 31, 2011 can be found at:
http://www.townofcary.org/Assets/Planning+Department/Planning+Department+PDFs/planreview/Active+Projects+in+the+Review+Process+(sorted+by+date).pdf.
Disaster Prep This Fall
The Cary Fire Department will be hosting a training course for CERT.
CERT, which stands for Community Emergency Response Team (CERT), is a program to educate people about disaster preparedness for hazards that may impact their area. It trains them in basic disaster response skills, such as fire safety, light search and rescue, team organization, and disaster medical operations. This free CERT training will meet at Cary Fire Station #7, 6900 Carpenter Fire Station Road on seven consecutive Thursdays starting September 15, 2011 from 6:30-9:30 p.m. with an additional class on Saturday, October 29 from 8 a.m.-noon.
Virtually Lazy
In other announcements, the staff decided to hold a virtual Lazy Daze since Lazy Daze was cancelled last week. You can log onto the artist section of Lazy Daze at www.townofcary.org, shop the arts and crafts offered at Lazy Daze, and then view purchase information. This is the second year an inventory of arts and crafts has been available, but the first year with the ability to make a purchase. Items will be available online through the end of September.
New Depot
Cary's new train depot opened this week. The expanded 6,200-square-foot depot located in the heart of downtown Cary at 211 N. Academy St. has short- and long-term parking and an enclosed C-Tran bus waiting area. The station now has an on-duty Amtrak agent, automated ticket kiosk and checked baggage service. New outside benches and platform shelters have also been added. Eight trains provide daily service from the Cary Depot to Raleigh, Greensboro, Charlotte, other North Carolina cities, Florida and to the Northeast. The station hours are 6:00 a.m. to 11 p.m. daily.
Get Involved in Planning
The Town of Cary has extended the deadline for citizens to share their thoughts on the Town's current parks, recreation and cultural facilities, programs and initiatives as well as their potential future developments. Now through September 6, 2011, citizens are encouraged to log on to www.townofcary.org to complete the short survey. Recommendations from this survey and the overall master plan process will help Town officials prioritize future parks, recreation and cultural resources facilities and services.
Emails this week included complaints about postponing Lazy Daze, the automated water meter system, hurricane debris, and potential land condemnation for the Western Wake Regional Wastewater Facility.
Next week will be a busy one for me. It includes a council work session, a council meeting, a chamber banquet, a 911 ceremony, and a forum.
Well that is all for this week. My next post will be on Sunday, September 11th.
Please feel free to email me with a comment. Email all Town of Cary questions or comments to Harold.Weinbrecht@townofcary.org. Email personal comments to augustanat@mindspring.com.
https://carycitizenarchive.com/wp-content/uploads/2011/09/harold-0904.jpg
270
480
Harold Weinbrecht
https://carycitizenarchive.com/wp-content/uploads/2020/03/cc-archive-logo-450-v3.png
Harold Weinbrecht
2011-09-06 12:58:29
2019-12-07 17:01:19
Harold's Blog: Returning Taxes, Virtually Lazy and More