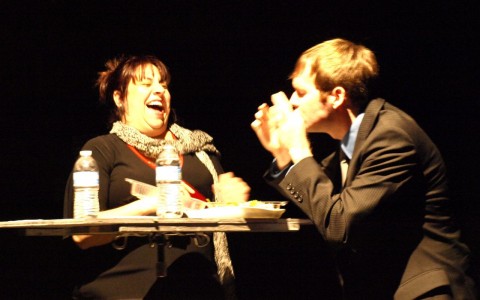 Story and photos by Lindsey Chester
Cary, NC- CaryCitizen has been following the theater group Free Association Theater Ensemble (F.A.T.E.) for the past year. The group is always pushing the envelope, and Fat Pig, their latest production, is no exception.The play asks the question: "Are Hollywood's ideals the appropriate metric, or is the value of a person based on something deeper?" Fat Pig examines how easily we judge a book by its cover, but hardly seem to know what's written inside.
The play was actually meant to be produced almost four years ago, but as board member Julya Mirro states "we finally had all the right people in place." Actress Noelle Barnard has starred in several F.A.T.E productions, most recently, "Oh Baby" and proves once again that pretty on the outside doesn't mean pretty on the inside. That is the central theme here, when Tom, played by Allan Maule, meets Helen, astutely portrayed by veteran FATE director, Julya Mirro.
The crux of the plot is that Tom falls for Helen, a plus-size woman. They meet in the first scene at a restaurant and talk frankly about food, movies and weight. Her directness and sense of humor appeal to Tom and he asks to see her again for a date.
Trouble starts when the rest of the world decides it can judge their relationship. Friends, co-workers and strangers all have an opinion on who Tom should date.  Weak willed man that he is, Tom can't stand up to the criticism. Tom is so afraid, he lies even about the date, saying he is out with clients, only to be caught later by fellow worker/ former girlfriend Jeanie in a hilarious scene where you realise she's a crazy stalker.
The notion of who Tom should fall in love with vs who he has produces many poignant scenes.
Ever the optimist, I want to believe that everything will work out in the end, but that's for fairy tales.  Fat Pig doesn't let me off so easily. Julya's Helen is funny and forthright. You like her because we all have a little Helen inside us. Its easy to see what Tom should do, but also you can understand why he doesn't- then you hate him for it. And yourself.
Show Info:
FAT PIG at F.A.T.E.
Dates: September 16 & 17, and 22-24
All shows at 8pm  (Doors open at 7:30)
Location: 267 Grande Heights Dr  (In the Harrison Pointe Shopping Center)
Tickets: $10-15
Tickets may be purchased in advance with a credit card by calling 919-228-8184, or at the door with cash or a credit card.  Special discounts updated daily on our Facebook page (starting September 8), with a flyer, or by volunteering.
For reservations or to pre-purchase tickets:
(919) 228-8184 / FATEreservations@gmail.com
Seating is limited.  Reservations are recommended.
*This show contains adult material.
https://carycitizenarchive.com/wp-content/uploads/2011/09/meeting-e1315520732552.jpg
300
480
Lindsey Chester
https://carycitizenarchive.com/wp-content/uploads/2020/03/cc-archive-logo-450-v3.png
Lindsey Chester
2011-09-11 16:00:04
2016-01-01 18:35:26
Theater: Fat Pig Pushes The Envelope