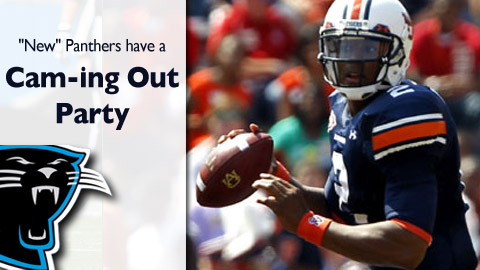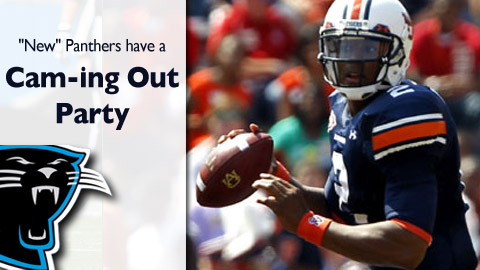 Story by Matt Young. Photo from CarolinaPanthers.
Cary, NC – "Opening day" has come and gone. We may have learned something about these about these new Panthers. It starts with their new signal caller.
9-11
There were 9-11 tributes at all of the games. Field-sized stars-and-stripes were rolled out onto the gridirons, coaches wore FDNY hats. NFL Commissioner Roger Goodell had a busy day as he traveled to games in Baltimore (vs. Pittsburgh), Washington (v. NY Giants) and New York (NY Jets v. Dallas), to pay homage to the American heroes and tragedies from that day ten years ago.
I had a handful of the usual suspects stopping by to watch football, carbo-loaded with salty stuff from plastic bags and cheap beer in Prius-metallic-blue-aluminum cans. We settled in for an afternoon of NFL football.
The Panthers game brought some unexpected excitement. Mostly in the form of their new QB.
New Record
Cam Newton just last year was playing for Auburn where he won the Heisman Trophy en route to leading his team to a national championship hosted by Arizona. Sunday, he was on that very same turf as he played in his first game as a pro.
Newton threw for 422 yards and two touchdowns and ran one in. The yardage mark is a new NFL record for yardage by a QB rookie on Kickoff Weekend. In a week where sports fans were being inundated – mostly against our wills – about news that Peyton Manning was not going to play for the Colts on opening day (neck), the Colts legend was noted for another reason. By the end of the day, Newton had broken Manning's rookie yardage record. Newton also broke Otto Graham's record (Cleveland Browns, 1950) of 346 yards for a QB in an NFL debut.
Lofty company.
Loss to Arizona
Folks, this was a game where NO analyst that resided more than 5 miles from the Charlotte area code gave the Panthers a chance. In the end, the Cats came up just short, losing 28-21.
But Carolina was in a position to win with a little more than a minute to go before turning the ball over on downs to the Cardinals. The Panthers were just 2 yards from the end zone.
Get used to the Newton to Steve Smith combo, fans. It was electric. Smith caught 8 passes for 2 TDs and 178 yards.
The defense was serviceable. Even pretty good at times. Carolina had more first downs than did Arizona. The Panthers dominated time of possession, number of plays and had better yardage numbers.
In the end, it's tough to hang your hat solely on the star of a rookie. As I had mentioned in last week's article, the team needs to get their running attack going. Against Arizona they gained 74 yards and an anemic 2.7 yards per rush.
This team is not going to the Super Bowl this year. But it could be a fun ride watching  our team improve toward that ultimate goal after a league-worst season.
We didn't lose the game; we just ran out of time.  ~Vince Lombardi
https://carycitizenarchive.com/wp-content/uploads/2011/09/panthers-cam.jpg
270
480
Matt Young
https://carycitizenarchive.com/wp-content/uploads/2020/03/cc-archive-logo-450-v3.png
Matt Young
2011-09-12 16:13:39
2011-09-12 16:13:39
Panther's Beat: The "New" Panthers Have a Cam-ing Out Party